By Andrea Louise Thomas Photos Yanni
Last year Sarah Wanat and a small group of women started a grassroots group called Peninsula Surf Sisters. Its vision is to connect, support, and empower female surfers. PSS welcomes surfers of all ages and experience levels.
It gives them a sense of belonging, safety, and the opportunity to learn from one another.
Members use the group to meet people and get into the water together. They also catch up socially and strong friendships have been formed. There is a true sense of community in PSS and they are helping to solidify a woman's place on the waves.
Sarah got her first taste of surfing when she was in Year Seven while on a family caravan holiday in Barwon Heads. Her stepdad was a surfer and so is her uncle.
She had her first go on a 9' board. She was hooked. She didn't take lessons, but learned through practice and tips from family.
Surfing is one of the most difficult and complex sports to learn. There are so many factors to consider – balance, timing, paddle strength and endurance, but most important is developing the skill of reading the water. "You have to look at the swell size, tide and wind," Sarah says.
There are a few helpful apps for this, such as Willy Weather to check tides, Swellnet to check waves, and for Pt. Leo surfers, Trigger Brothers have surf cam that runs continuously across twenty-minute periods to see current conditions across the peninsula. But in reality, it comes down to instinct and practice.
"The ocean is in constant motion and changes all the time. No two days are the same. Sometimes it's calm, inviting and alluring. On other days it's fierce, wild and intimidating. But the feelings it evokes are always the same. You feel that cold salty water hit your face and you're alive. You can feel all your senses. You're completely present in the moment," she says.
"Surfing makes you feel alive and joyful. It lifts your mood and builds your confidence.
It's an opportunity to come back to a childlike state and play again. I'm the best version of myself when I'm in the ocean regularly," she says.
Sharing with other surfers is even better. Sometimes the surf sisters share a 'party wave'. They line up across the wave and hold hands. Sometimes they are sharing the waves with dolphins.
On one occasion at Noosa, Sarah even surfed with a sea turtle!
Sarah surfs on two different boards. For the past couple of years, she has been on her 9' Malibu. She likes it because it's a smooth cruise across the wave as it collects her and she can dance along the board. Her 5' 4" fish board is for bigger waves, quicker manoeuvres and dynamic turns.
Pt. Leo and Shoreham are Sarah's preferred surf spots. She likes the waves on Western Port Bay – the small cruisy waves. Flinders is a bit more challenging as it is very rocky. Gunnamatta is the real beast. She'll have a go there only if the waves are relatively small.
PSS has a close relationship with Maladiction Longboarders, a group of peninsula surfers who run peninsula-based surfing competitions. The PSS (coordinated through their Facebook page) organised to bring some surf sisters down to watch an event and all thirteen ended up competing; the most women competing in the history of the club.
That day was particularly exciting because the women didn't think they were good enough to compete. They faced their fears and it boosted their confidence. They also realised it was a chance to have a surf break all to themselves; just a handful of sisters sharing waves, encouraging and supporting one another. That is the true heart and mission of the group.
PSS has had great support from the surfing community and good opportunities for sponsorship. People are commenting all the time about how many more women are surfing, even through winter. They have taken their rightful place on the waves and feel that they belong there.
Whether at sunrise or sunset enjoying the spectacular colours in the sky reflected on the sea, or surfing moodier more overcast days, the exhilaration of the sport is the same and that exhilaration runs deep.
"Surfing is connected to nature, connected to your soul. It's more than just moving your body; there's a spiritual connection," she says. And to do that with other surf sisters makes the experience so much sweeter.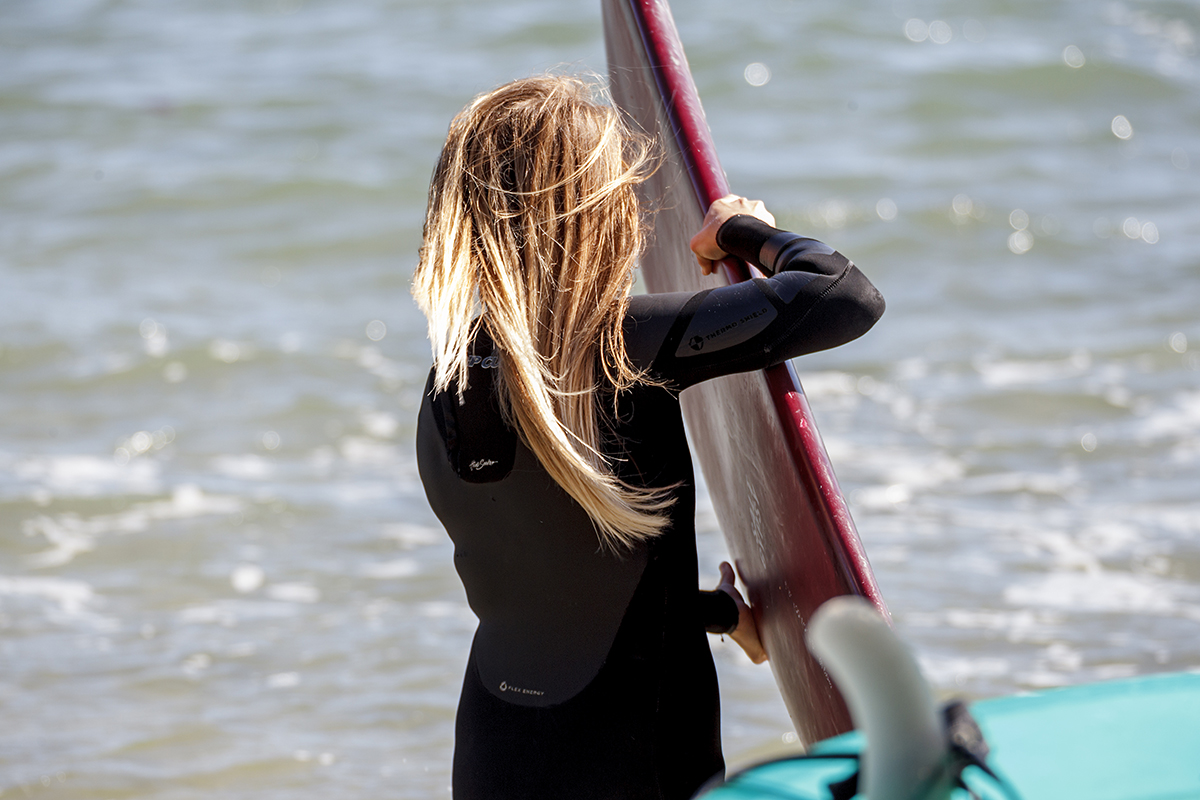 ---
FB: Peninsula Surf Sisters
Insta: @peninsulasurfsisters