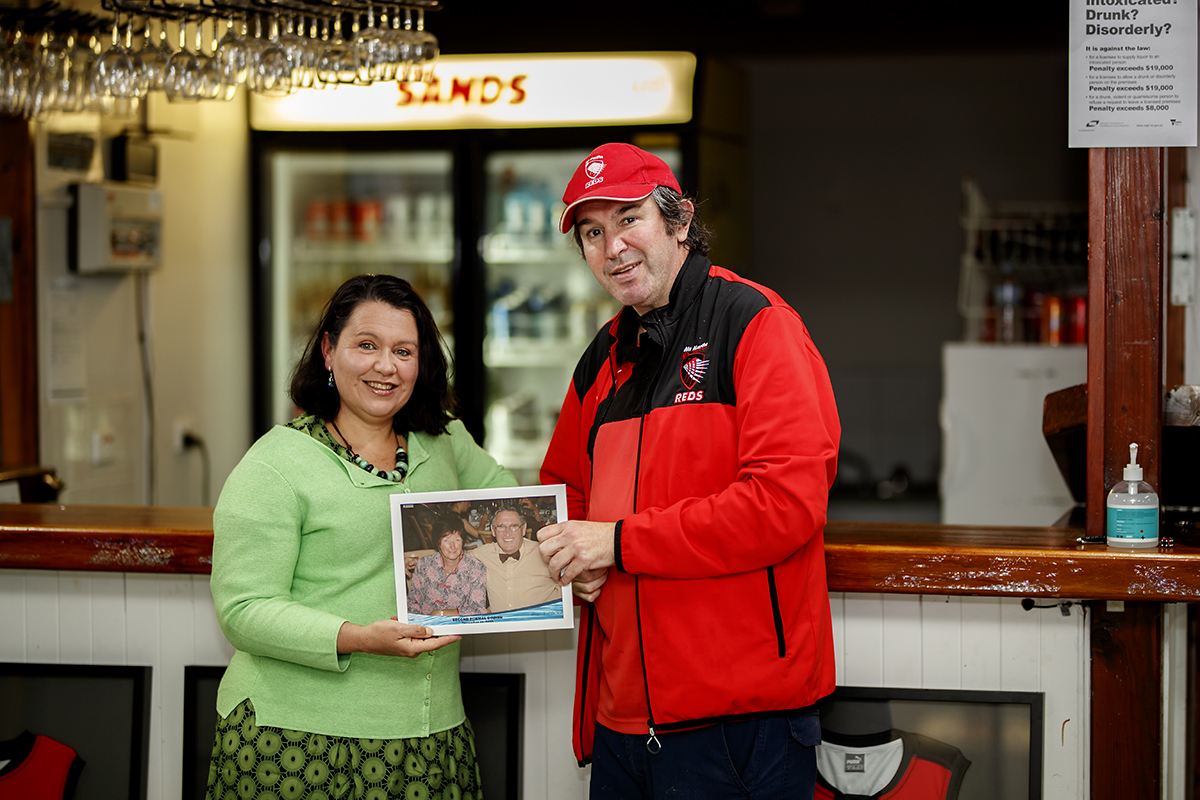 By Joe Novella Photos Yanni (main) & Supplied
Chances are, if you've ever dropped in for a drink at any of the peninsula's famous watering holes, or watched some local sport at one of the many sporting fields in the area, you'd have either seen, or heard, Kenny Sands. Sadly, Kenny passed away recently, so we'll no longer hear the sound of his raucous barracking at the cricket, or his laughter in the public bar, but the memories will never fade. Put simply, the bloke was a bona fide legend.
Kenny was born in Sandringham Hospital in 1940 and had a typical childhood until he was 16 years of age. He went to Brighton Beach Primary and later Brighton Technical, but wasn't too fond of the books. Instead, young Kenny loved his sport, playing cricket at school and footy for the Sandringham footy club.
At 16, Kenny's mum died of bowel cancer and a year later he walked into his home to find that his dad had taken his own life. For many kids Kenny's age, those tragic events would have been more than they could handle, but Kenny was made of sterner stuff. Thankfully, he also had the support of his older sister, Jean, who took Kenny in to live with her and her husband in their Dandenong home. Keen to pay his own way, Kenny ditched school and began his working life as an apprentice in the plumbing trade.
In the 1950s, Jean and her husband purchased a block of land on the peninsula on which they planned to build their new family home.
Not wanting to leave Kenny behind, they encouraged him to follow suit. So, at just 20, using his hard-earned savings, Kenny bought himself a block in Jackson St, Mount Martha, at the top of the hill, not far from his sister's place. On that block he built one of the first houses in what was then snake infested bushland.
The house was to become the Sands family home, where he and wife Jillian would raise their kids, David and Renee.
"I remember there weren't many houses in our neighbourhood when I was a kid," said Renee, "which meant we pretty much knew everyone and we were all very close. At Christmas one of the neighbours would take all of us kids for tractor rides; it was a close-knit community and a great place to grow up."
Kenny became an integral part of the Mount Martha community, and a big part of his kids' lives always encouraging them to get out and be active. Renee was a brownie at Osborne Primary and then a girl guide. She played netball and basketball and did horse riding at Red Hill.
Kenny signed David, better known as 'Sandsy' or 'Snooze' to many on the peninsula, up to Mount Martha Cricket Club (MMCC) when he was just 10 years old.
David is still there today 32 years later, a life member of the club. In fact, such has been Kenny and David's contribution to MMCC, the club has named a bar in their honour: 'The Sands' Bar'.
Long time MMCC President, Mike Ronchi, said of Kenny, "He was known to all of us as just 'Kenny'. No need for the surname. As soon as you mentioned the name Kenny, everyone knew who you were talking about. In my 20 years of involvement at the Mount Martha Cricket Club, as a player, committee member and a stint as President, Kenny was an ornament to the club. He was always there when he could make it. He would waddle in on busted knees and whatever other god-known ailment he had (but wouldn't let you know) with the first words of 'What can I do for you, Roncs?' If only there was another 15 Kennys around at the time!"
Having talked to people who knew Kenny well, and reading many of the comments left on the 'Ken Sands Memorial' Facebook page, it is clear that one characteristic best defined the bloke, and that was his fighting qualities. When life knocked Kenny Sands down, he would pick himself up, dust himself off, and keep going.
He got knocked down again when sadly, with his kids still very young, his life became one of a single parent. How did Kenny respond? He worked many different jobs, sometimes 80 hours a week, to make sure his kids lacked for nothing. He was a barman at his great mate, Shane Whelan's, Dava Hotel. When that was sold, Shane offered Kenny the Manager's job at the Royal Hotel. He also worked in the drive-through at the Grand Hotel and as Assistant Manager at the Mornington Golf Club. And, somewhere in between, he still made time to watch his kids play sport and have a bit of fun himself.
"I remember when David and I were just kids," Renee said.
"We were taken to the Royal Hotel for Dad's farewell. Dad had been drinking all day and when we entered the public bar we found him dancing on a table with the whole pub shouting for him to take off his clothes. They rushed us out when he got down to his jocks, thank goodness."
Yes, it's clear that Kenny made many friends on the peninsula and maybe a few enemies too; he did like to speak his mind and stand up for what he believed in.
His fighting qualities were never more evident than when his son David was struck down with bacterial meningitis.
At the height of the disease, David was in intensive care at the Alfred Hospital. He was in a coma with all manner of tubes running in and out of his body. The only things keeping him alive were the devices that breathed for him, provided fluids and removed the waste from his body. He clung to life by a thread. He was in a bad way; so bad that the family was told he wouldn't make it. And to make matters worse, he'd suffered a series of strokes since the onset of the disease so, even if he did survive, there was no way of telling what further challenges he would have to face.
"I still to this day distinctly remember when I first walked in," said Mike Ronchi. "Kenny grabbed me firmly by the shoulder and shook me violently saying, 'Roncs, I wont let this thing beat us! You watch. I'll have him back playing cricket in no time.'"
And Kenny was true to his word, hardly leaving his son's side, never giving up hope, fighting with everything he had to pull his son back from the brink, encouraging him every time a milestone was reached, no matter how small: the blink of an eye, the twitch of a finger. He willed his son to push on, to fight harder, to fight every step of the way.
In 2016, three years after he'd been struck down with bacterial meningitis, David made it back to Ferrero Reserve to play his 300th game for his beloved Reds. He came out to bat through a guard of honour and there wasn't a dry eye within cooee of the place. The illness had affected his speech and mobility but his chin was up as he made his way to the crease; a fighter, like his old man. Kenny was there of course, clapping his son as he came out to bat, with him every step of the way, just as he had been during David's long recovery and rehab.
The community will miss you, Kenny Sands, so too your mates, but the last words I will leave to your daughter, Renee, who will miss you more than most.
"He always made us feel safe and loved: running beside us to teach us how to ride our first bikes, taking me to basketball, netball, swimming, brownies and girl guides, hanging out with my brother at cricket and basketball, giving me away on my wedding day to Michael and being the first grandpa at the hospital to see the birth of our three baby girls Ruby, Colleen, Stella and David's son Daniel. He was one in a million and I will miss him more than he knows! Good-bye Dad, we hope you rest in peace."
Vale Kenneth Alexander Sands 1940 – 2021.