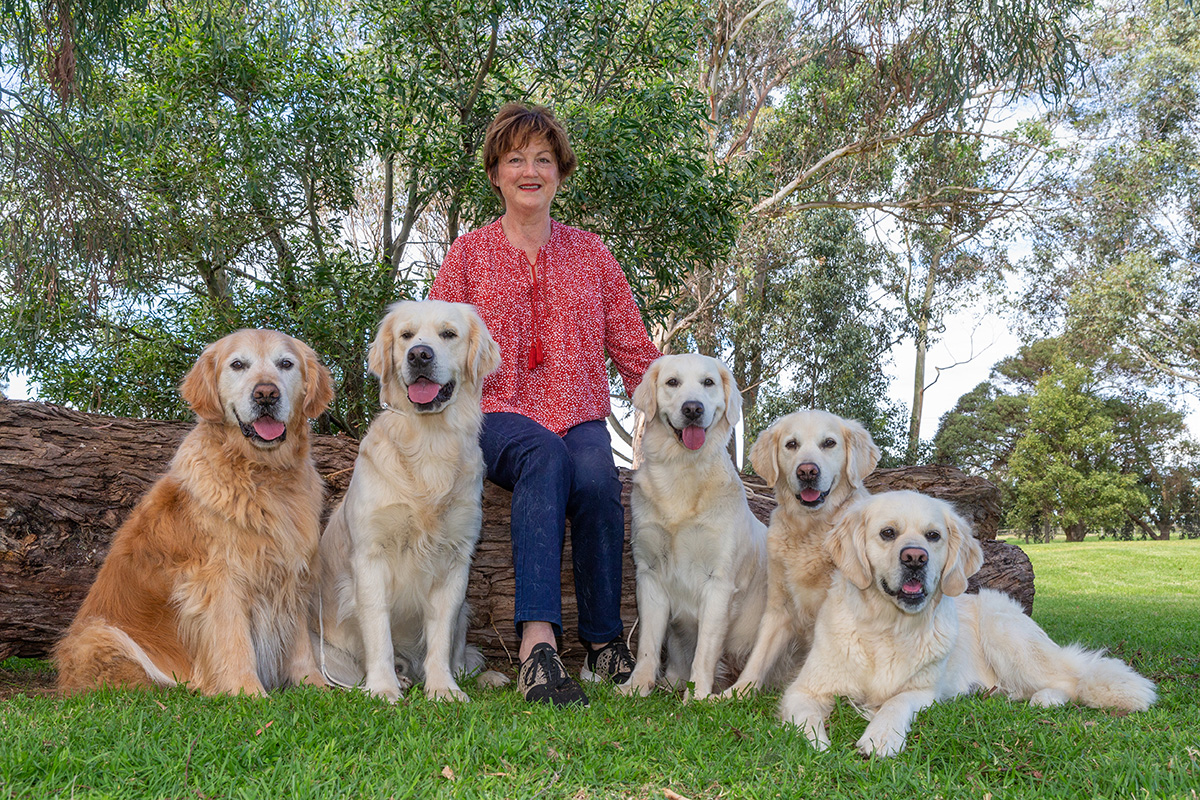 By Damon Rowston Photos Gary Sissons
In 1988, Kim Houlden and her husband Denise Houlden bought their first Golden Retriever, Cleo. Thirty-three years later, Mrs Houlden is competing in and judging Golden Retriever competitions, breeding Golden Retrievers, and working at the Golden Retriever Club of Victoria (GRCV), as the club's secretary.
"Cleo cost us $375, which in 1988 was a lot of money, so my husband and I decided that if we we're spending this amount of money on a nice dog, that we would do the right thing and take her to obedience lessons so that she would be well-behaved around the house," Mrs Houlden said. "When I saw some of the dogs being trained for obedience trialling competitions, and I saw what they could do, I thought, 'Oh, I'd like to do that."
Taking Cleo to obedience lessons changed Mrs Houlden's life forever. "If I hadn't taken Cleo to obedience training, I wouldn't be where I am today as a performance disciplines judge and competitor, breeder and breed show exhibitor."
The early friends Mrs Houlden made helped motivate her to participate in competitive obedience and tracking competitions. However, it wasn't until Mr and Mrs Houlden brought their third Golden Retriever, Bella, that they started breeding dogs. "I had a lot of people telling me that she was a very nice dog," Mrs Houlden said. "We've always thought that we would probably like to get into breeding dogs later down the track, but it just took the right dog."
Bella's first litter were sold exclusively to friends of the Houldens. "They had all known Bella for so long and just really wanted a Bella puppy," Mrs Houlden said.
Selling their first litter exclusively to friends made it easy for them, knowing that all the puppies were going to good homes. For Mr and Mrs Houlden, selling puppies to good homes is extremely important.
As secretary of GRCV, Mrs Houlden has many connections with the Golden Retriever breeding community in Victoria. She is also friends with lots of her fellow breeders. As club secretary, she hears lots of stories from other breeders, both positive and negative. "A friend said she had a family come and look at her puppies, and the wife just backed off into the corner and wouldn't even touch them, and my friend said, 'Why do you want a puppy if you don't want to touch it?' And so, they didn't get a puppy," Mrs Houlden said.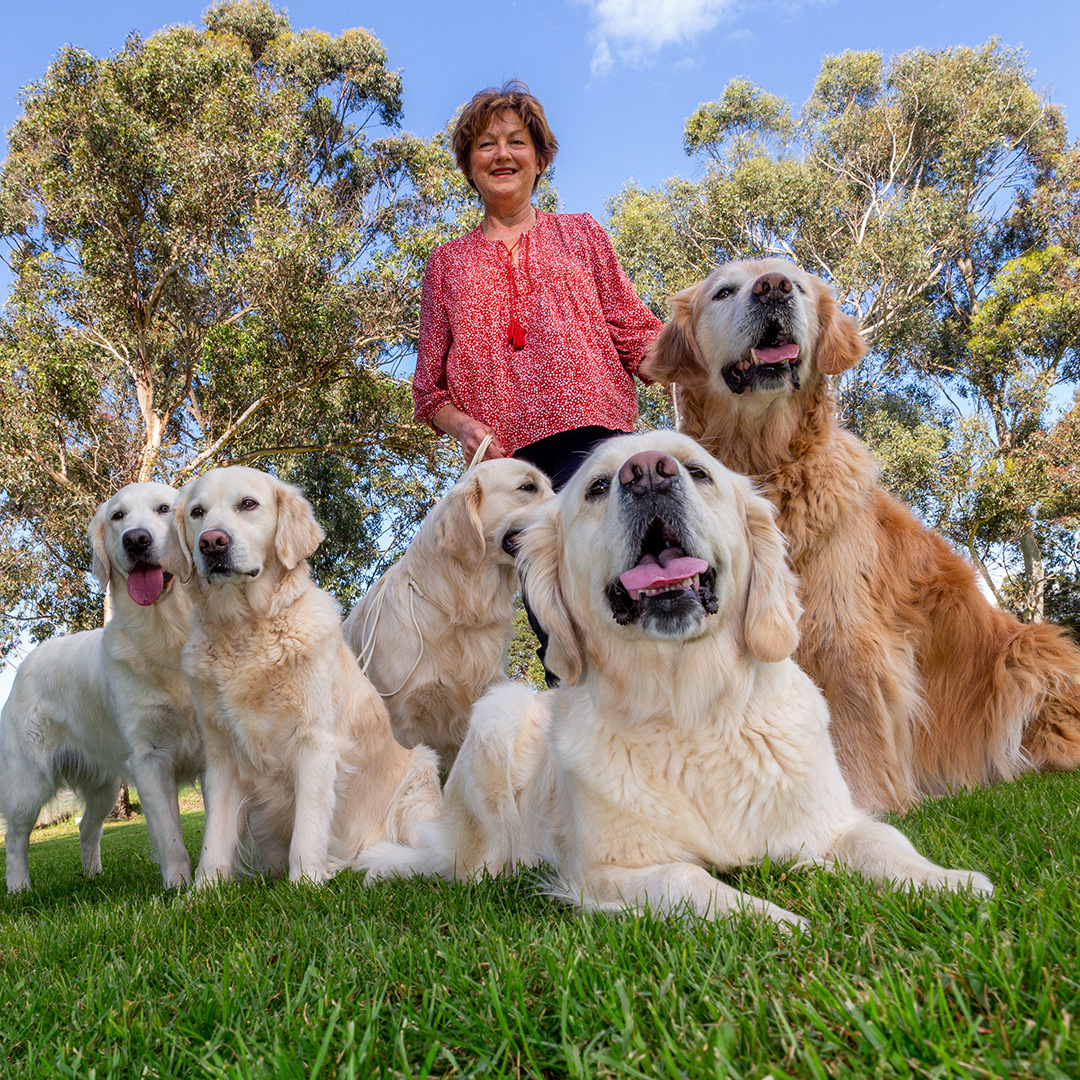 Moving to the peninsula thirty-six years ago, the Houldens left Sydney searching for a quieter place to live. They initially moved to Mount Eliza but decided to buy acreage and moved to Somerville, where they've set up their registered breeding company, GoldNymph. "It's a nice little community, as people tend to look after one another more, and it's just so green. We look outside, and there are just green paddocks all year round," Mrs Houlden said.
Breeding Golden Retrievers is very social and has allowed Mrs Houlden to meet people who also live on the peninsula that she probably wouldn't have ever met. "It becomes a real social network which just keeps growing and growing," Mrs Houlden said.
Mrs Houlden mentioned the difficulty of breeding Golden Retrievers, which requires eight weeks of raising them, socialising them, playing with them and feeding them. For the first few weeks, Mr and Mrs Houlden have to sleep in the same room as the puppies and their mother to make sure the mother doesn't roll on them accidentally in the night. "You're like a walking zombie by the end of it, but it's good fun," Mrs Houlden said.
At eight weeks of age, the puppies are ready to be sold to other homes where they're able to receive the amount of one-on-one attention they need. For Mrs Houlden, this is always a difficult moment. "I cry every time because you put your heart and soul into raising them, and it's a huge chunk of your time." Mrs Houlden said. "You can't spread enough attention to all the puppies when they're eight weeks old, and they all need separate things in terms of training. It's hard, but it's necessary."
However, Kim and Denise always have the option to keep a few puppies. "The dogs we keep, they stay with us forever; they're our pets first and foremost."
If you are looking for a Golden Retriever puppy please visit
The Golden Retriever Club of Victoria website where you will find a list of reputable Australian National Kennel Council (ANKC) registered breeders:
---
grcv.org.au
facebook.com/Goldnymph