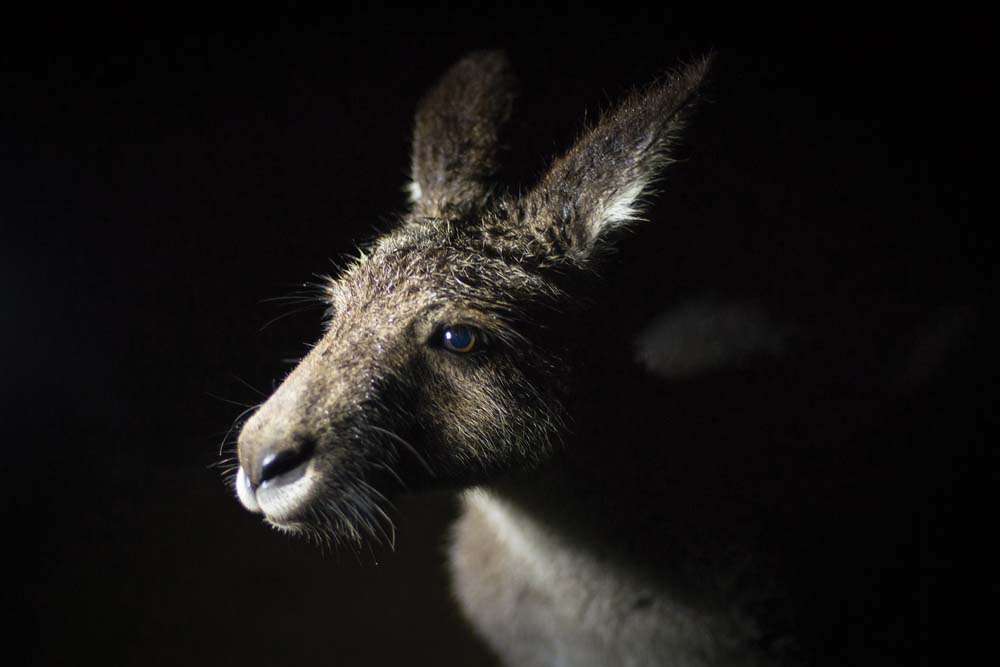 By Kristy Martin   Photos: Jarryd Bravo
I never thought I'd be standing inside an animal enclosure at night listening to owls barking like dogs, Tasmanian devils squealing like pigs and an emu with a chest heave that mimics a bass drum.
I didn't expect to be hand-feeding kangaroos, wallabies and squirrel gliders in absolute darkness with only a lantern to light up the scene.
Taking part in one of Moonlit Sanctuary's night tours is a unique and thrilling adventure.
Both fun and educational, it is for those seeking intimate encounters with Australian native animals without the crowds and in a completely different atmosphere to strolling through the park during the day.
The sanctuary's renowned lantern-lit tours bring a whole new dimension to this award-winning eco tourism facility in Pearcedale, and are a great way to observe a variety of rarely seen nocturnal creatures when they come out to play at night.
"All Australian mammals are night animals," explains Moonlit Sanctuary's owner and director, Michael Johnson.
"Even kangaroos and koalas, which people see normally in wildlife parks are much more active and much more intimate at night, so we like to take people through at night."
You'll see owls in action and gliders swooping around, while quolls, pademelons and bettongs forage for food.
Not only will you get up close with koalas, dingoes and Tassie devils under the cover of darkness, but the thrill of being in the park on this exclusive tour after its gates have closed just adds to your excitement.
Our guided night tour begins with an introduction to Pugsly, the two metre long python who enjoys making people squirm by squeezing the back of their necks.
We are then handed our inflatable solar lanterns before setting off to see which of the sanctuary's 60 different animal species will come out to say hello.
Joining us on the tour are a pair of families from Canberra with four young children and a group of British tourists, each individual equally excited regardless of age or nationality.
As we trudge around in the mud, listening to the chatter of the different birds and marsupials, our friendly and knowledgeable guide, Sally, informs us about the breeding habits of spot-tailed quolls, that southern bettongs are extinct on mainland Australia and where Tasmanian devils get their name from.
Much more than a petting zoo, Moonlit Sanctuary focuses on educating the public about Australia's native animals and is also involved in a number of successful conservation programs.
"About 40 per cent of all our animals are endangered in one way or another," says Michael Johnson.
"At the end of the day, unless you are doing something for the conservation of them in the wild, you're not actually doing much more than having them on display."
This is why the sanctuary is involved in a number of breeding programs that aim to protect critically endangered species like bush stone curlews and orange-bellied parrots.
With less than seventy left in the wild, orange-bellied parrots are on the critically endangered list, meaning there is a 90 per cent chance they will become extinct within the next five years.
Moonlit Sanctuary's captive breeding program is one of only a handful in Australia that are vital for the survival of this rare green bird with its distinctive orange belly patch.
Moonlit Sanctuary, which is animal welfare accredited, has twice received the Victorian Tourism Award for Ecotourism and also won the Sustainable Cities Protection of the Environment Award for its Tasmanian devils.
It has come a long way from its humble beginnings back in 2001, when the sanctuary first opened offering solely moonlit tours and struggled to attract a few thousand visitors in its early years.
Fifteen years on, the park is now open daily and a whopping 100,000 visitors are expected to pass through its gates this year.
Guests can not only learn about endangered and threatened species through daytime visits or by participating in one of the moonlit tours, but they can also get up close and personal in one of five exclusive animal encounters offered daily.
You can play with the dingoes in their enclosure or take them for a 30-minute walk on a leash.
You can hold a python or a barn owl, or cuddle a koala, which is by far the most popular wildlife experience.
(It is immensely popular with international tourists and sanctuary staff can manage anywhere up to 100 of these encounters on any given day.)
Michael says once you get to spend time with the animals, you come to notice that they have different personalities.
"Certainly the more intelligent ones do, the dingoes and the parrots definitely have individual personalities."
Michael's interest in wildlife developed as a child and he recalls a fascination with books by British naturalist and zookeeper Gerald Durrell, particularly on the subject of endangered species.
This passion continued well into adulthood, but it wasn't until 1998 that he decided it was time to dedicate himself to conservation work. He then found the 10-acre site at Pearcedale and began to build Moonlit Sanctuary.
He imagined a place where people could experience firsthand the rare and unusual animals that roam the Australian bush, especially the many species that no longer live locally.
Each animal within the park has been hand-picked to fulfil his lifelong desire to help halt the rapid extinction of animal species in Australia.
In 2012, Moonlit Sanctuary opened the world's first walk-in glider enclosure as part of its lantern-lit tours and it truly is a marvel to have tiny feathertail gliders, which are smaller than mice, darting around you in the dark.
Yellow-bellied gliders, which can glide up to 150 metres, swoop overhead in this purpose-built 20 metre aviary and you can even get up close with tawny frogmouths, a species of bird known for its expert camouflaging skills.
Moonlit Sanctuary's night tours are a fun and unique outing for families, friends or couples that combine adventure, education and conservation.
So, do yourself a favour and take a walk on the wild side.