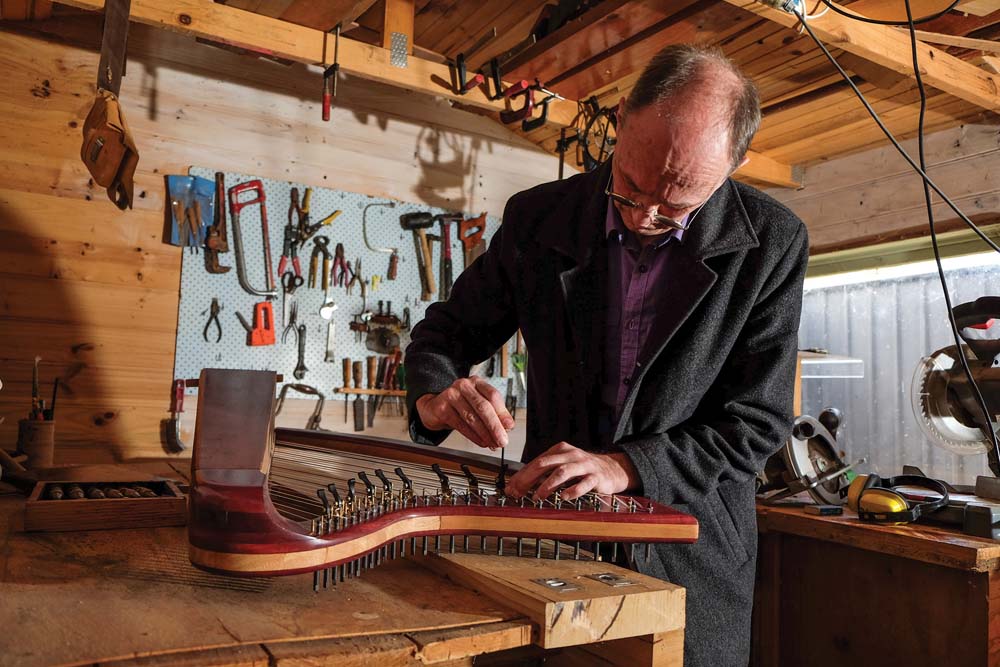 Not many people can claim to have had a gun pointed at their head. Even fewer can get through the ordeal without so much of a blink of an eye. Brett Pierce can lay claim to both. Sure, it wasn't so much a Dirty Harry moment "Did he fire six shots or only five… you've gotta ask yourself one question: 'Do I feel lucky?' Well, do ya, punk?". No. It wasn't quite like that.
As a gunman pointed his weapon at Brett Pierce one steamy evening in Phnom Penh, Cambodia, the Mornington Peninsula resident  just continued eating. Others scurried for their lives, and hid from view, but Brett, unable to recognise the potential moment of his death, never cowered.
This is the tale which starts Brett Pierce's new book, Beyond the Vapour Trail; a journey through countless countries by the local aid worker who has spent 20 years at the sharp – end of development aid in some of the most needy places on earth.
Oh, and he also makes harps. But more about that later.
Brett Pierce's career began during the 1990's when there was a significant shift in aid work. Child sponsorship was being developed, and it was an approach to helping the disadvantage that would revolutionalize aid.
"This was not giving to some pot of funds and spreading it around" explains Brett. "This was very specific. And very powerful."
It also came with it's own challenges. It required people like Brett to head to the far reaches of the world to assess needs, and the viability of programs such as child sponsorship.
It took Brett to places like Uganda, Mongolia, Sri Lanka, Guatemala and Azerbaijan. He experienced human suffering first-hand, but also the intense goodness that is in most people.
"There is something about travelling to these places that makes one feel alive" said Brett.
He goes on to explain the extreme highs and lows that these places experience, and how they affect the everyday life of their people.
"In a place like Uganda, the hardships are genuinely hard, and the joys are genuinely joyous.
"When they laugh, they laugh from the belly. They love to celebrate. It is something about how they approach life".
Uganda has been a country that has resonated deeply with Brett; a place where he has faced the advancing Lords's Resistance Army as it swept southwards. It was place where he met Betty Alajo, his own sponsor child; a 12 year old girl who was the sole carer for her mother who was ravaged by HIV.
"Betty is a major part of this book. A lot of it is her story," said Brett.
"She is a young woman who has been through incredible hardships, yet still understates her story"
"Her mother was also the most generous person I have ever met".
Beyond the Vapour Trail recounts the time when Brett first met Betty. She was a bright young girl who had begun to lose hope over the desperate nature of her situation.
Brett drove with a colleague north from where they were based in Soroti, Uganda. Heading north was heading towards Joseph Kony's Lord's Resistance Army as it advanced to the south.
"It was life a scene from Apocolypse Now. Everybody was heading 'down-river' away from the advancing army, and we were heading 'up-river' towards it".
"Once we arrived at Betty's house, we met her mother and saw the extent of their difficulties.
"Looking after her dying mother, Betty had ceased to see a future for herself. And her mother's illness meant they had no real source of income.
"They lived in a concrete block home, about two by three metres. Inside was a hessian bag stuffed with straw. Outside ran around most of their worldly possessions: two chickens.
"I sat with Betty's mother, Clere, and explained that I wanted to sponsor Betty. She listened with a beautiful and dignified manner, and then responded in her own way. She insisted I take a gift. One of her chickens.
"One of her two chickens."
Brett recounts, in an email home to his wife, how he drove away from Clere and Betty, much affected by his experience, and with a bewildered chicken in the boot.
"I imagined trying to explain it on my arrival back in Australia; the live chicken I had in my hand luggage. I then thought better of it and gave it to someone whose need was far greater than mine."
Beyond the Vapour Trail often switches to emails home to his wife Kathie; often whimsical takes on his experiences.
"There is no doubt that Kathie carried a lot of the burden of my job. I think she did it because she saw the inherent value in what I did. But I know it must have been incredibly difficult for her."
The book includes his stark and honest discussion about depression, and his personal battles with the disease.
"Although I had a counselling background, I struggled for years for the insights to help myself.
"I used all my skills and got nowhere. It took a therapist to give me the insights I needed."
Free from the all-evasive effects of depression, he decided to write his experiences for others to enjoy.
"When you work in overseas aid, you have experiences that deeply and profoundly affect you," said Brett.
"But they are not barbeque conversations. So I found that I put them on the back-burner and left them semi-processed".
It was only about four years ago when it was suggested that he put pen to paper.
"My grandfather lived in McCrae. He had written a story of his life, and it had never been published. So I thought 'I'm going to get it published in his memory".
The publisher said "You should write about your travels", and that is when the light switched on.
"It was a cathartic experience," said Brett. "Once that seed was planted, stories began to emerge."
Brett still works in development aid with World Vision. It keeps him travelling up to fifty percent of the time.
When home, Brett enjoys spending time with his family (he has four children and seven grand children), brews 'fine ales' and dabbles in his penchant for building harps.
"It is an interesting story. I didn't know anything about woodwork. Or harps for that matter," said Brett.
"I drew up plans on the kitchen floor, and enlisted the help of a woodworking friend to build my first harp.
"The first day, all we did was tidy the shed and clean tools. I was thinking to myself 'let's stop wasting time and get onto building the harp!'
"But I was learning from someone who had developed their skills from a time when life was about the process and not just the destination."
It was a life lesson that Brett took to heart.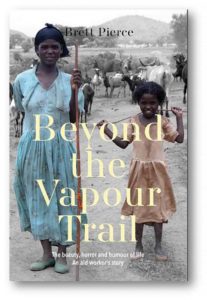 "You see, I always thought that life was 1% the journey and 99% the destination. Building the harps began to change my idea of the journey. Now I think that life is 99% the journey and 1% the destination."
There can be no doubting that in Brett's case. He has journeyed further than most of us would in ten lifetimes. And he has written a wonderful and warm book about it. Make sure you read it; you will love it.
Beyond the Vapour Trail is $29.99, and is available at all good book stores.