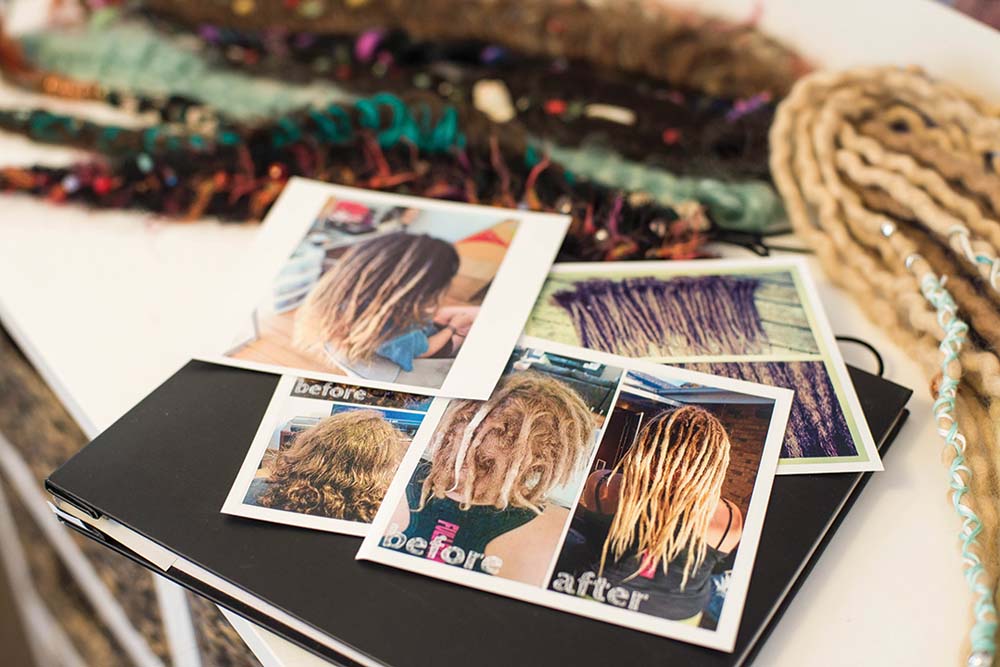 By Kristy Martin   Photos: Jarryd Bravo
Dreadlocks are making a comeback and Rosebud's Rachelle Holland is at the forefront of the trend with her business 'Jungle Bangs'. Kristy Martin chats to this crafty mum of five who is making a living through the art of dreadlock styling.
Rachelle Holland is a 'professional dreadloctician', which is probably an occupation not many of us have heard of. In her purpose-built home salon, she spends countless hours with a crochet hook in hand, expertly fashioning her clients' hair into dreadlocks.
She does dreadlocks for people with long or short hair, using human hair, wool or synthetic extensions.
She does temporary, or braid-in, dreads for those who don't want the full commitment and maintenance for those whose locks have grown out or require neatening.
She sometimes adds colourful wraps, charms and beads for clients who want a pop of colour or some jewellery to complement their locks.
People travel from all over Victoria to see Rachelle.
Her clients are a mixture of men and women, aged between 14 and 60, and sometimes they are in the chair for an entire day.
She welcomes them into her home, strangers at first, chatting to them for hours and getting to know their story, listening to music and watching movies with them while she works.
By the time they leave, which could be up to eight hours later, they have forged a special bond with their hairstylist.
Rachelle says that gone are the days when dreadlocks were made by teasing or backcombing hair and using sticky wax or harsh chemicals.
Jungle Bangs uses the all-natural crochet hook method, meaning cleaner dreadlocks and minimal loss of length.
While dreadlocks remain a somewhat alternative hairstyle, they tend not to have the same stigma they once had of being dirty or unkempt.
That being said, there are still people who fail to take care of them properly.
"If you don't take care of them, they will look feral and if you don't wash them, of course they will smell," says Rachelle.
It is a myth that dreadlocks don't need washing, but they certainly aren't hard to take care of, says the entrepreneurial mum.
"You need clean, oil-free hair for your dreadlocks to lock up really well.
"And you can do different styles with dreads to make them look neater and classier, especially if you leave some fringe out."
Dreadlocks do not appeal to everyone and people get them for various reasons.
"(With) most people, I'll ask how long they have wanted them and they'll say "years".
"I've got a lady who is coming in next week who has really long hair and she's getting a full head of dreads, plus extensions, and it's her 60th birthday a few weeks later.
"It can be quite empowering for people."
A self-taught 'loctician', Rachelle is surprised when parents are willing to pay for their teenage children to get dreadlocks, which can cost upwards of $500 for a full head.
However, she recalls always having unique cuts and outrageous hair colours herself while growing up on Queensland's Sunshine Coast.
It was her way of expressing herself.
"I was always pushing the boundaries at school with my hair colour and stuff.
"It started in about grade five or six.
"I was always colouring friends' hair and it was so much fun… (but) the hairdressing industry never really appealed to me.
"When I met my husband, I'd never been around anyone with dreadlocks and I'd never even thought about it, and he had this full head of dreads.
"He looked like Jack Sparrow," she laughs.
It was he who suggested she try out dreadlocks for the first time.
"For my first set of dreads, I went to a salon somewhere in Eumundi.
"Back then they did the perming solution and lots of backcombing and chemicals and stuff like that.
"I loved them, but then – because I get really bored – I impulsively cut them off one day.
"But after having them and not having them, I preferred having them."
She later came across a dreadlocked barista who offered to redo her dreadlocks using hair extensions.
But the woman ended up only completing half and so Rachelle had no option but to learn how to finish the dreadlocks herself.
"I did a tonne of research, practicing on hair extensions I had from my wedding and eventually got my whole head done with a full head of extensions.
"I did it myself over a few nights and they actually turned out really good."
She wondered whether there was a market for dreadlocking and, once she found out no local salons offered it as a service, she put up a post on a Sunshine Coast community Facebook page and suddenly she had her first few clients.
"I didn't actually think about where it (the business) could go.
"By that stage, I had kids and I just saw it as a bit of extra cash."
In 2013, the family was forced to relocate to Victoria after Rachelle's husband, Mark, was made redundant and secured a new job down here.
They moved into his parent's beach house in Rosebud and Rachelle decided it was time to invest in her dreadlock business and make it a viable source of income.
For a while she had a stall at Rye's indoor market, Flock of Seagulls, but it was only when she joined an international dreadlock group on Facebook that she was introduced to wool and synthetic dreadlock extensions and from there new business potential emerged.
Three years later, Jungle Bangs is going strong with a steady stream of regular clients, a new-look salon and a range of natural and organic dreadlock shampoos on sale.
New customers are always being found thanks to the reach of social media and Gumtree ads.
Rachelle has also just given birth to her fifth baby.
(She has four boys, including twins, and a newborn baby girl.)
Being a busy mum, it suits her to have a flexible home business.
She can work as much or as little as she wants and she can take the time she needs to expand Jungle Bangs as new opportunities arise.
"It's great that I can choose when to work, but I do want to keep growing the business.
"I'll never settle, thinking 'this is it and this is the best I'll ever be'. I just want to improve it all the time."
To check out Rachelle's work, find Jungle Bangs on Facebook or Instagram.