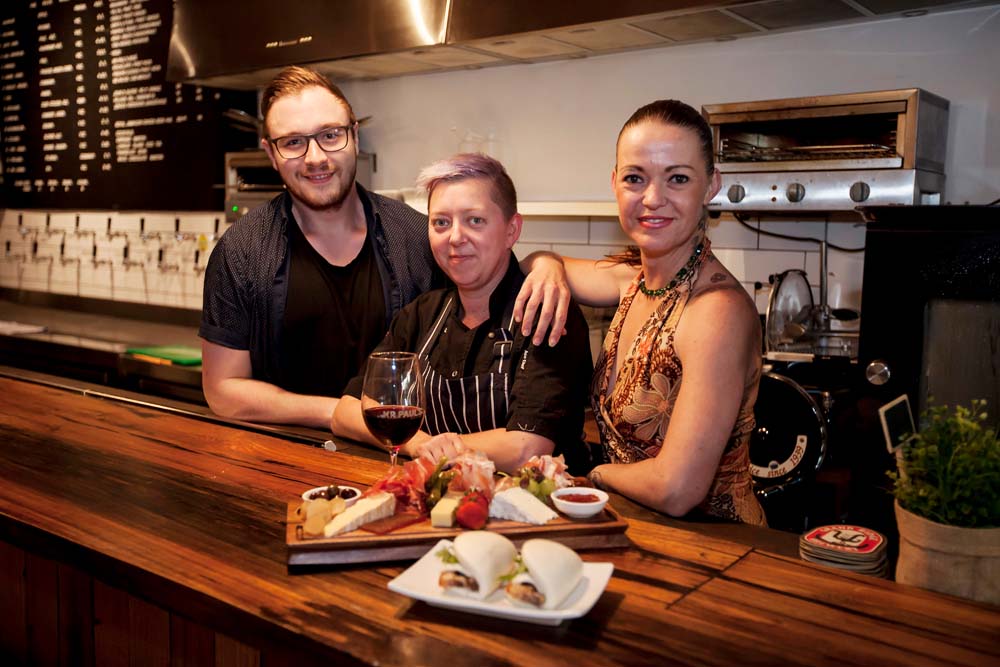 By Melissa Walsh   Photos: Yanni   
She's fun and feisty with some wicked tattoos and a somewhat laissez-faire attitude to life but don't be fooled by her casual exterior. The new owner of Mr Paul's, Bel Mead, definitely knows what she's doing after 25 years in hospitality.
I met Bel and her staff down at the local bar and café that's been described as Mornington's hidden gem in the Vale Arcade.
"I took over in October last year after seeing how awesome it was and realising it was exactly the kind of place I always wanted to own. I came in and checked it out, ate a steam bun, made a bid and bought a business," says Bel with a laugh.
For the woman who had been in hospitality most of her adult life, with ten years on Mornington Main Street, Bel could immediately recognise the appeal of the place.
"I really haven't had to make too many changes as it was great the way it was. Paul, my predecessor,  had set it up beautifully and it's been a popular spot for the locals so I wanted to keep it that way."
The only thing Bel and her staff have added is a few more diverse beers, a couple of menu additions and cocktails for the ladies.
"It is different owning the establishment as opposed to running it. I had to learn about beer. I had never really been a beer drinker so now I am getting to know the beers and the beer makers and it's great. I officially love beer now," she says. "We have also introduced some awesome cocktails, particularly the longest island iced tea, which is made in our extra-large glasses and is already becoming a favourite. We also do a great espresso martini."
Another coup and part of the smooth transition was the head chef, Alicia Bickley, who came across with her to work in the business.
Even as we sit talking, Alicia comes out with a new pancake recipe she wants Bel to taste.
"We had worked together for years in Mornington and the plan was always that, when I bought a business, she would come across with me. She creates amazing menus with a street-food style, while sticking to the old favourites that the customers love like the twice cooked pork belly steam buns, the calamari, and popcorn chicken," said Bel. "With just two hot plates, a fryer and a Salamander, she produces some of the best food in Mornington."
As if it was meant to be, Bel also scored Tom Bowen, the lad with a Pommie accent that sometimes gets him into trouble.
"Tom has been here for nearly two years and is the bar supervisor and beer expert, and everybody loves him," says Bel, delighted that he decided to stay on after she bought the bar from Paul.
As for Bel, she is delighted to be in this position and now own her own bar.
"I'm rapt to be nearly 40, single, footloose and fancy free, and running my own place, and I am delighted that the customers know it's the same Mr Paul's that they always knew, with the same great vibe, food and awesome beer wall."
Mr Paul's is at 11/234 Main St, Mornington
Open Wednesday to Sunday
Phone 5975 2258