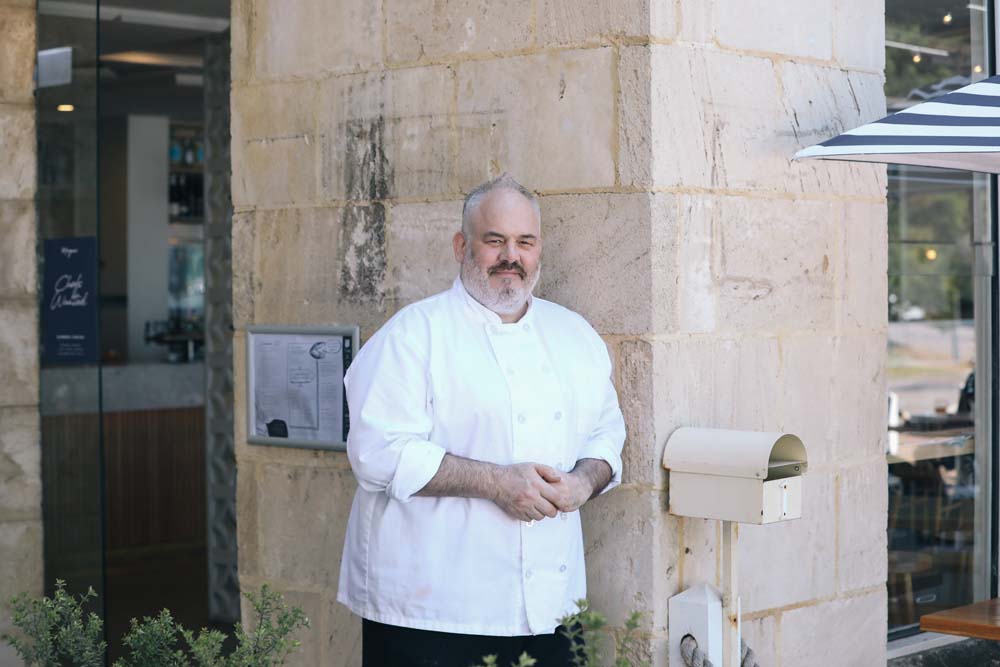 Revered as one of the country's great culinary talents, Paul Wilson will be celebrating great Aussie fish cafes and delivering sustainable, market fresh seafood to Morgan's Sorrento.
Credited with serving some of Australia's most exciting food, Paul has been described as one of the most extraordinary culinary talents in the Commonwealth and continues to receive critical acclaim for crafting inspiring dishes that take an innovative approach to cuisine traditions.
"We will source the abundant unusual suspects, not the endangered usual suspects. It's our duty as industry professionals to educate and give back to the community," says Wilson.
Known for taking classic ideas and exotic food cultures and turning them into contemporary dishes, his cooking style spans the globe.
Three Chef's Hat Winner Paul is regarded as Australia's prominent expert on Latin food cultures. His latest ventures the Newmarket hotel & Acland St Cantina are some of the most popular and celebrated restaurants in Australia.
Some of Paul's other career accolades in Melbourne include the Epicure Professional Excellence Award, Best New Restaurant Nominee, Restaurant of the Year Winner, Chef of the Year Winner, and Two Chef's Hat Winner.
Paul is a food ambassador for Melbourne and Australia. Past venues include: Prince of Wales Hotel, Circa Bar and Restaurant, Acland St Cantina Middle Park Hotel, Albert Park Hotel, Newmarket Hotel and Cellar Bar.
Paul remembers, "When I arrived in Melbourne after a successful career in London my objective was to make a contribution to this world class city, not to follow or play it safe and to still be mindful and respectful for what Melbournians and Australians celebrated and enjoy".
"My mission is to keep the joys of eating accessible and informal but still creative whilst highlighting great produce, and inspiring talent amongst the team! "
The day's catch will be served, along with menu highlights to include:
Local mussel stew 'Genovese style' with basil, pine nuts, garlic and parmigiano
Grilled sardine fillets with gazpacho salad
Salt & Pepper Arrow squid with papaya salad, peanuts, chilli and lime
Today's catch – grilled or battered with snow pea salad, tartare sauce and seaweed fries
Proper fish pie with 'Mariniere' sauce
Snapper fillet 'Provencale'
Spaghetti vongole with seaweed, garlic and chilli
Fish burger with crumbed Marine Steward Council Hake, pickles, iceberg and tartare sauce
Mushy peas & potato cakes
Strawberry trifle
"Morgan's waterfront location immediately reminded me of great Aussie fish cafes like Sydney's Doyles and inspired a crowd-pleasing menu of fresh, sustainable seafood." says Wilson
In a case of history repeating, famous fishmonger John Rubira returns to Morgan's to deliver the best available market-fresh fish, and son Lee will process the whole fish with a true 'nose to tail' approach. John has been a mainstay of Melbourne's Seafood market since 1963 and after a small break is looking forward to returning to the 'cut and thrust' of the pre-dawn hustle.
After more than 20 years of supply to the business, Clamms will continue to provide the freshest and best available seafood from around the country. Morgan's new offering will demonstrate diversity in the way seafood can be prepared, whilst also serving nostalgic crowd-pleasers. Clean Seas Hiramasa Kingfish will take pride of place on Wilson's menu.
Remaining committed to celebrating one of Victoria's best regions, the drinks list will feature beer, wine and cider from local breweries and wineries on the Mornington Peninsula.
Nestled between historic limestone buildings on the Sorrento foreshore, Morgan's provides the perfect spot for casual dining whilst enjoying Port Phillip Bay, the native Couta Boats and the grand ferry making the hourly crossing from Queenscliff.
With Paul Wilson at the helm of the kitchen and a the introduction of a new menu at Morgan's, the coastal hotspot is a must try!
Recipe

SARDINES WITH GAZPACHO SALAD
Sardine Ingredients
500g butterflied sardine fillets

Extra virgin olive oil

Sea salt
Salad Ingredients
200g mixed heirloom tomatoes or cherry tomatoes, cut into bite sized pieces

75g pitted Kalamata or manzanilla olives

30g rinsed baby capers

100g sliced baby cucumber

75g sliced breakfast radishes

4-6 finely sliced green chillies (1 per person)

1 bunch flat leaf parsley leaves

1 bunch basil leaves

1 red onion thinly sliced

100g ciabatta croutons

Lemon juice

Olive oil

Freshly ground pepper

Sea salt
Gazpacho dressing
5 ripe Roma tomatoes, roughly chopped

½ cucumber

½ red onion, roughly chopped

2 red capsicums, roughly chopped

1 small clove garlic, finely grated

½ green chilli

½ birdseye chilli

3 tsp extra virgin olive oil, plus 100ml extra

5 tsp sherry vinegar, plus 2 tbsp extra

1 slice white bread

1 tsp salt

100ml boiling water

1 tsp sugar

Dash of tabasco sauce

Freshly ground pepper


Sea salt
Method – Gazpacho dressing
Blend all the ingredients, except for the sugar, tabasco and pepper,

 

together in a blender with the boiling water until emulsified.
Add extra olive oil, sherry vinegar, sugar, tabasco and blend again until incorporated.
Season with salt and pepper to taste.
Pass through a sieve and then chill in the fridge for at least two hours until ready to serve
Note: The dressing can be made a couple of days in advance and can be used instead of  tomato juice in a Virgin or Bloody Mary cocktail.
For the Salad
Toss all the ingredients together in a bowl except for the croutons, lemon juice, olive oil, salt and pepper, and set aside
For the Sardines
Preheat the bbq or place a frying pan over high heat.

Lightly season the sardines with oil and sea salt.
Ensure you have a palate knife and baking tray or large plate close by and working quickly, place sardines skin side down and sear for 30 seconds before turning over and searing for a further 30 seconds.
To Assemble
Dress the salad with a drizzling of lemon juice, olive oil, salt and pepper and toss.

Place a spoonful of gazpacho onto each plate and then neatly arrange the sardines in the middle of the plate.
Top with salad before finishing with a final drizzle of olive oil and then serve.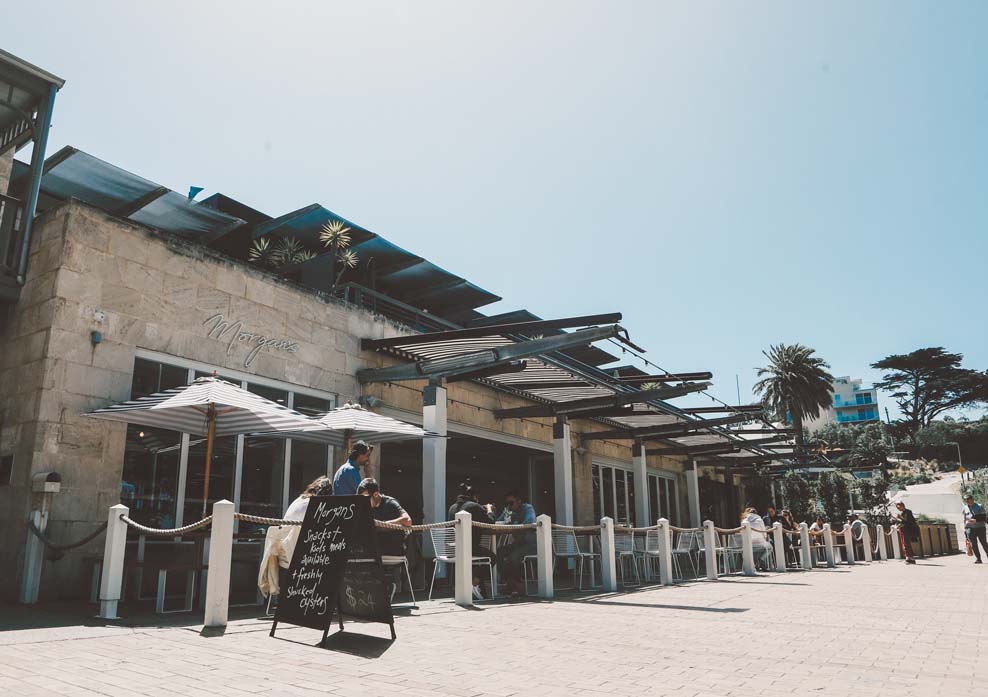 ---
Morgan's is located at, 1 Esplanade, Sorrento VIC 3943