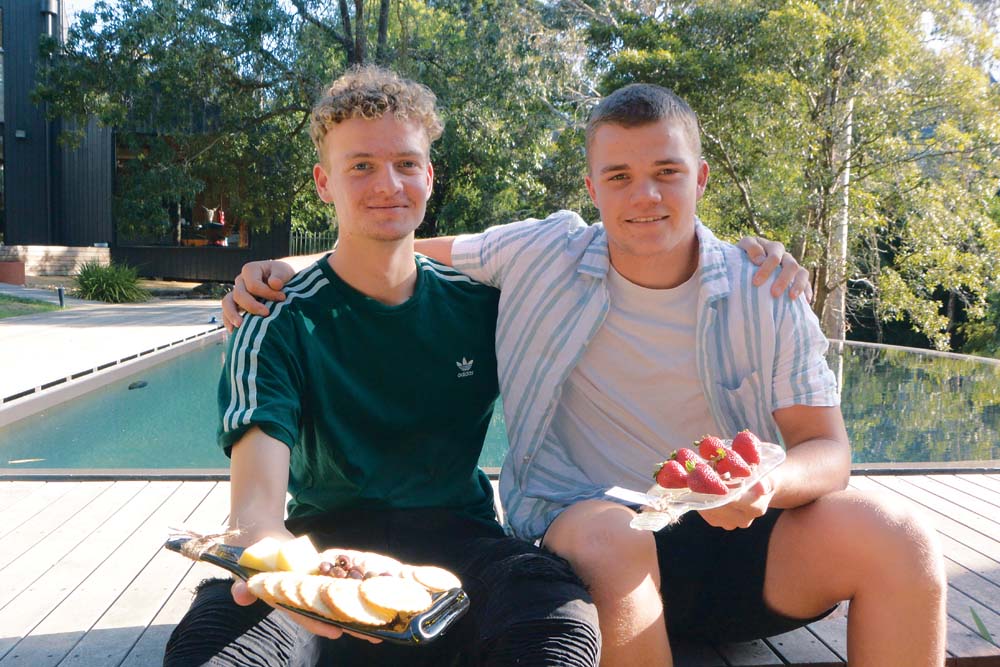 Jack Woodhill and Oscar Berryman have been friends since they started prep together at Mount Martha Primary School. Now in Year 12 and studying VCE Business Management at Flinders Christian Community College, Tyabb, they are partners in business as well. They produce a line of eco friendly upcycled glass cheese boards made from flattened wine bottles.
The concept for Peninsula Bottle Boards was born in Bali. While on a family holiday, Oscar and Jack were struck by the volume of discarded wine bottles found in around the rubbish bins of Seminyak. Those bottles were destined for landfill. They thought there had to be a better way to manage glass waste. This sparked the idea for their bottle boards.
Before their plane had touched down at Tullamarine, Jack and Oscar had decided on a name for their business, made a plan, contacted local businesses for bottle donations, researched where their product could be manufactured and checked out the legalities of upcycling wine bottles. In three weeks they had their first boards.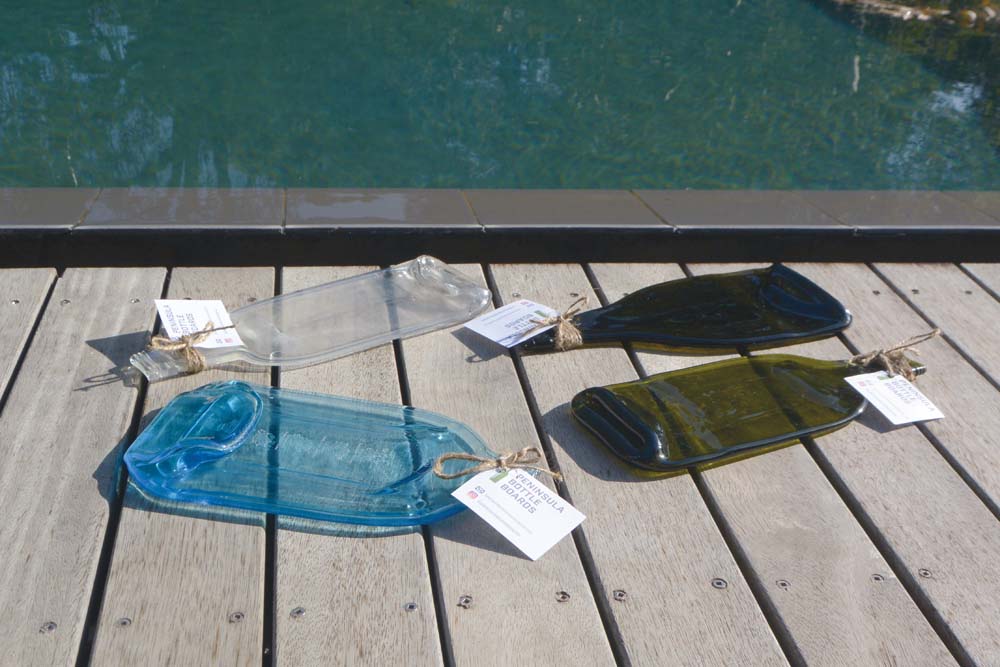 Studying business management has really paid off. They were able to look back on an old assignment to guide them through the process of setting up Peninsula Bottle Boards. It's provided inspiration too. Jack had always wanted to own his own company and Oscar will continue business studies at university, so they are well and truly ahead of the game.
From the beginning, it was important to them to create a sustainable business that benefitted the local community so they collect their bottles from bars and restaurants near their homes in Mount Martha and Mount Eliza. It saves those businesses money to have their bottles collected for free.
During their research, Jack and Oscar found out that part of the problem in recycling bottles is that they need to be rinsed clean first. Countless bottles are rejected from recycling plants because of the residue inside them. They pointed out that a surprising amount of glass ends up in landfill where it can take over a million years to break down!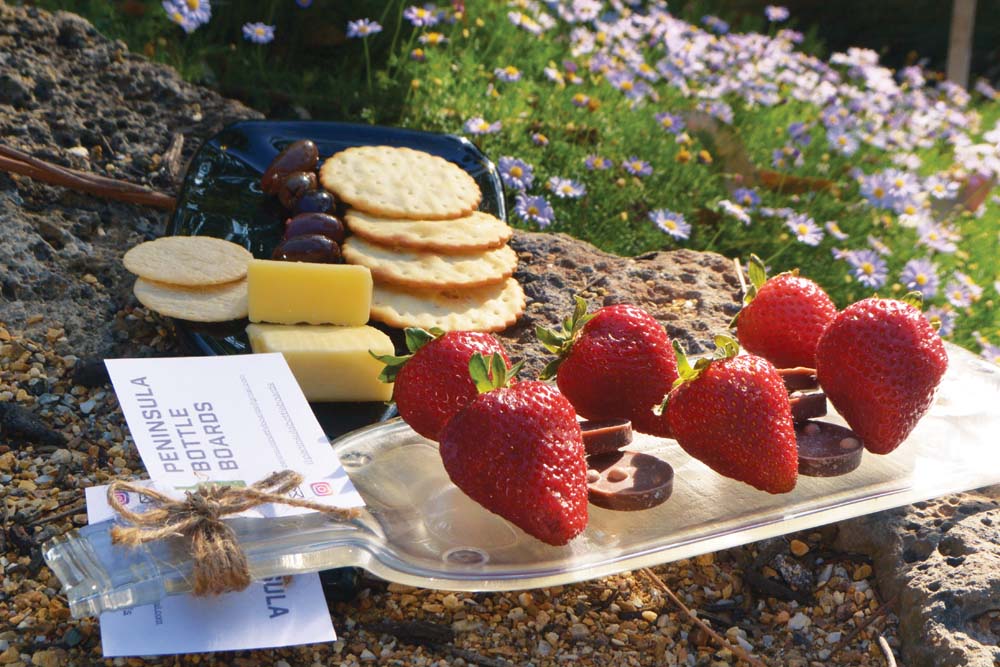 Their goal was to create an environmentally friendly product that will last forever for all the right reasons. They chose wine bottles for their shape as the neck of the bottle provides a perfect handle. They also liked the idea of creating a bird's eye view of the humble wine bottle.
Manufacturing their product was tricky because they couldn't find a facility with a glass kiln on the Peninsula. Then they discovered Blue Dog Glass in Mordialloc who specialise in kiln formed glass. Figuring out the correct melting temperature was the next step. The bottles will flatten and keep their shape if melted just right. It takes 24 hours to melt and cool each lot.
Investing in the kiln firing is the most expensive part of their venture. The rest of the production process is pure elbow grease. Jack and Oscar collect bottles once a week and get to work cleaning them. They find the hardest part is getting the labels off.
Oscar and Jack have sold predominantly at local markets though the boards can be ordered online too. They'll be at this month's Red Hill Show and Somerville Family Fun Day. Tingo in Mount Martha and Page 8 in Mornington also carry Peninsula Bottle Boards.
Their main goal now, outside of getting through Year 12, is to get their product into more shops. They'd also like to partner with local wineries to sell their boards at cellar doors using the vineyard's own bottles as boards.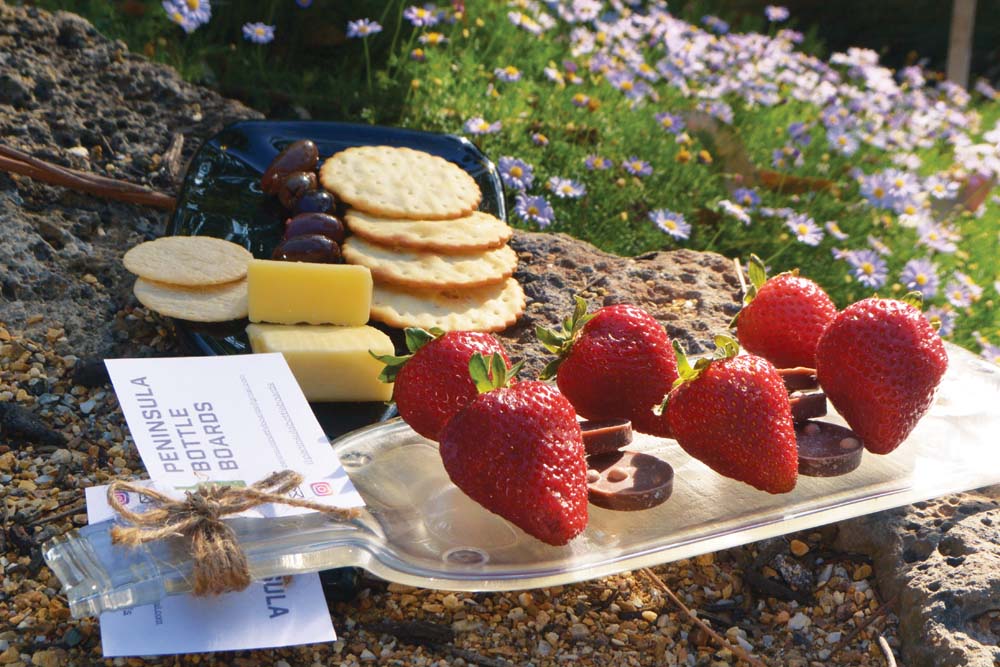 New ideas are always percolating. Jack and Oscar are currently experimenting with different shapes and sizes and fusing bottles to make a bigger product. Each bottle board is unique as no two bottles melt exactly the same way.
Being in business together has strengthened their friendship. "I think we've both matured through the process," Oscar says. The two young men make a great team because they have an easy rapport and a long history as friends.
Oscar and Jack have succeeded in creating an original product and meeting the goals they set out. "We are a sustainable environmentally friendly business. All of our bottles are locally sourced, upcycled and made into a product that will last forever," Jack says. For these young entrepreneurs, nothing could be better than that.
---
Insta: @peninsulabottleboards