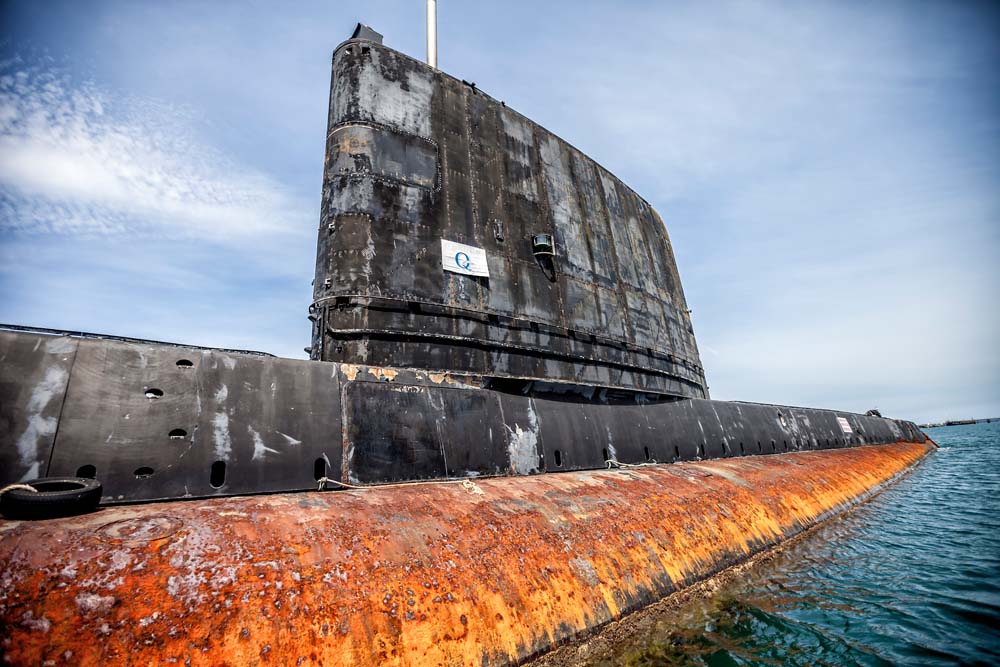 By Melissa Walsh   Photos: Yanni
It's not every day you get to take a trip out to a 2,000 tonne submarine with a chequered and colourful history that's anchored just off shore in Western Port Bay. But that was the case when we ventured down to the Victorian Maritime Centre and met its passionate volunteers in Crib Point.
The HMAS Otama is the last Oberon Class submarine built for the Australian Navy. It has been sitting and rusting in Western Port Bay for fourteen years,  and most people don't know about it.
You could drive down to Crib Point every day and not realise you were driving past this majestic treasure. That's why volunteers like Max Bryant, Wayne Gibbs, David Hoare, Former Chief Petty Officer Barry McDaniel and Dennis Gist continue to spend much of their spare time at the museum, working on what they fondly call "the 100 year project".
"We brought the sub over from Western Australia in 2002, on a 13 day voyage across treacherous waters," said Max, a peninsula stalwart who has been involved with Cerberus, started the Victorian Maritime Museum in the old Mitre 10 building in Hastings, and built the Hastings Marina to name a few of his accomplishments. "After starting a project to keep the Hastings pool going years ago, it made me aware that if we needed help, the community had to change things. So I decided to come up with a project that would generate funds for the community. After doing lots of research I found the subs were a major attraction for tourism which I felt we needed down here."
For Max, fate was at hand as he also had a submariner living next door to guide him along the way.
"Ken Mills was my old mate and showed me that subs were the way to go. I was aware that the navy were disposing of their aging Oberon class subs so we went and checked out a couple. HMAS Otama was still operational when we went across to have a look but we learnt she was scheduled to be used as a target for the United States Navy, and that wasn't on. She was significant as the last Oberon sub built and the last one to be decommissioned in the world."
The men decided that this important sub could not be treated that way, so went to work to get her over to Western Port.
"That was around 2000. Two navy sailors had died on that sub when they were lost overboard. Everybody agreed that it was not a good idea for Otama to be used as target practice, so with some political push the project didn't go ahead. When they decided they would dispose of her, our only option was to make the journey across, and in April 2002 she came through the heads," said Max of the sub that was towed for 13 days by a sea going salvage tug, surviving a force nine gale storm.
The project the men put forward to win Otama is the same today as it was 14 years ago, and they keep pushing on, determined to see it to fruition.
"The sub is out there but people can't go out there to see it, so it needs to be brought ashore. The only way we can maintain the sub is to get it out of the water, so we have spent so much of our time on trying to locate a suitable site, and in 2013 we were given consent to use the site outside of the marina wall on the south east corner. We have directed all our energies into designing the construction for the project on that site. It's progressing well but the major issue is funding. We need to get the funds to move it out of the water and have all the designs to build a wonderful, educational centre in Hastings," said the team, still as devoted to the cause  as when it all began over a decade ago.
For each man, the project has a special place in his heart.
"The major issue is to have something for future generations, to leave a legacy behind, which is why we talk about it as the 100 year project. It will still be here making money for the Western Port community when we are all dead and gone," said Max.
For David Hoare, who has been on hand since 1999, helping to set up the Maritime Centre, the former submariner also served on HMAS Otama.
"It was the last boat I served on back in 1981, and I never thought I'd buy it," he said with a laugh. "However it's not because it was my boat that I want it saved. It's to show people our naval history and keep the maritime past alive."
Denis agrees: "It is the naval heritage that we want to be remembered, a testament to all the people who served."
For these passionate volunteers, the project has inspired them for many reasons, which is why they have kept plodding along.
"The initial concept also involved teaching kids our maritime history. We do this through the museum here but how wonderful it would be to have the submarine to show them through, as well as our other ship, Wyuna," said Max.
Wyuna was donated to the Western Port Oberon Association in 2013, and was said to be Australia's "Britannia", having been built on the Clyde in 1953 to a classic 20th century design. After 26 years with the Port Phillip Sea Pilots, Wyuna operated as a training ship for the Australian Maritime College in Launceston until 2004.  She was then sold for possible use for accommodation in the Pilbara and later sold again for possible conversion to a luxury yacht.  After neither venture progressed, Wyuna was generously donated to the Western Port Oberon Association.
"The Wyuna, along with the Otama, are a part of the long term project to inspire tourism and promote education of our treasured navy and maritime history. With the Wyuna the plan is to bring her back here from Tasmania and have a place where kids can get away from technology and stay on board to truly see what maritime life was like," said Max.  "For our country, we are so much a part of maritime history and living so close to the water, we should all learn more about a past that has played such a huge role in our lives."