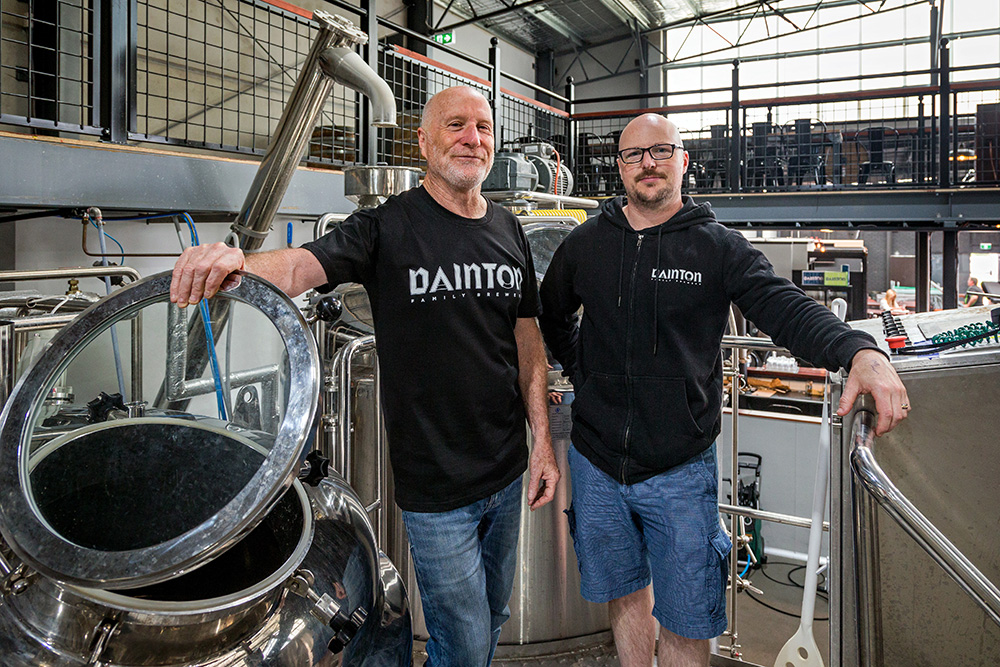 When Dan Dainton tasted his father's beer at two years of age, he could never have predicted that one day he and dad, Kevin, would own a brewery. But here they both are in Carrum Downs running their very own Dainton Family Brewery, and loving every moment. You couldn't get two more laid back guys than Dan and Kevin but don't let their relaxed vibe fool you. They are two smart cookies, having officially opened the brewery in July last year, and already getting rave reviews from customers.
While Kevin always loved a beer, until now his background was in computers, recently retiring from a 30 year career in the industry.
Dan, on the other hand, had developed a knack for beer making when his mum gave him a home brew kit when he was in his 20s.
"I never got what I wanted for Christmas until then, and started brewing my own beer in the shed, and just never stopped," said 34 year old Dan. "I had already done a science degree at uni so decided to go back to study the trade. By this stage my home brewing gig had gone a bit crazy. I had five fridges set up and was totally obsessed."
In a serendipitous moment, Dan's life changed one day when an old mate called in out of the blue.
"He was working for James Squires at that stage and organised an interview for me after he tasted my brew. I started there as a brewer in 2011 and then moved to Holgate's in Woodend after a house move to Sunbury," said Dan, whose career seemed to be leading him down the path of owning his own brewery one day.
"It was a dream to own a brewery but I knew I had a lot of work to do along the way. I continued to make my own beer and eventually started selling it to pubs and clubs once I left my job at Woodend," said Dan, who then had to find a place to make the beer and eventually people to buy it.
"I had a bit of confidence in my beer by then. It had already won an Australian award for the best pilsner which I had made at home, and won a silver medal for brew number two and three which kept building my confidence in the product."
After finding a building in Derrimut to make his beer, the real hard slog began with Dan finding himself spending hours on end creating his next brew.
"I spent 17 straight hours on the bottling run for my first batch, and made 3000 litres," he said of the beer aptly called Red Eye Rye. Within a couple of months, he had found people to buy it and he was off and running.
Dan's second release called The Good Son was named after his own son, one of many that have taken on a family theme. Bastard Brother and Insane IPA continued the tradition.
When the time came to find their own building, the father and son team were fully committed to the project.
"After many long discussions over an ale or two, Dan and I decided to go into business together.  I could see that his beer was top quality and he knew what he was doing by now," said Kevin, who drives down a few times a week from Shepparton where he and his partner still live.
"We did lots of beer drinking research, visited breweries all over Australia to make sure we got it right," said Kevin with a laugh. "It was tough work."
Eventually, the pair decided to start their brewery on the Mornington Peninsula.
"We had seen a lot of places but this one in Carrum Downs stood out and the demographic was perfect," Dan said.
So two years ago, they bought a big shed on a huge block on the main drag and set to work, renovating, extending, purchasing the best equipment and eventually seeking staff to help them run their dream.
Dan's advertisement for a sales representative called for an "intergalactic fun and beer legend" which pretty much sums up the quirky nature of the brewer, who works his backside off so deserves a few off-tap moments. "When we opened in July it had been a full on six months. We were basically here all the time but it's going great guns. We now have an amazing head brewer, Matt "The Inch" Inchley, who lives and breathes beer. I'd put money on the fact he's perfected my original beers without any doubt."
Now the Dainton Family Brewery  has the capacity to make 1.5 million litres per year , has a 60 seat tasting room, and a newly constructed alfresco area perfect for summer.
Describing his beer as "approachable", don't be fooled. The quirky range packs a mighty punch from the original Red Eye Rise to Samurye Lager, Grand Pappy's Whip and the new Blood Orange Berliner Weisse, one of Matt's specialities.
"We also have a New Zealand All Black IPA, a NZ hopped black rye India pale ale," said Dan.
---
Dainton Family Brewery and Tap House
560 Frankston Dandenong Road,  Carrum Downs
Phone 9775 0334
www.daintonbrewing.com.au
First published in the Peninsula Essence – January 2017