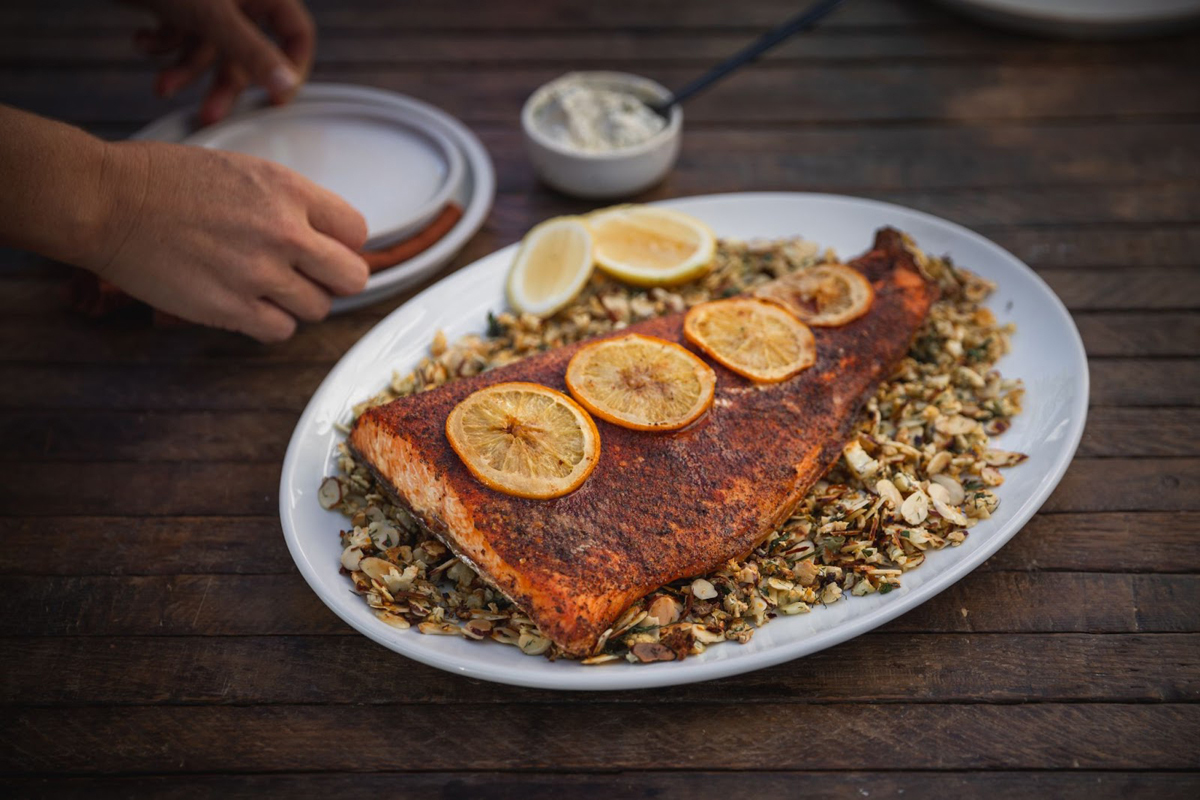 Serves 4.
Sarah Glover, chef and Traeger Grills ambassador.
Ingredients:
1 x 700 g side of salmon, pin-boned
1 orange, thinly sliced into rounds
Cauliflower rice
1 large head of cauliflower
½ cup natural almonds
2 garlic cloves, crushed
zest of 1 lemon zest
1 teaspoon paprika
2 teaspoons sea salt
1 tablespoon olive oil
Method:
Rub the Fin and Feather Rub all over the flesh of the salmon, then cover and set aside in the fridge to marinate for 2 hours.
Preheat the Traeger grill, with the lid closed, on 180°C for 15 minutes.
To make the cauliflower rice, wash and thoroughly dry the cauliflower and remove the leaves. Finely chop the cauliflower into small rice-sized pieces and place in a large bowl. Add the almonds, garlic, lemon zest, paprika, salt and olive oil and mix well with your hands, then spread the mixture on a baking tray lined with baking paper and cook in the Traeger for 30–40 minutes, until golden.
Insert a meat probe into the centre of the salmon, then place the fish, skin-side down, on the barbecue grill. Top the salmon with the orange slices, close lid and cook for about 45 minutes, until the internal temperature of the fish reaches 60°C.
Place the roasted cauliflower rice on a serving platter, top with the salmon and serve.