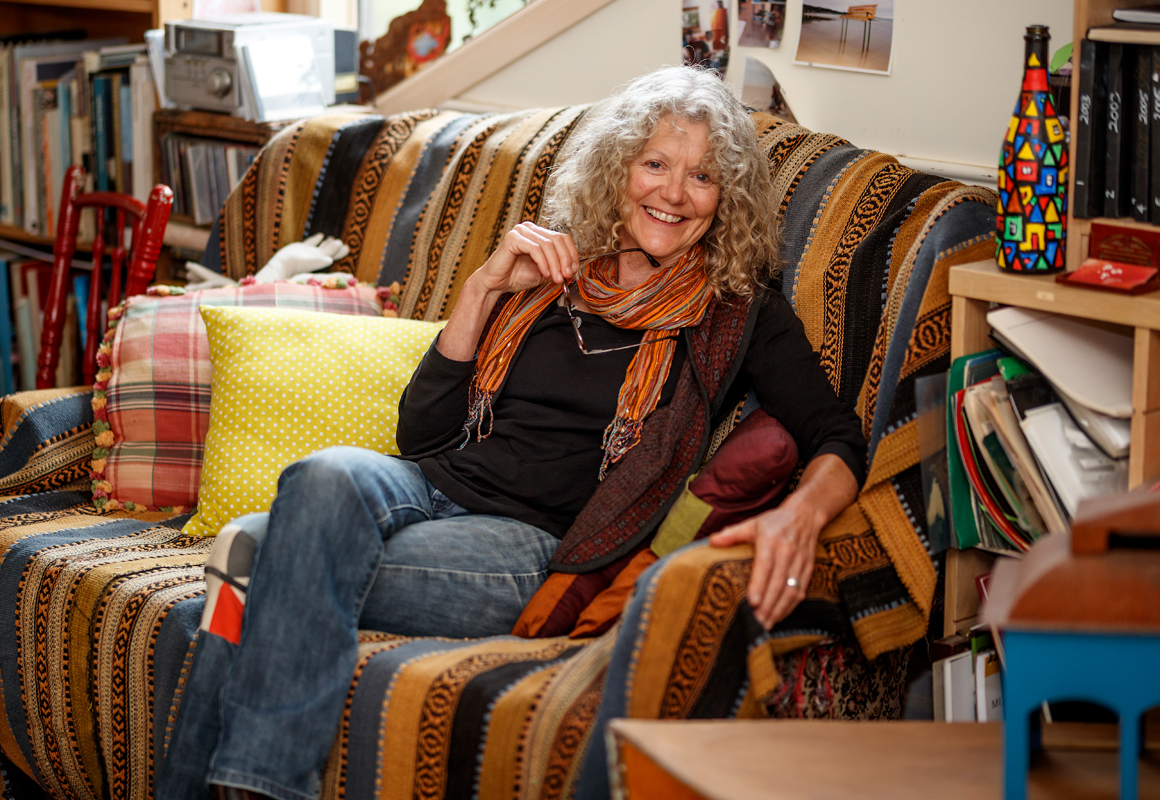 By Andrea Louise Thomas Photos Yanni
Red Hill artist, Liz Walker, has been experimenting with materials her whole life. She sees a possibility in all things, from the natural environment to the cast offs of a disposable society. "My whole purpose is about giving things another life," she says. Liz is a painter and sculptor. She often uses found objects to create works that reflect societal and environmental issues.
The impact of plastic rubbish on Mornington Peninsula beaches is the focus of her latest exhibition, 'While We Were Sleeping', held this month at the Foul Luggage Store at Point Nepean's Quarantine Station. Using found plastics in her sculptures, assemblages, mixed media tapestries and paintings, Liz shines a light on the dark side of plastic.
Liz grew up in a creative family with parents who made everything. They also collected art and encouraged artistic experimentation. Her dad let Liz use his tools and building materials. She made her first sculptures, little metal robots, when she was just four years old. Painting, drawing and making occupied her free time. At high school, a supportive art teacher recognised Liz's talent and encouraged her.
Liz completed a Diploma of Visual Arts in painting, learning the hands-on skills needed to be a professional artist. She continued on with a Bachelor of Fine Art in Drawing (with distinction) working with mentor artist Godwin Bradbeer. She then achieved a Master of Fine Art, all at RMIT.
From there Liz started exhibiting. Over the years she has participated in dozens of group and solo exhibitions, as well as creating public artworks and installations. Liz has won grants, awards and residencies. She shares her skills teaching at creative workshops and enjoys working on collaborative projects.
Place has always influenced her work. Having grown up in the city, Liz wanted to live in the country on a farm. She moved to the Riverina. Her studio was an old train carriage where she worked as a potter for seven years, but the climate was not conducive to the clay or her comfort so she moved to the cooler Trawool Valley where she and her then partner ran a bed and breakfast. All the while Liz was working as a potter. She did so for twenty years.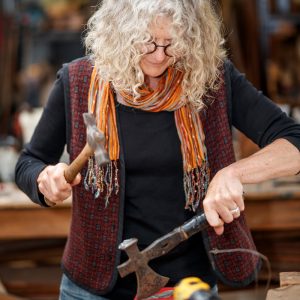 Liz ran her art practice parallel to other work. She had her own catering business for film and television, worked in market research, revived a run-down café, ran a community house and worked in Visitor Relations at the Australian Centre for the Moving Image. She enjoyed all of these, but making art was her constant.
It was during her university years, while living in Brunswick, a neighbourhood she considers a treasure trove, that Liz started collecting 'rubbish', seeing the possibilities in it and repurposing it. "I've always responded to what's around me. Everything should be reused. Nothing should go to waste," she says.
From the beginning, Liz was attracted to metal for its transformative qualities.
"I love working with aged metal because you can manipulate it.
I love patina. In my metal sculptural pieces, I don't do anything to the metal. Nature has done the work for me," she says. One of her professors observed that Liz created work that defied its materiality. She makes handbags and envelopes out of corrugated iron and gum leaves out of vintage copper, amongst other things.
Right now, her main passion is plastic rubbish and the myriad things she can repurpose it into. Liz is disturbed by the insidious nature of plastic waste and how it gets into everything, wreaking havoc from the marine environment to microplastics in the human body.
"I want to raise awareness, to create change," she says. As she sees it, art is all about problem solving. Liz loves the challenge of finding purpose. She has always had a recycling ethos. "I love seeing beauty in the discarded," she says. Her exhibition, 'While We Were Sleeping', is so named for the way plastic waste has crept up while people were not paying attention.
It's unlikely Liz will ever run out of inspiration. As she says, "Ideas are going off in my head like firecrackers. One project leads to another."
If she had to choose a different incarnation, she'd be a jazz drummer or saxophonist. Liz loves the intimate conversations between musicians. Jazz plays quietly in the background at her studio while she works creating the unexpected from the unexpected.
---
While We Were Sleeping exhibition at the Foul Luggage Store, Quarantine Station, Point Nepean National Park, February 11 – 24, 10am – 4pm. Opening event February 12, 2 – 4pm. Family workshop February 19, 1 – 3pm. Bookings essential.
Insta: @lizwalkerart