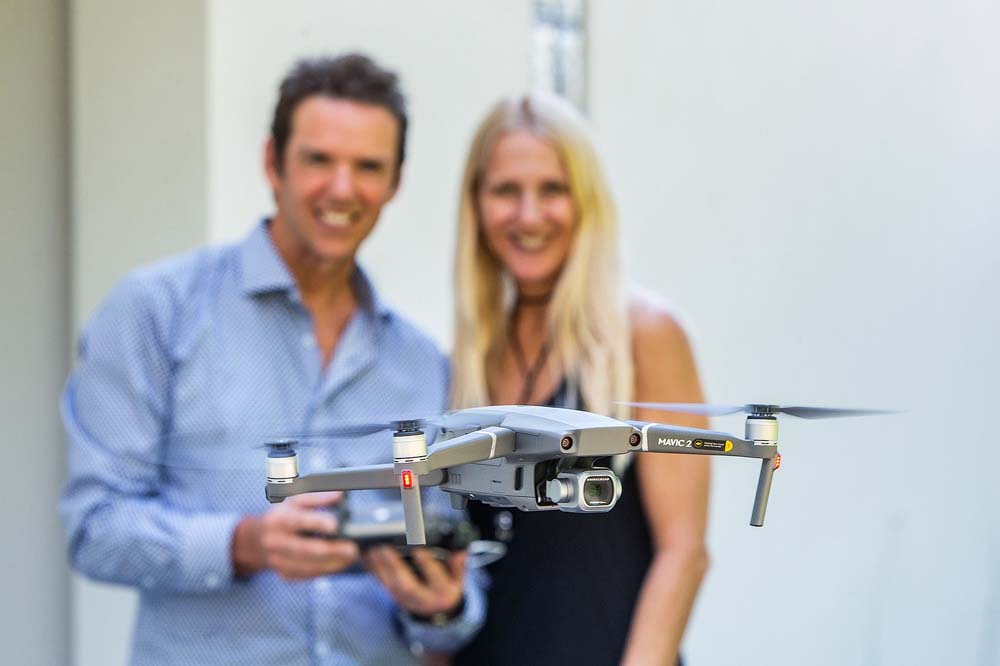 By Melissa Walsh Photos Gary Sissons & Brian Randall
Growing up on the Mornington Peninsula, Brian Randall was able to combine his two passions; the beach and photography. Now, after 20 years in the industry, the professional photographer continues to kick goals and create even more beautiful pieces of art with his aerial photography, some of which were exhibited in the recent Mornington Peninsula Art Show. Alongside partner and fellow photographer, Louise, the couple creates incredible images of the peninsula that display their joint passion for the beach and ocean.
"I definitely got the creative bug from my grandparents," said Brian who is a multi-award winning photographer. "One of my grandmothers was into pottery; the other was an artist who focused on painting. They both lived with me so I guess I got the bug from them."
With a talent that turns photography into art which is evident in all his work, Brian says for him it is about being able to capture different elements of life, from nature and science to special moments in time with portraits and weddings.
"I was mostly self-taught but did a short course at TAFE on developing in the dark room with film in the old days. When digital took over I loved that medium as you could see your image straight away. These days we spend more time on the computer producing our images," said Brian who has always managed to adapt with the times. "I bought a drone four or five months ago and I love it. I loved being able to get a different point of view of the peninsula. It's like a birds eye view; you see all these birds flying round and get an idea of what they are seeing. Seeing something from an aerial view gives you a whole different perspective of the peninsula. It is another way to see its beauty."

The ability to push the boundaries in his photography has always been important, whether it's with aerial photography, or simply his weddings, portraits, and commercial work, which are his bread and butter.
"I have taken over 1000 photos already. The Emerald Waters was taken over Seaford pier; it is like seeing something from a different perspective. Coast Track is at Black Rock. I've always been a professional photographer but this aerial photography is for the creative side. I have about 65 images from areas including Seaford, Black Rock, and a lot down Portsea way, Rye, Rosebud, Martha Cove, and Mornington. While those shots are for my art, I am more than happy to do commercial aerial work as well."
Definitely not a one trick pony, Brian has been recognized in the industry for his architectural and landscape photography.
"I was Victorian landscape photographer of the year for 2011, and the illustrative photographer of the year for buildings and architecture shots as well as a finalist last year for commercial photography."
As a Master photographer with the Australian Institute of Professional Photographers and assistance from partner and photographer, Louise for the past ten years, the couple have become an unstoppable influence in the industry but it is all about their passion and love for the peninsula.
"We have such incredible beaches right here in our very own backyard. To capture beautiful clear water from the sky gives you a whole new perspective on what's around us. The sea level changes all the time, whether the tide is in or out, the sand drifts in many different directions giving us a vast variety of shots," said Brian.
This creative duo has now risen to new heights, selling their Aerial Artworks in several homeware stores including The New Cocoon, 310 New Street Brighton and A Room with a View, Dromana.
"Recently we had a client buy three large Art pieces from us including two framed Metal images. Metal can be a great choice if you have a very bright room as it eliminates a lot of reflection," said Brian.
"I remember selling a framed image of an amazing sunset over the Mornington Harbour to a client. This image is above her bed and the client said to me "This puts a smile on my face as it will be the last thing I see before going to sleep". It is really nice that clients get so much pleasure out of our images."
Brian and Louise are happy to photograph any special location on a client's request.
"We had photographed with our drone a couple on their colourful stand up paddle boards in the crystal clear waters of Safety Beach. It now hangs proudly in their living room."
---
Brian and Louise can be contacted 0412 072 848 or info@brianrandall.com.au