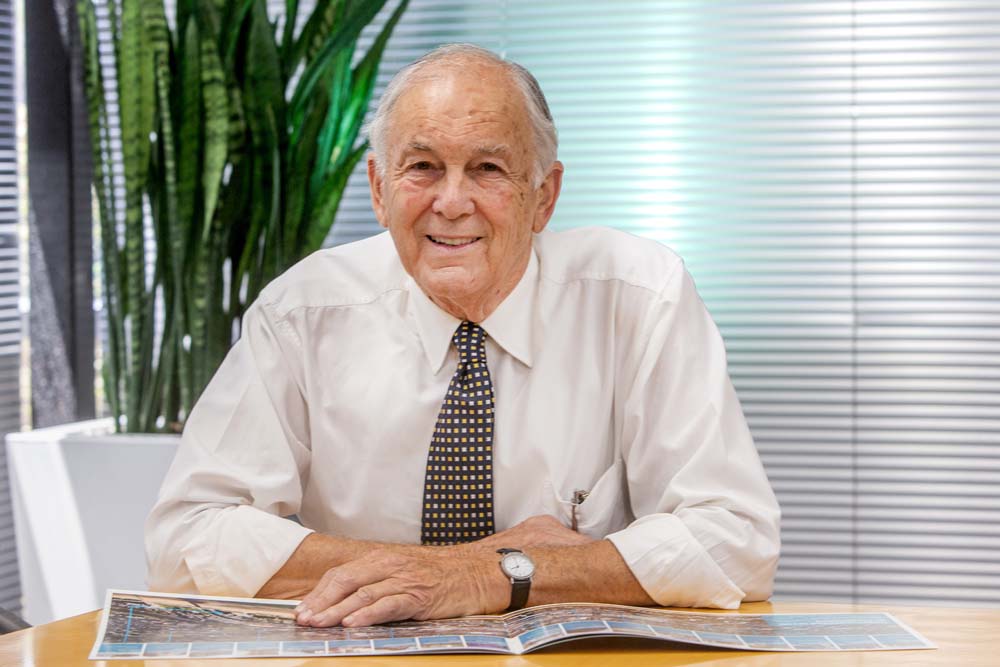 By Melissa Walsh  Photos Garry Sissons
The Crowder name is synonymous with real estate, and has been since 1952 when Geoffrey Crowder's father started his own real estate business in Frankston. Since that day, real estate has been ingrained in the blood of a family that have helped change the course and progress of the community. Geoffrey Crowder, at 78, still works within the business at the Carrum Downs branch of Nichols Crowder. Peninsula Essence talks to Geoffrey about his life, family and love of the business.
How did you start out in real estate?
Dad started the business in Frankston in 1952 with my brother, Ian. I joined when I was 17 and went overseas for a few years. Then returned home and got back into it.
When did you get the real estate bug?
You grew up with it, virtually every member of the family has been in real estate one way or another. Even my wife's family were in real estate in Seaford and his son worked with him for a while too. It's in the blood, my late brother Ian's son Jamie runs James Crowder Real Estate in Mt Eliza, and my brother Malcom was in real estate.
What was it like on those early days?
Everyone started out in the rental department which is just the grounding you need, then into sales and then specialise in whatever field. I specialised in commercial property and subdivision.
What are you most proud of in your real estate career as a family?
We have always had a real passion for real estate and, looking back; have changed a lot of the area. In the early days Frankston had no bitumen roads, there was a farrier in the town and very little development. Our family has helped form the growth of the area and it is something I am very proud to be a part of.
What changes have you notice in the growth of the area and how you practice real estate?
There has been a huge amount of change over the years. In the early days a hand shake and word of mouth was enough. These days it is treated as a profession and unfortunately the standards of obtaining a real estate licence are not what they used to be. I went to night school for four years to get my licence but these days you do a three week course to be an agent's representative.
What are the stand out moments of your real estate career?
A lot of it comes back to the auctioneering which was a real point of difference for our company. At one stage we employed 16 auctioneers when we were running a family business. Mum and dad were 94 and 95 when they passed way and dad, in his eighties, was still coming to my auctions standing beside me and taking the bids. So now my son takes bids for me or else I stand next to him
Were you surprised that all the kids followed you into real estate?
It is a natural progression I think. I have been able to pass down a lot of information and knowledge to them but more a case of leading by example, by observing and being part of the real estate. In the early days my father read every single letter that went out of that office so it is important to read everything and write a good letter.
What do you do now?
A couple of commercial auctions and work with special clients who like to chat with the older generation rather than the next generation. Usually we go to an appointment with someone my age and someone Michael's age.
How has technology changed the industry and how you do business?
It's been quite a road and lots of changes in the whole industry. Becoming much more digital, certain things have left me behind for sure, some I understand some I don't.
I often think back to when we first started. We didn't even have a photocopy machine; we copied everything with tracing paper. When you advertised a house it was with sketches or the old Polaroid. We were one of the first ones to use pen sketches of the outside of houses.
What makes a good auctioneer?
You have a five minute grab to get the trust of the audience. You need to be engaging and work efficiently but then again the auctioneer is the front man. The real work has been done by the sales team getting the people there but there is definitely a real art to it.
Do you remember the first property you sold?
I remember it well. It was a block of land up in Allison road; it was a two acre block and I was about 25. Now all those blocks have been subdivided.
What is the largest property you have auctioned?
I have auctioned a lot of land; one on the top of Oliver's Hill, the other at the Mt Eliza with a huge marquee, helicopters overhead, and TV crews. In the early days I sold well over 100 acres of land between Humphries Road and Canadian Bay Road.
What have you enjoyed about living on the peninsula?
Dad always said Victoria is the best place to live and the peninsula is the pick out of those places. We have the lot with golf courses, schooling, wineries, beaches, mountains.
How many grandchildren do you have and do you think any will follow the family footsteps?
We have 10 grandchildren, ranging from 23 down to four years of age. I think I've spotted one who has the personality, drive and persistence which is the key to a good real estate agent. We will see.