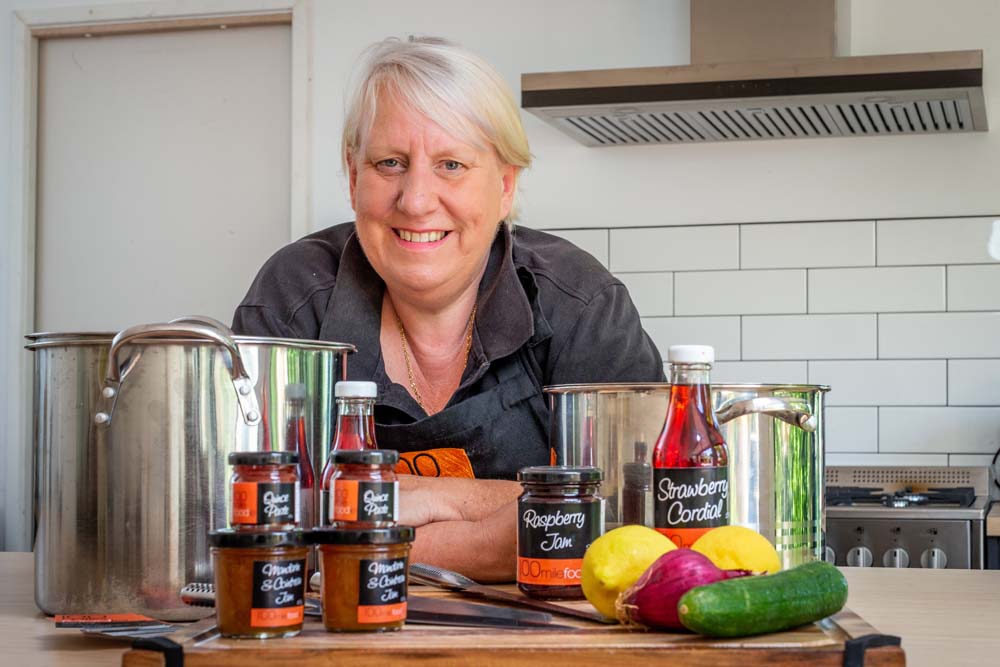 By Melissa Walsh  Photos Garry Sissons
Marlene Hoff is a chef, hospitality trainer, entrepreneur, cooking school teacher and owner of 100 Mile Foodie. She is a vocal advocate of Mornington Peninsula produce and uses her growing social media platform to sing the praises of using local, sustainable and ethical food and wine. Marlene is a force to be reckoned with and her passion for community is inspiring. Peninsula Essence talks to Marlene at her brand-new cooking school and kitchen-garden about how she got to where she is today.
"Ever since I had my children I began to think about where our food comes from, I wanted to give them the best quality food without preservatives. It started me on a mission to buy locally, hence the 100 Mile Foodie name".
"In truth it is more like a 50-mile foodie," she laughs. "When the children were little, we would sit around the dinner table and talk about where food comes from. The kids always grew up in the vegetable garden with fruit trees and chickens, and anything we couldn't grow was bought locally."
The idea of knowing where our food came from, how it was raised and the miles it had travelled was, and still is, extremely important to Marlene.
"I read that the average food basket travels 70,000 miles," she said. "That has a detrimental impact on our local economy, the environment and on our health, both mental and physical. I thought 'why can't we just eat like our grandparents used to?' For them, everything came from within a small radius."
For Marlene, who always loved food and cooking, making the life changing decision to quit an international banking job and follow her dreams turned out to be one of the best decisions she would ever make.
"It's funny…I just knew it was time…so when I was 35 I enrolled in a Certificate III Hospitality course in commercial cookery. I started off at Morning Star Estate, Mt Eliza, and then did a whole range of jobs to learn lots of different skills. I always wanted to teach and cook but had no idea the difference good, fresh food could make to people's lives," said Marlene who found her passion for teaching by helping create change when she worked for Peninsula Health facilitating community kitchens.
"I paired up with Skills Plus to help refugees and new Australians learn how to cook and be self-sufficient. They learnt to be independent but also earnt a certificate to qualify them for work. It was absolutely wonderful."
It was while her children were still very small that Stephanie Alexander opened a kitchen garden program at Collingwood College, and Marlene volunteered to help.
"My mum would come over here and look after the children while I drove to Collingwood. It was such an inspiring experience and only strengthened my passion to one day create my own kitchen garden."
It was 2013 that the official 100 Mile Foodie was born, starting with gourmet preserves that Marlene created from left over fruit at vineyards. Six years later and the business is thriving with the passionate chef ensuring she only uses local produce apart from one or two South Gippsland items she can't source here.
"My suppliers are Hillock Downs Beef in Rye, Wollumbi Farm for pork in Tyabb, Flinders or Dromana mussels, lamb from Coolart Lamb, Benton Rise Farm for vegetables, Red Hill Cherries, Sunnyridge Strawberry Farm, Main Ridge Dairy, Red Hill Bakery, Red Hill Truffles throughout Winter, and cheese from Red Hill Cheese, Blue Bay Cheese, and Main Ridge Dairy plus many others", said Marlene.
"100 Mile Foodie is multi layered now with tailored catering, kids and adult cooking classes, gourmet preserves and recently a NDIS provider across Victoria. All classes our held from our purpose-built cooking school incorporating a kitchen-garden in Somerville. The kids come along and try all sorts of fruit, herbs and vegetables that their parents who never think they would. My philosophy is let them taste it without having to swallow it. They can always throw it back in the garden or to the chooks to eat if they don't like it."
The large back deck was built around ten years ago where the swimming pool once was, and a recent addition is a modern, light and open kitchen and dining room that looks over the gardens, creating the perfect place for cooking and sharing food afterwards.
"It is so important to me to deliver local sustainable ethically farmed produce to everyone. We must preserve our precious resources for generations to come."
Winning a scholarship to work with Maggie Beer, her self-confessed 'food idol' was a game changer for Marlene, setting her on a journey to discover just how important food is to our health.
"That was three years ago, and her influence started a massive change on my life. First, I loved that she said it took her 20 years to become an overnight success but mainly it inspired me to work as hard as possible to get my message out there that food is essential to our physical and mental health at any age."
While already on the course to help educate people in the importance of food choices, it was 18 months ago that the tragic death of a young person in Marlene's community fast tracked Marlene's call to action.
"I immediately started organising a fundraising event for RUOK with the Long Table in Red Hill. We raised $12,000 for Fusion, an organisation that helps young people. I learnt that the Mornington Peninsula has the fifth highest suicide rate in Victoria and knew we had to help," said Marlene, who also saw a movie called 'The Gut Movie' which helped her understand how much food is connected to mental health.
For Marlene, who has always cared deeply about where food comes from, how it has been raised and the impact it has on the planet, there is an added element now, delving into the philosophy that we really are what we eat.
---
 www.100milefoodie.com.au
@100milefoodie on Instagram