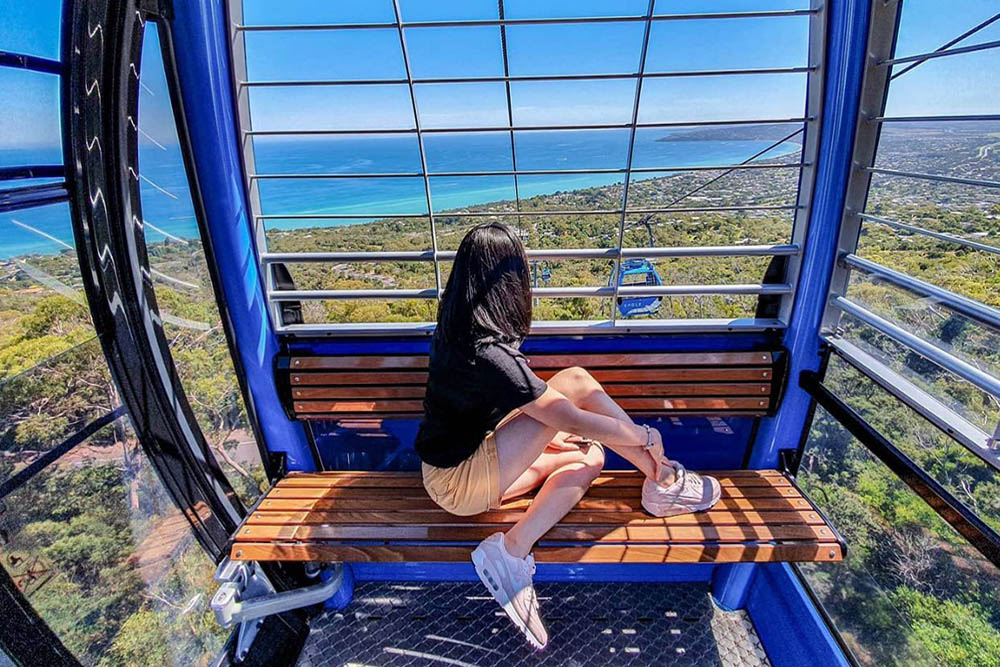 There's not often a chance to enjoy a moment where you can delight all of your senses at once. A place where you can sit back, relax and effectively 'drink it all in'. The Arthurs Seat Eagle has it all covered this winter. Where every element of the sensory experience will be heightened – literally.
You'll soar to a height of 314 metres above sea level whilst enjoying the tastes of great food and wine, the smell of the fresh air, the sounds of nature all around you, the spectacular landscapes and water views: all with the undeniable touch of the Mornington Peninsula.
The Eagle has partnered with Foxeys Hangout to showcase their famous Pinot Noir paired with a gourmet cheese platter from locally produced Boatshed Cheese, which is also featured on the famous Vue De Monde menu!
In referencing views…as you enjoy your flight over  Arthurs Seat State Park, you will not only drink in the classic notes of the regions globally recognised cool climate wine and savour award winning cheese… but also take in the iconic panoramic outlook across Port Phillip Bay and beyond.
Your flight takes you to and from the summit of Arthurs Seat where you can explore areas of the State Park and Seawinds Gardens. As you rise above the treetops inside one of the Eagle's enclosed and fully accessible gondolas, you'll become immersed within the natural setting of the Australian landscape to let your senses really soar.
Come breathe it..taste it..drink It..you get it.
Reserve your sensory space online.
PINOT to PEAK – $95 per package
Package Includes:
• Return Flight for Two (private gondola)
• Two glasses of Foxeys Hangout Pinot Noir
• Platter featuring assorted Boatshed Cheese
A: 795 Arthurs Seat Road, Arthurs Seat
Peninsula Essence, Explore Local this Winter – June 2021
*Opening times may very at this time. Confirm with venue regarding COVID-19 density number restrictions.