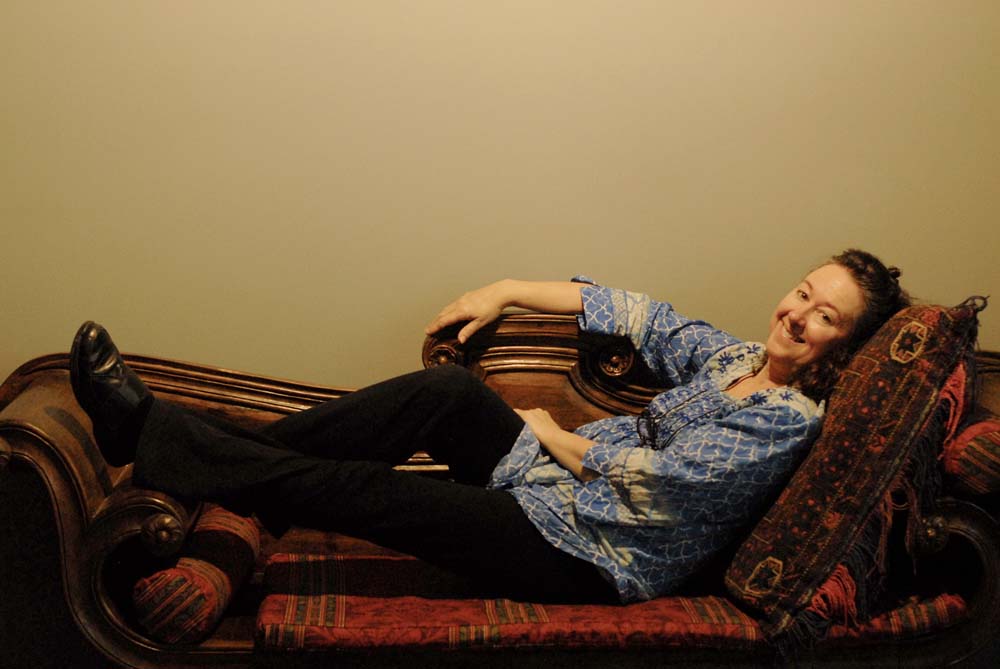 By Meredith Langmaid
A resident of Rye, Vicki Sullivan is a peninsula girl who is much admired for her outstanding realist works. The winner of many awards in Australia and the UK, Vicki's 'piece de resistance' has been being awarded the title "Associate Living Master" by the Art Renewal Centre, in the U.S.A. the largest foundation in the world for the promotion and education of realist art.
The Sullivan family have lived on the peninsula since the mid 19th century. Dennis and Honorah Sullivan arrived in Sydney from Killarney, Ireland, with eight children in 1839. They soon sailed on to Melbourne and in 1841 Daniel took up the leasehold of Point Nepean. They erected a small stone dairy, which is one of the oldest buildings in Victoria still standing today. The family made a living as lime burners and self-sufficient farmers. Daniel held a grazing licence covering four square miles from Portsea to the tip of Point Nepean; an area that is now Point Nepean National Park.
During the 10 years they lived there, the father and two of the brothers (John and Daniel) died and were buried at Point Nepean at the Quarantine grounds.
In 1852 the ship Ticonderoga arrived with typhus aboard, landing at Point Nepean. The Sullivan family had to leave their houses to shelter the sick and the then Governor Latrobe decided to resume the land as a quarantine station. The Sullivans then moved up to Portsea where daughters Hannah Ford and Margaret McGrath lived.
Vicki's great-great-grandfather Timothy Sullivan and his son Spencer were bakers. Spencer's son and Vicki's grandfather, Angelo, was born in the house above Sullivan's Bakery and General Store, which is today Sorrento's "Just Fine Food".
Such strong family connections with Point Nepean led Vicki to become involved in the campaign to save Point Nepean as a National Park. "Through people power, we won the battle and a great victory, but as David Suzuki says, a win is temporary but a loss is forever, so we must always maintain our vigilance."
Vicki graciously showed me her humble abode, full of remarkable paintings that portray an uncompromising truth and accuracy with close attention to detail. Walking down to her art studio, seeing the sun shine through beautiful flowers and a staircase where a grapevine grew across the carved doors, I had the impression of walking into an art studio in Florence. The inside was equally appealing, full of amazing artworks, easels, soft furnishings and immaculate brushes, all surrounded by the scent of lavender.
Vicki Sullivan has studied art in Australia and at the Angel Academy of Art in Florence, Italy. She believes that, "Art is a wonderful universal vehicle for communication which can capture a moment in time in human life and evoke an awareness of something deeper, something beyond the surface of our everyday existence".
"It is always a challenge as an artist to capture a human's individual features and likeness while revealing the fundamental essence of the sitter's personality, soul and physical character. My aim is to give a very three dimensional aspect to the work which goes further and reveals something of the inner essence of my subject. I like my portraits to feel present, as if they could almost walk out of the painting. My goal as I approach each painting is to depict a sincere honesty within each of my subjects and capture this within my painterly portrayal."
A finalist for Hidden Faces of the Archibald, (The Victorian Salon de Refuse) for her painting of John Waters, Vicki is now painting a portrait of Sigrid Thornton to enter into this year's Archibald prize. Vicki and her family have contributed so much to the sustainability of the Peninsula and the Arts. Let's wish her the very best in her quest for the Archibald Prize; she deserves every success.