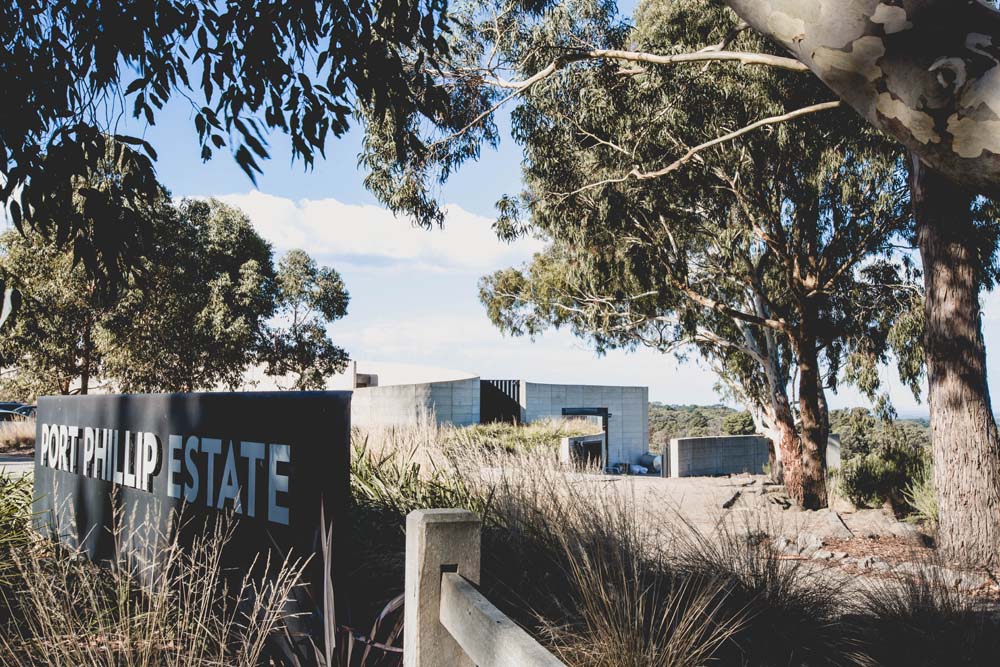 By Melissa Walsh Photos by Shani Hodson – zoso.com.au
In the Gjergja household, the dining room table was always the hub of the home. The kids did their homework there, the family ate meals, and it is the place where food and wine brought everyone together. Marco and Melissa Gjergja remember this fondly and, as the owners of Port Philip Estate, the tradition of family and food has followed them throughout their life. Peninsula Essence visits Port Phillip Estate and talks to Marco and Melissa about the family vineyard that has taken on a life of its own.
"It has always been a family business and I became involved with the original property acquisition in 2000," said Marco. "Originally it started as a hobby business with just 10 acres under vines and where we just grew the fruit. These days we have about 150 acres, a cellar door, restaurant and accommodation."
It was Marco and Melissa's father, Giorgio who brought the family down to the peninsula with his love of the sea and sailing. Even the symbol on Port Phillip Estate's logo, the 'Blue Peter', is maritime code for 'P' as well as the flag that is used to start a yacht race.
With his Dalmatian/Venetian heritage came a love for sailing and a fondness for fine wine that turned out to be a perfect match for the Mornington Peninsula.
"Our mum, Dianne and dad bought the Port Phillip Estate vineyard in 2000 and then Kooyong four years later, and then finally retired from the electrical manufacturing business he had set up decades earlier," said Marco and Melissa.
While the siblings were off following their own dreams with successful careers overseas, they still maintained a presence in the family business, taking pleasure in helping with their expertise wherever they could.
"I was in my 20s when we started the hobby business, and we spent our time relabelling and rebranding," said Marco, who has a background in strategic management and design.
"We did content and newsletters but it was on a very small scale," said Melissa, who had a lucrative career in corporate finance. "While we both followed our individual careers overseas we were always on a food and wine journey as well and it just happened to bring us back here eventually."
With the vineyard becoming more prosperous, and the move of the winemaking contract to Kooyong within a few years, it was decided that it was time to put a building on the property so Marco and his mum started sourcing architects.
"We found this parcel of land and the business owner was keen to sell it so we knew this was the perfect location for our restaurant and cellar door. Mum had dabbled in architecture so we started sourcing architects together. We loved the work of Roger Wood and Randall Marsh and their very solid brutalist sculpture style and wanted something that we couldn't dream up ourselves," said Marco and Melissa. Ironically, it was their father who ended up encouraging the building once he had seen the plans even though it had taken a while to get him on board.
"When the plans were revealed, it was not what we had expected. We had seen very rectangular shapes with these architects and this was quite different. My father commented 'Well you wanted something you couldn't dream up' and he was quite correct. It turned out to be even better than we expected," said Marco.
It's been eight years since Giorgio decided to hand the family reigns to those two family members and the pair still love every part of the journey.
"We became hands-on in 2010 when we both returned from overseas at the same time," said Melissa, explaining that they both wear several hats in the business.
"Although we must stress that neither of us is a winemaker, and we stay away from the kitchen," said Marco with a smile.
"It is a journey we would never have expected but we are both so thrilled to be part of the family business," they said.
As for Giorgio, he is a regular there for meals and the odd glass of wine and the family still gather around a dining room table when they can to enjoy a meal, a laugh and, occasionally, a heated discussion.
Surrounded by mounds of native grasses and indigenous spotted gums, the new Port Phillip Estate winery, designed by Wood Marsh Architecture, emerges from the landscape as a dramatic curved sculpture made of rammed-earth. Inside, a large cellar door and tasting room, and a light-filled restaurant open out on to an expansive outdoor deck. Underneath, state-of-the-art winemaking facilities – a barrel room, bottling line, wine processing plant, cellaring and offices – share space with six luxury accommodation suites, complete with private decks. Views across the vines to the sea are panoramic.