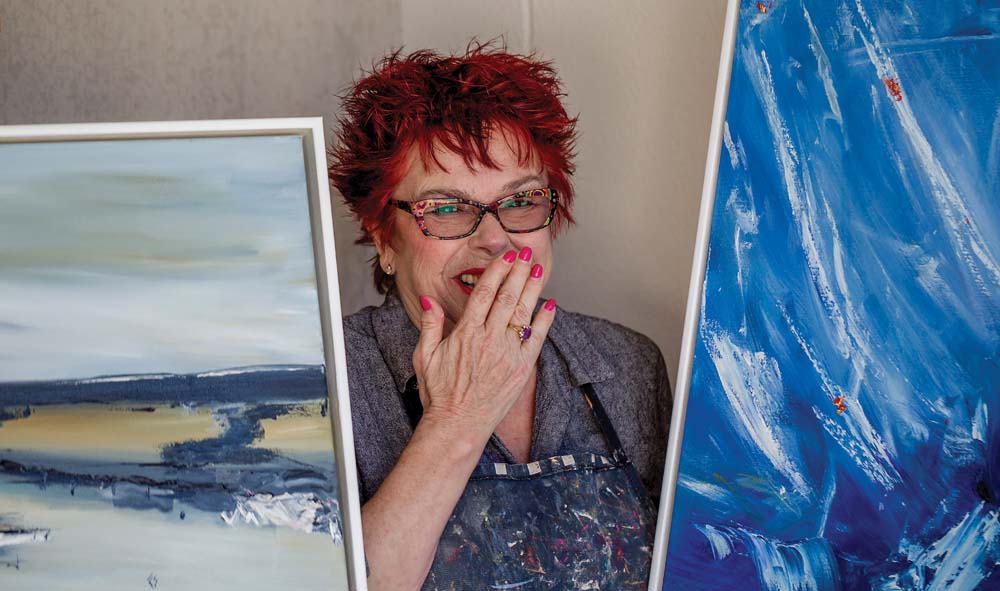 By Melissa Walsh    Photos Yanni
With her flaming auburn hair, bright red lipstick and multi-coloured spectacles, Kerry Larder just oozes creativity. The bubbly, five foot gem spends her days and weeks listening to her muse as she creates an eclectic body of work and encourages other artists to follow their passion.
Larder finds her inspiration in nature, whether it be at the seaside where she lives now, or in the country from her days of growing up in the rural environment of Camden.
And her paintings are a marvellous reflection of the woman herself, with a penchant for the abstract and flair for bright and bold colour.
"I see beauty in nature everywhere and my style is a bit all over the place," says the artist who turned 70 this year. "I just love art, and have so many artists that I admire from local people to international."
Everything about Larder is bright from her bubbly personality and laughter to her incredible selection of artwork where it is clear there is not one colour preference.
"I don't really have a particular colour or style that I stick to. It depends on what I am painting. I have some quite bright colours and others are more neutral and grey, reflecting what I see in the landscape," she says.
With names to her artwork like Lake Eyre, Jewels of the Sky, The Gorge, Calm Reflections , Rest and Relaxation,  much of her work is biographical, inspired by places she has been or lived in, or simply a state of mind.
"I learnt a lot from Terrence Hadler and still go to his art classes at Manyung Gallery on a regular basis," says the artist who loves absorbing all the creative energy around her. "I have been involved in the art community within Melbourne and the Mornington Peninsula for years and feel it's important to be involved and give back what you can."
Larder has spent years encouraging others in their artistic endeavours, and has a keen eye for new and up and coming artists with potential.
"We have a new young lad who is showing a lot of promise with his work and are trying to encourage him with scholarship applications and art contacts," she says.
She has also been fundamental in raising charity money for Frankston Hospital Oncology and Paediatrics wards, and the Bays Hospital Mornington, for the benefits of peninsula locals.
On a personal level, Larder says she has a great admiration for the work of Arthur Boyd, Tim Storrier, Ken Johnson, Robert Dickerson, and Brett Whiteley.
"I guess I am influenced and most renowned in my artwork by the use of earthly rich colours and textures depicting the Australian landscape, but I have definitely developed an abstract style for myself," says Larder who has exhibited at Frankston Arts Centre, Josephine's Restaurant at The Briars, Artycles and Treasures Gallery, and numerous Rotary Art exhibitions.
The bubbly red head lives and breathes art, surrounding herself with  works of art in true eclectic style and always paying it forward, supporting local artists and charities.
"It is just something that is important to do," said community minded Kerry. "I have been involved with the Mornington Art Show for years and supporting Rotary.
A passionate supporter of the arts, Larder is the true example of a creative soul giving back to the community, a woman who truly understands the connection between the arts, humanities and a healthy community.
Her attitude and philanthropic ways are a reminder of Winston Churchill's quote "We make a living by what we get, but we make a life by what we give."