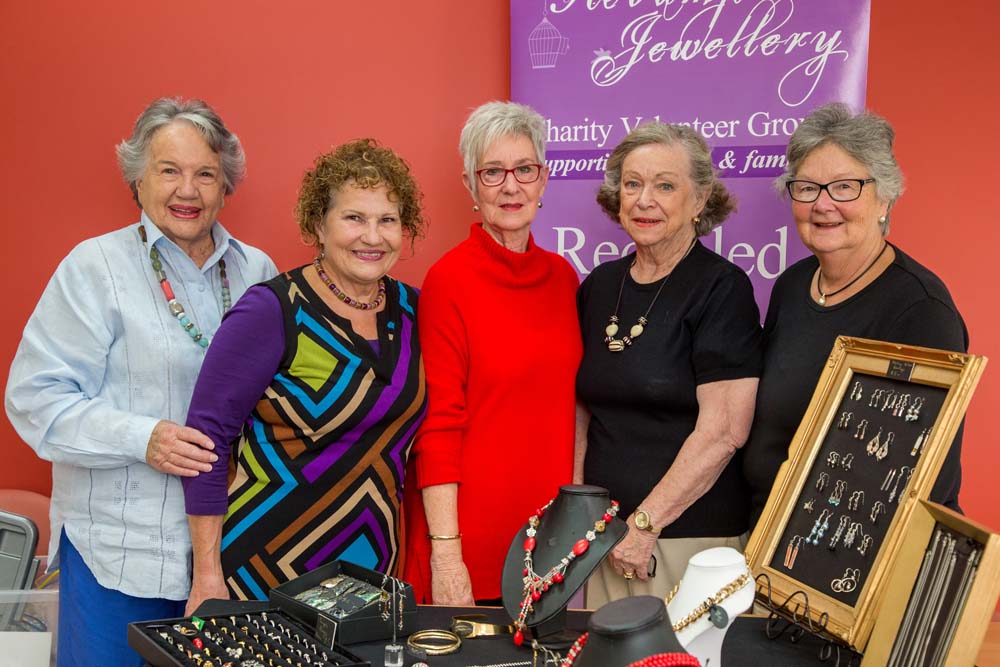 By Melissa Walsh     Photos Gary Sissons
Jan Clarke is a woman who gets things done. After a lifelong career in sales, the bubbly peninsula retiree decided it was time to give back to the community and has now found herself a big part of the Revamped Jewellery organisation.
Among an eclectic mix of peninsula women, Jan works every week to raise money for women and families in need by revamping donated jewellery and selling it for charity.
"Revamped Jewellery was begun by a group of peninsula women over six years ago to raise money for women and families in need. Since then we have donated thousands of dollars including $12,600 last year to organisations such as The Mirabel Foundation, Safe Steps and Dress for Success, The Good Shepherd Foundation, Mornington, Hastings and Rosebud Community centres, Clothes 4U Rosebud, and Mothers Supporting Families In Need," said Jan. "All our funds are raised by revamping and re-selling donations of unwanted or broken jewellery that has been languishing in cupboards."
Revamped Jewellery has a small group of dedicated volunteers who give their time every Tuesday except school holidays.
"We are located in the Activity Room of the Bentons Square Community Centre in Mornington and are open for business each Tuesday from 10.00am to 3.00pm," said Jan. "Most of our jewellery is priced from $5.00 to $10.00, with some pieces of sterling silver and gold priced at around half the retail valuation. We have no overhead costs only a small fee for the room. We cover this by our volunteers putting in a donation each week and so all the money raised goes directly to charity."
For Jan and the other women involved it has been important to support women and families in need and give back to the community.
"The generosity of the public has enabled us to assist eleven women through life changing fistula surgery in Ethiopia, support breast cancer research, donate funds to the CWA to send birthing kits to Pacific Islands, make substantial donations to local charities The Mirabel Foundation, Dress For Success, Safe Steps family violence response centre and make smaller one-off donations to other local charities via pop up style stalls the proceeds of which were donated straight to the host charity. All of this has been made possible by the donation of unwanted or unused jewellery. We happily receive everything from a broken necklace or a single earring right through to a piece of value," said Jan. "Once the jewellery is donated, we either revamp, recreate or simply clean and re sell each piece depending on its condition."
Revamped Jewellery has a huge range of rings, earrings, necklaces and bracelets both vintage and contemporary.
"There are so many worthy causes and it is a great feeling to be able to help in some small way. We have a lovely time chatting and fixing jewellery to display and sell," said Jan, who admits to putting her heart and soul into every endeavour. "We just want to be able to raise as much money for our charities as possible and provide lovely pieces of jewellery for people to treasure at the same time."