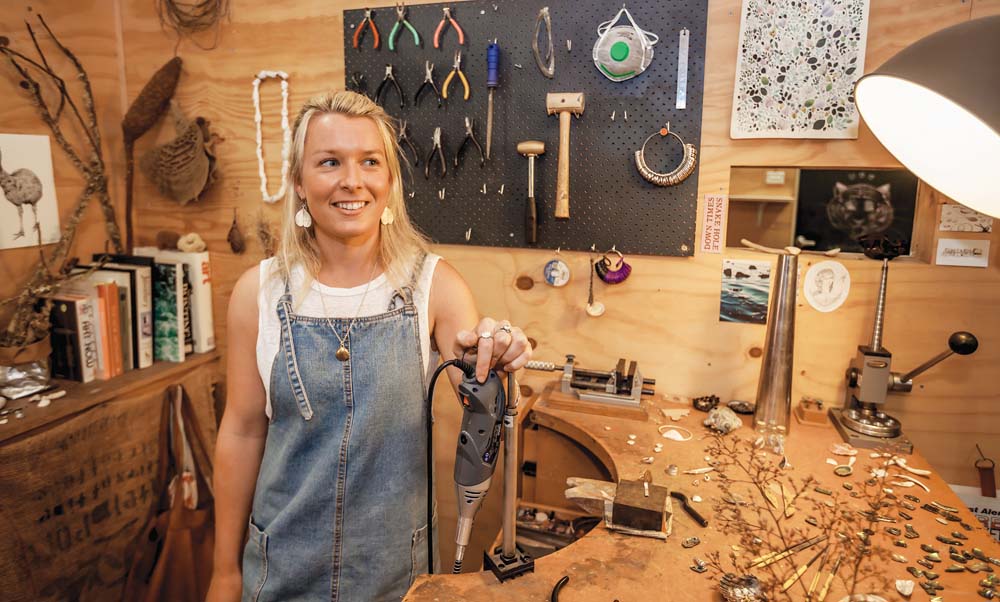 By Andrea Louise Thomas Pictures Yanni
Noticing the infinite intricacies of the natural world most people overlook is the cornerstone of jeweller, Kate Macindoe's business.
Growing up in Mount Martha, she spent a lot of time exploring the local beaches and bushland. She loved to collect shells, leaves and other ephemera found along the way. With the heart of a biologist and the eye of an artist, Macindoe makes sea and nature-inspired jewellery producing one-of-a kind handmade pieces, each with its own story because she can actually remember where she found each natural item on which a particular piece is based.
Confidence in pursuing life as an artist did not come easily. While studying at Monash University, she decided to do a double degree in Visual Arts and Primary Education choosing the latter for her professional life, as it was the more practical option. But her heart wasn't in teaching. She really wanted to be an artist. During her studies in Visual Arts she had the opportunity to explore across a broad range of mediums. She tried sculpture, painting and glasswork before discovering metalwork. She knew then that she had found her passion.
"I just sort of fell into jewellery and started making sea-inspired and nature-inspired pieces at uni because I was the only one from the Peninsula. Everyone else was city. We had to create work that reflected our story and because I've always lived on the Peninsula and the beach was always my home – that was the point of difference for me. Then a lot of family and friends started asking me for pieces and it was then that I realised maybe it could be something I could do as a part-time job. I never really dreamt or let myself hope that I could do it full-time," she says.
Her coursework at university was very conceptual and it did not prepare her for the day-to-day skills and practical work of being a jeweller. However, in her final year at Monash she was lucky enough to get a job sub-contracting for established Peninsula jeweller, Flick Pope. This was her dream job. Pope was someone whose work she had admired for a long time and in Macindoe's opinion, she'd really paved the way for handmade jewellery on the Peninsula. It was very inspiring to work with someone who had turned her passion into a full-time career for so many years and for the first time she thought, maybe this is something she could do one day too.
Despite having incredibly supportive family and friends, she still felt a pressure to pursue teaching over jewellery, as it seemed like the much safer and more practical path. Working with Pope was th0e real turning point. She had found a mentor and made a friend. She learned all of the practical things she needed to know that she had not learned at university, like pricing work, approaching stockists and what it's like to work in a studio. "I don't think I'd be where I am today if I hadn't been lucky enough to meet her. Even now, six years on, I still go to her for advice," she says.
Macindoe now works as a full-time jeweller running her own successful business. She loves having the opportunity to be her own boss, choose her own hours and follow her passion doing something she truly loves. She enjoys meeting the clients, hearing their stories and seeing the joy her creations bring. Every day is different and even with a great set of skills, she still feels there is always more to learn and that keeps her pushing her professional boundaries.
One of the best aspects of making the kind of jewellery she crafts is sourcing the materials. Beachcombing, bushwalking, hiking and snorkelling reveal the objects she finds that are the building blocks of her creations. Working with nature inspires her practice, but also presents some interesting and complex challenges. Making a casting from something as fragile as a shell or a sea urchin is no easy task, but it gives her work real authenticity. While her jewellery follows the theme of 'nature-inspired' work, each piece is original and unique just like nature itself.
Macindoe works quietly and confidently away in an intimate studio space within Commonfolk Café in Mornington. Given the sea as a theme in much of her work, it seems fitting that her studio looks a bit like an aquarium with a little window in the front so that people can watch her creative process. This took her some time to get used to, but now she doesn't think twice about it, unless someone taps on the glass.