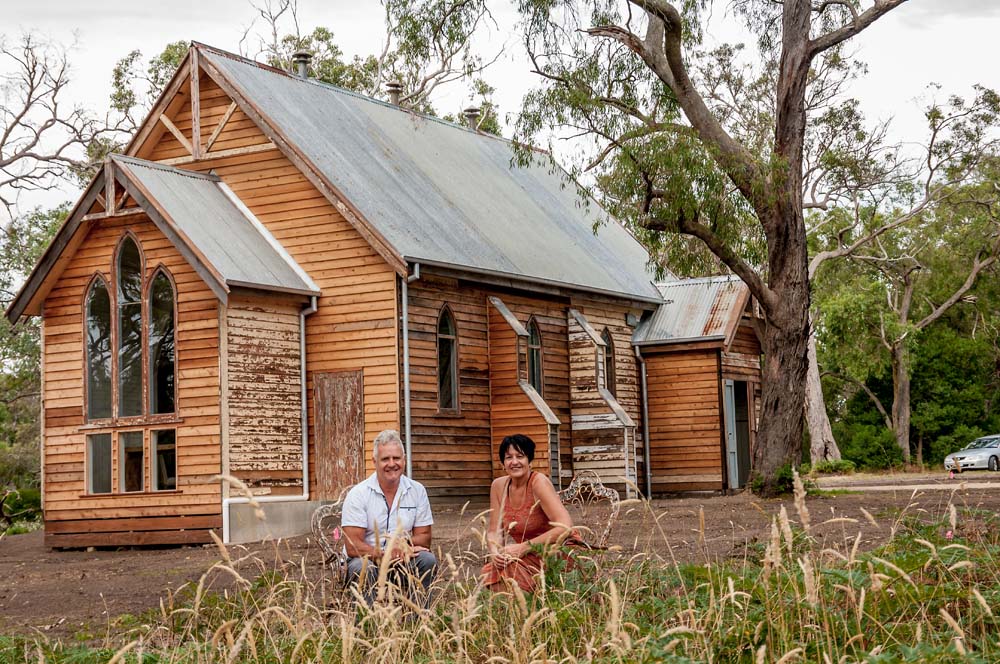 By Keith Platt   Photos Emma McEvoy
Chris and Donna McEvoy are church revivalists. But don't confuse them with belonging to a Revivalist church.
The Mt Martha couple earlier this year restored and rebuilt a 1906 era Anglican country church on their 60-hectare property near Merricks North on the Mornington Peninsula.
The McEvoys' quest to find an old church began in early 2015. Unused churches are not that rare – especially in rural areas where population numbers are dropping through improved agricultural methods or youngsters drifting away from the farm – but they already had one specific criteria that limited the search: the pews for their church had already been built in Bali, which gave them a minimum width to work with if they wanted a centre aisle leading to an altar.
Chris McEvoy says they eventually found someone who had decided that his "collection" of nine churches was probably a bit much and was willing to part with the former St George's Church of England at Woomelang, in the middle of Victoria's Mallee district.
The next step came when Flinders-based builder Matt Johnson was hired to "flat pack" the near 110-year-old timber structure so it could be trucked to the peninsula and rebuilt at Tanglewood.
"The ceiling had a 10 centimetre layer of red Mallee dust, and that's the closest we came to finding any real treasures," Mr Johnson said.
It took his six-man team four days to prepare the church for the move in November 2015, which took two semi-trailer loads before it was fully delivered to its new home.
"It was a lot higher than a regular house so we had to build scaffold and hire a boom, which broke down on the first day," Mr Johnson says. "I then had to drive to Horsham to find another one to complete the job"
The removal of the church was big news in Woomelang and a small crowd of spectators gathered daily to watch as the builders went about their business.
Chris McEvoy says a phone call and emailed paperwork was all that was needed to arrange council permission to move the church but, after arriving at Tanglewood, it was "12 months to the day" before Mornington Peninsula Shire's planners gave permission for its resurrection.
Mr Johnston and an eight-member crew then worked for six weeks to get the church ready for its first wedding (the interior painting was finished within days of the ceremony).
The church has added a new dimension to Tanglewood, which the McEvoys have developed as a wedding venue.
"It's not necessarily a place of worship and we have clear windows giving views across water, gardens and forest," Mr McEvoy says. "Quite a few couples just want to use it as a backdrop for photographs."
The McEvoys first brush with Tanglewood began about 15 years ago when they decided that living on a rural property would provide plenty of scope and space to bring up their four children. However, the plan was not to be and the then owners decided against selling and instead concentrated on growing grapes and running their farm.
The McEvoys also shelved their rural retreat idea and extended and redeveloped their Mt Martha home.
Fast-forward to 2015 and the McEvoys were again on the lookout for a rural property, this time with wedding bells in mind.
Driving through the peninsula's rural heartland they were again drawn to Bulldog Creek Rd and, lo and behold, they saw the for sale sign again up at Tanglewood.
It still had the same owners, but this time they had definitely decided to relinquish their bit of heaven.
Although the former St George's church is no longer consecrated, the McEvoys have created their own version of paradise for couples wanting a memorable setting. Now known as the chapel, the church can seat 90 people with standing room for another 40. It is a worthy, weathered addition to Tanglewood that gives the impression of having being there for the past century.
The other buildings set among the property's eucalypts and gardens include the barn (seating for up to 200 and has an the interior made with recycled timbers); a winery (seats 130 with commercial kitchen, bar and deck); and the mud brick studio (suitable for before or after ceremony drinks and small "cocktail" weddings).
Although removing Woomelang's sole church has left an empty lot and a physical gap in its remaining built history, Chris McEvoy is keen for the town's residents to know that their loss is being put to good use and often filled with joyful voices.
"I'm arranging to bring a few busloads of folk from Woomelang down to Tanglewood so they can see that their church lives on," he said.