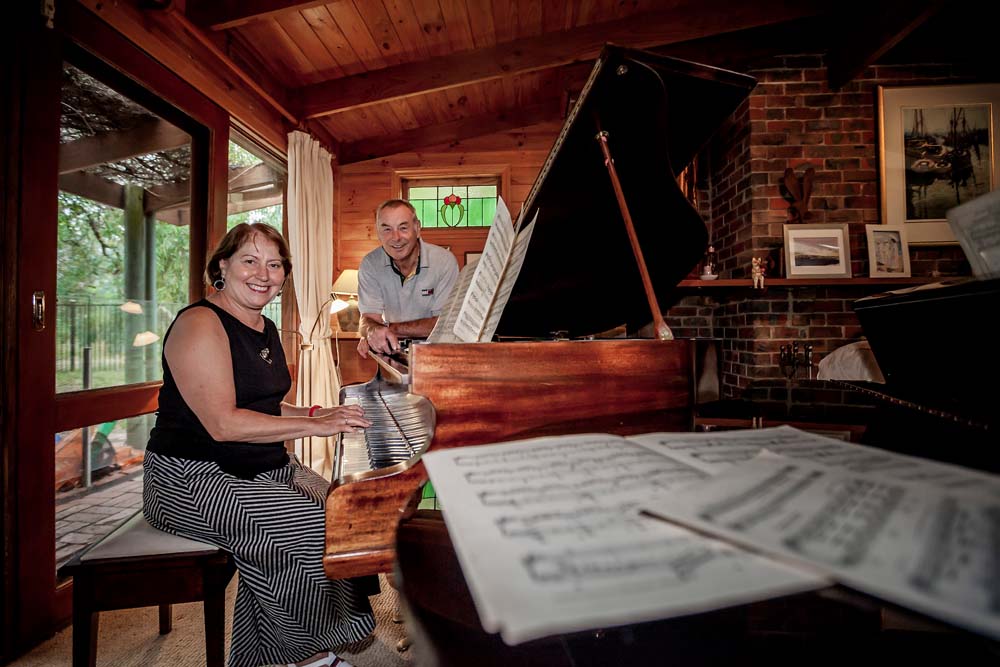 By Melissa Walsh
Since 1962, Mornington Peninsula audiences have been enjoying chamber and orchestral music that one might only expect to see in the city. Yet most of us are unaware how or why these high quality concerts came to our part of the world. Peninsula students have also been privy to the annual bursaries, workshops and master classes with world class musicians, provided by the Peninsula Music Society, who have proved they have more than one string to their bow.
It all started 55 years ago when a group of music lovers got together and decided to bring concerts to the peninsula with the aim of fostering the appreciation and enjoyment of chamber, vocal, instrumental and orchestral music on the Mornington Peninsula. A committee of about fifteen people was formed with Mr. Max Piggott as president. The aim could, it was decided, be best achieved by the regular presentation of high quality concerts by world-renowned artists, and it is a legacy that has continued over five decades.
David Fickling has been president of the Peninsula Music Society for the last 13 years, after living on the peninsula for over 30 years.
"I used to go to the concerts of the music society in the same venue we have now although then it was called Findlay Hall at the Mornington Secondary College. These days it is known as Peninsula Community Theatre," said David, whose partner Janette Forster, shares his love of music and works alongside him as treasurer.
"I've always loved music, and used to play guitar in a band in high school but when I went to university in Sydney I became more interested in serious music like classical and chamber," explains David who, among other jobs, has worked as a fighter pilot.
Even though Janette and David had not yet met, she too had developed a love chamber and classical music when working as a science teacher in Blackburn.
"The school I was teaching at had some very talented music students who performed concerts which I loved. At the same time I had taken up learning piano again from when I was a child. I was inspired by teaching at this school, surrounded by music students and music lessons," said Janette. "I particularly love the classics like Rachmaninoff, Tchaikovsky, and Debussy. There is a lot of emotion in the music and it's something that takes you away. It doesn't have to be refined music but something stirring."
Officially the longest serving committee members now, the retired couple have put together a new committee of fresh blood that is bound to reinvigorate the music scene.
"With many of the older committee members finding they were unable to devote as much time to the society, we were fortunate last year to operate with a new committee, keeping the original concept but adding a little more variety," said David.
Sourcing musicians to perform for the Peninsula Music Society has never been an issue as the society has developed a fine reputation for a great venue and wonderful hospitality.
"We actually get quite a lot of people who approach us, some from overseas, and have a good relationship with Musica Viva which bring Australian and overseas artists around the country. For about ten years, since we started the Winter Solstice Festival, we have developed a close relationship with the Melbourne Chamber Orchestra, which regularly performs the Saturday night concert for us at the festival," said David. "We have great relationships with many artists and the venue is very good acoustically so they love coming here to perform.  We also have a very knowledgeable and appreciative audience so the artists love that."
To make sure the artists feel comfortable, the society provides a light supper after each concert so the artists and committee members can sit around and relax.
"Our sponsors provide wine from the Bittern Estate Winery and cheese from Red Hill Cheese, and we have become known for our hospitality among the artistic community," said David, who has witnessed the concert series and bursary program grow over the years.
"Since the bursary program for local music students started in 1998, we now make awards totaling $20,000 each year to assist eight very talented young musicians with their careers. This program is made possible through the generous support of the Tallis Foundation, Mornington Peninsula Shire and our subscribers. We also have a Schimmel Concert Grand piano which has been placed in our care by the Tallis Foundation and is available for appropriate use by others at the Peninsula Community Theatre."
In 2017 the Peninsula Music Society is presenting a series of eight concerts including four which will form the Winter Solstice Festival.
Performers include the Firebird Trio and Friends, the Flinders Quartet, and Melbourne Chamber Orchestra with Andrew Goodwin to name a few. All concerts are held at the Peninsula Community Theatre, Nepean Highway & Wilsons Road, Mornington.