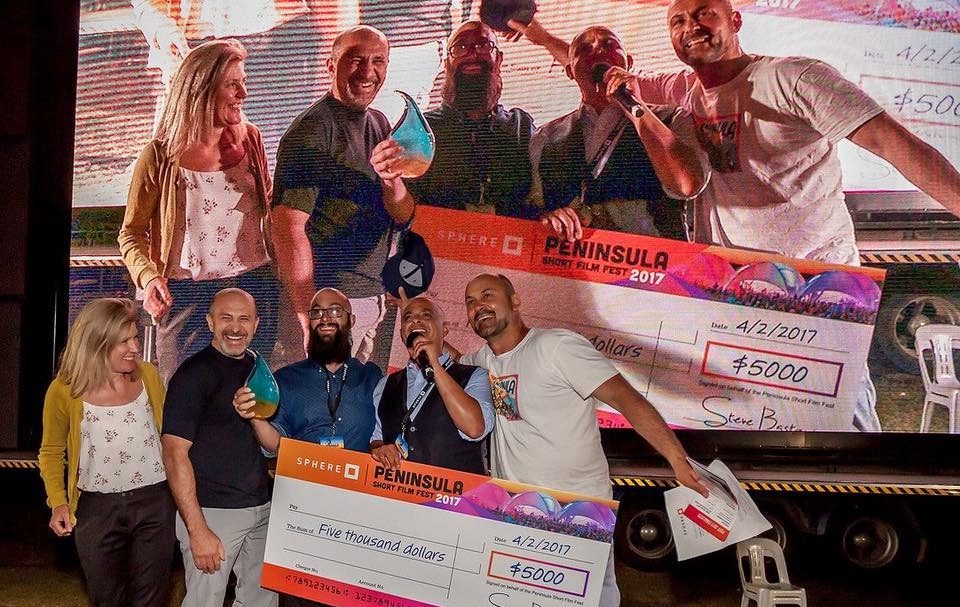 By Melissa Walsh
Armed with a budget of $15,000 and Kodak sponsorship of 35mm film, old school buddies Steven Arriagada, Llewellyn Michael Bates, and Bryan Chau created their first short film, Nathan Loves Ricky Martin, this year's winner of the Peninsula Short Film Festival. The touching and emotional story centres on Pauline who is the full-time mother and carer for her mentally and developmentally disabled adult son Nathan. After years of isolation and anhedonia Pauline orchestrates a ruse to form a meaningful connection with the man next door.
"The film is based on the younger brother of a friend of ours who had a mental and developmental disability," said Steven, of the six and a half minute film. "Llewellyn Michael, Bryan and I went to school together in Springvale and we knew the guy and his family. He happened to be obsessed with Ricky Martin."
The final version of the film was adapted from a 2015 script and co-written by Steven and Llewellyn to condense to a shorter film.
For the 30 year olds who all work in the film and television industry, Nathan loves Ricky Martin was the first film they had properly funded.
"Nathan loves Ricky Martin is a story that is both representative of our innate human drive to pursue our fantasies as well an exploration of the symbiotic relationship between carers and their dependents," said Steven. "The material comes from a few key sources; in 2012 I worked on a production of the Impossible Orchestra, a 24 hour concert that was setup to demonstrate that being a carer was a twenty four hour responsibility that conduces stress, financial hardship and social isolation. After the production I shared my feelings in conversation to writer Llewellyn Michael Bates who informed me that his mother was a carer to his grandfather.  Based on that conversation, Llewellyn contacted me many years later believing that I had the correct sensibilities to direct a screenplay he had written based on an amalgamation between two real-life characters, his carer mother and a beloved family friend Dennis, who has a mental disability."
With a tight budget only allowing for a one day shoot, the team got together and shot the film in an abandoned house in Glen Iris which they had painted prior to filming.
"The team included award winning cinematographer, Michael Wylam, producer Jessica Pearce, renowned composer Simon Walbrook, and Offspring and Chronicles of Narnia colourist Deidre McClelland. Along with the great production team, we also had an amazingly skilled cast that have pushed the limits of dedication including Verity Higgins, Albert Goikhman and Dennis Manahan.
"We heard a lot about the other films and didn't think we had a shot at winning but will put the prize money towards our next film which is already in development," said Steven. "It is a Japanese language film set in Australia starring Kuni Hashimoto but I can't give any more than that away."
---
The annual Peninsula Short Film Fest gets better every year, with 12 short listed films screened to a crowd of thousands on the Rosebud Village Green.
Now in its sixth year, the peninsula`s iconic short film festival boasts the largest single viewing audience in Victoria.
What started out as 500 people packed into a theatre, quickly turned into an annual pilgrimage, seeing thousands of people head to the peninsula each year to enjoy quality short films free outdoors.
Each year, 12 shortlisted films are screened and are judged live by a panel of celebrity judges of the highest calibre, and record crowds.
Photos: Yanni