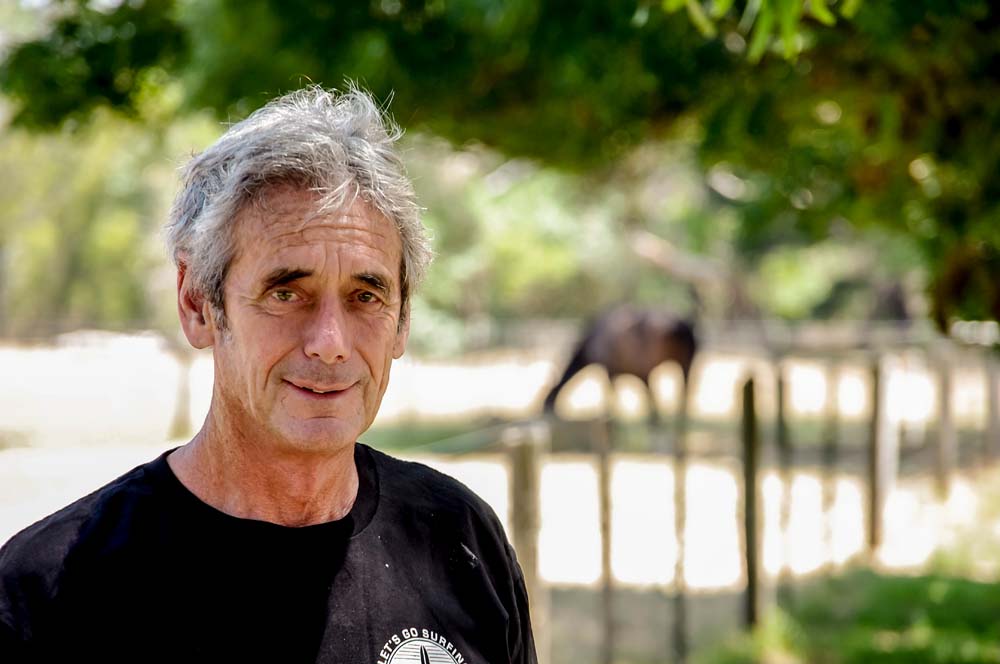 By Keith Platt
Equine vet John Bowers is a regular at Mornington Racecourse, but mostly when the crowds are gone and the track is being used to exercise hopeful starters.
The deep rumble turns into a crescendo of racing hooves as the horses hit the straight and gallop to the finish line. Jockeys and horses move as one, spurred on by the roar of the crowd.
Betting slips are either kissed or thrown in the air in despair as the winners are announced.
A day at the races is a colourful, choreographed spectacle that involves drama, despair and good fortune.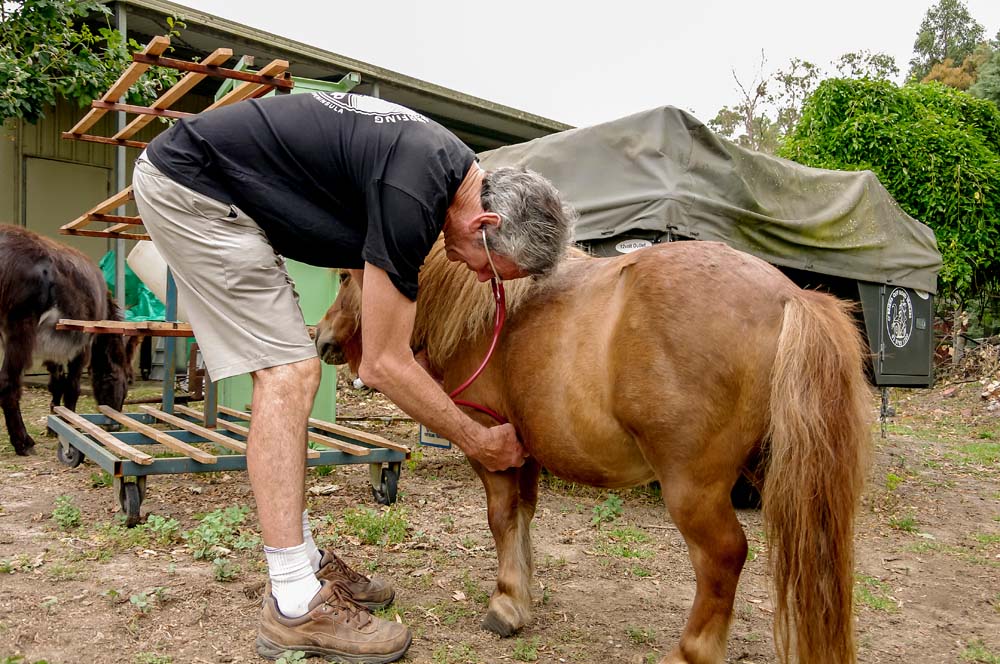 In stark contrast, most days at Mornington Racecourse begin quietly. Horses and riders emerge from the gloom onto the tracks for training.
Horses are ridden into the racecourse from nearby farms and stables or arrive inside horse trailers.
There are no colourful silks for the jockeys and mostly it's the steely eyes of trainers watching the steeds under their care, looking for signs that can signal greatness or lay the seeds of doubt, no matter what the breeding books indicate.
Horseracing, if its disparate parts could be brought together, would be one of the largest industries on the Mornington Peninsula. But the way the industry is structured allows for small stables, with maybe just one or two horses, to compete alongside businesses with dozens of race contenders.
Each race has only one winner, and the aim of all trainers is the same – to get that horse across the line first.
Just because a horse is reared like a racehorse doesn't mean it's a winner. And if it is, it won't be all the time, or forever.
Like most big industries, racing has a powerhouse behind it; innumerable people contribute to that one special day when colour and glitz hide the dramas unfolding on the course and in the stands.
Race days are relatively few and far between – 14 in a year at Mornington – but that doesn't mean there's no daily action at the course.
One day after the race crowds have gone and the grounds have been tidied and turf replaced, the horses are back.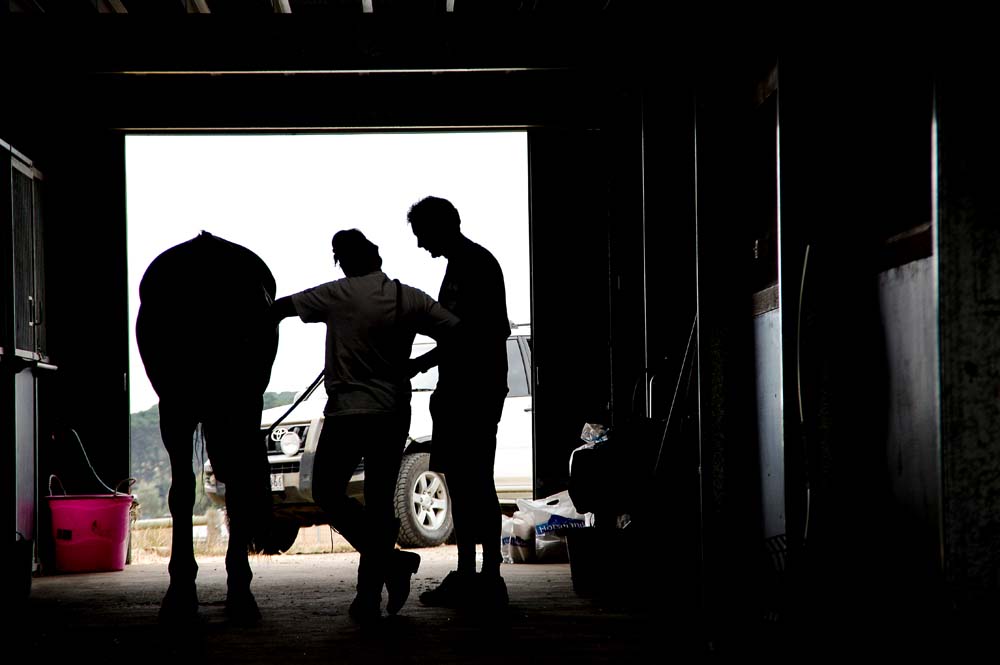 Carefully nurtured and transported by a retinue of attendants (stable hands, strappers, riders, trainers) 400-450 horses are each morning brought to the track, saddled and walked or galloped for carefully measured distances.
Equine vet John Bowers is part of several behind-the-scenes teams preparing horses for racing.
Most mornings he's up early driving to the racecourse.
Once inside the gate his Staffordshire terrier Benji expects a bit of ball play before obediently climbing back into the four-wheel drive while his master, the vet, goes off to check any number of much taller well-bred animals.
Nothing seems hurried with Bowers as he strolls past the tie-up stalls where horses are either being prepared for a run or are having a wash-off after being exercised and before making the trip home.
There's time for a coffee and horse health talk with some of the 100 trainers registered at the course. A few pats and a close-up look at past and present patients before amiably offering to grab a harness and walk Wednesday Golfer, one of Balnarring-based trainer Dave Cave's horses, to the trailer.
"Even though it's close to suburbia, the racecourse is kind of peaceful," Bowers muses as he checks his phone for the first of the day's house (horse) calls.
"The exercise at the track is conditioning the horses," he says. "It's to help their cardio vascular system, muscles, tendons, bones and even mental capacity to cope with the rigours of racing.
"Horses need eight to 12 weeks of preparation before a race. If they've been spelled, it takes three months to condition bones which, like skin cells, are constantly being reabsorbed by the body.
"Their bones need to be elastic enough to absorb the shock of racing."
Bowers compares the preparation of horses for racing to that of elite athletes. Care has to be taken that they are not over-trained, which can result in them "going off their feed or losing interest".
"The thing about horses is that they love the paddock where they can run if they want or just graze – they don't tend to move unless they have to.
"A horse has got to want to run. In a pack it's a flight response. [Record-breaking thoroughbred mare] Makybe Diva was amazing, she wanted to be in front [when racing] and stayed in front."
Bowers says a horse needs to be provided with a chance to win by being "put in the company of horses where it can win".
"And it's wins that keep the industry going. Economics demand it produce winners. It's a very interesting game."
Bowers says he has "never been asked to [chemically] help a horse run faster".
"Chemicals are not always as good as you'd expect. Look at Essendon [Football Club], its players were going well [before treatment] and they ended up with soft tissue injuries.
"There are greedy people, and racing has certainly had some colourful characters in the past, greyhound [racing] more so."
Before making his off-course rounds Bowers makes another stop, a leash-free area for dogs with play equipment. Staffy Benji's quick to complete the course, knowing that he'll again get to play ball before clambering back into the car.
In contrast to the thoroughbreds at the racecourse, Bowers' first call is in Baxter to check on the progress of a donkey from which from which he previously removed a tumour.
Although he'd never admit it, there's definitely something of a horse whisperer about Bowers. His slow, definite movements towards the animal appear to have a calming effect. He gives steady, confident pats rather than making any audible contact.
But the horses, or in this case, Scallywag the donkey stands calmly. There's no flicker of concern when Bowers moves a stethoscope over the donkey's flanks or lifts its hind leg for a close look.
The leg wound is healing well and Bowers sees no reason why the animal won't be able to fulfill its role as a "grass cutter" for many years to come.
On the way to stables at Flinders, Bowers gives a few consultations and makes appointments over the [hands free] phone.
A large kangaroo keeps pace with Bowers' vehicle along the unmade road before he slows to let it cross and clear a fence in a single bound to join a couple of horses, which are startled just enough to miss one mouthful of grass.
Wilbur, once a "hopeful" in the racehorse breeding stakes, is now a much-loved recreational horse who cut his leg on a fence, possibly after being spooked by a kangaroo.
The horse seems a bit sorry for himself and is part sedated, but the wound is healing and Bowers prescribes ongoing treatment with an ointment that can be applied by his owner.
"These types of cuts are the most common wounds and normally heal quite well," he says. "This one had some complications because it had exposed the tendons, which were also partially cut."
One main difference between vets and GPs is that animals don't respond when asked "Well, what's wrong with you today?"
Bowers says vets depend on receiving a brief animal history from its owner and "just observing".
"Most owners are good at seeing if something's not quite right."
Newborn foals can be more difficult to diagnose as they have no history and Bowers recalls being called to attend a foal "because it had a funny noise coming from its throat".
The diagnosis was that the foal suffered "neo-natal maladjustment syndrome".
The foal was sent to a horse hospital where it was sedated to reduce swelling on its brain.
"It's now doing nicely, although it would have died without constant treatment from lack of fluids, dehydration and bacterial infection because it wasn't taking mare's milk.
"The foal just wasn't physically capable. It was a little hyper, running around and then almost falling down."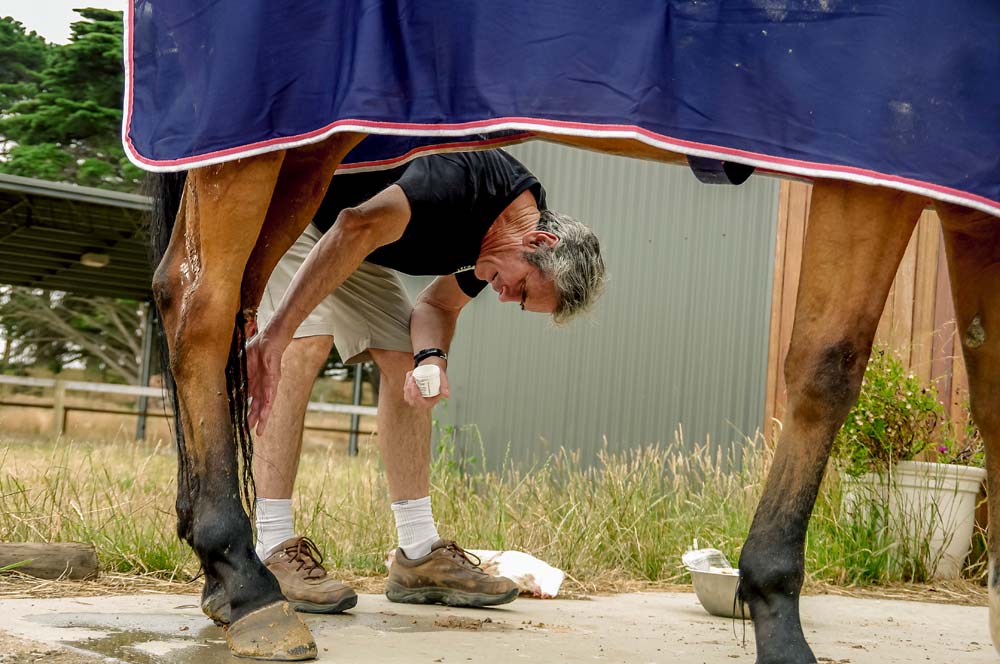 Although that horse will survive, Bowers, who chose to specialise as an equine vet because of an affinity with horses, sees the worst part of his job as "putting down a horse I've known for a long time or one you've worked on and can't help".
Bowers completed his five-year veterinarian course at the University of Melbourne before joining a mixed practice at Mildura (where met his wife, Sue) and then moving to Bega.
Born in New Zealand to Australian parents he never realised he was a Kiwi and not an Aussie until he needed a passport for a trip to Japan to deliver a paper based on his master's degree on the transient effect of girths on a horses performance. "I opted for the New Zealand passport because it was cheaper and I needed fewer visas."
His interest in horses came to the fore while at Bega, resulting in a move in 1986 to join a practice being run by his university mate Peter Joyce on the Mornington Peninsula.
"You get more emergency callouts when doing dairy work," Bowers says. "Horses usually give birth naturally and very quickly – they've got to get up and get going with the rest of the herd."
Being a horse vet allows Bowers a degree of flexibility; time for surfing (he's a foundation member of the Disabled Surfers' Association Mornington Peninsula) and, of course, keeping Benji company.
And the patients we met under Bowers' treatment? Wilbur is just about all healed up, although the fur won't grow back over his scars without pinch grafting or using a biopsy punch (the equivalent of a hair transplant – cosmetic surgery); Scallywag is back to normal (from a donkey's point of view, that is); and Wednesday Golfer is still in training to cross the line first (he came last in a 1600 metre race at Mornington just days after being photographed for this article).