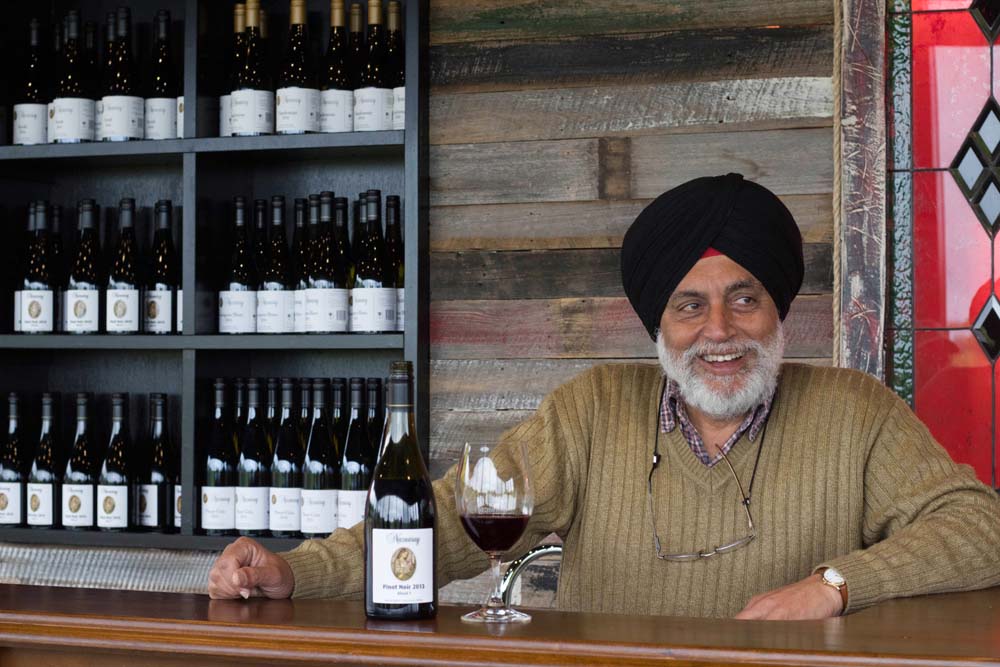 By Cameron McCullough   Photos Ebony Elise
Down an unassuming road in Flinders is a simply signed entrance to one of the peninsula's most unique and awarded wineries; Nazaaray Estate.
It is unique for a number of reasons. It is the peninsula's southern-most winery, set on wind-swept paddocks that once were the domain of grazing cattle. But that isn't its most unique feature. Greeting you at the cellar door is the winery's owner, Paramdeep Ghumman.  Now you'll begin to get the picture.
Param is not your typical Australian winemaker. The Indian-born Sikh comes from the Punjab region; a region not associated with fine wine. In fact, he had never even tasted wine until, aged 30, he had a glass or two of French Champagne on the flight from Calcutta to Melbourne, when he emigrated with his doctor wife, Nirmal, in 1981.
His interest was piqued, but at that stage he never dreamed that one day his own wines would be served at some of Australia's best restaurant tables, nor that he and his wife would run a very quirky cellar door complete with vintage railway carriages and Sunday Tiffin lunches.
Param and Nirmal bought 50 acres of cattle farming land on the Mornington Peninsula in 1991, while living in Melbourne. It was on a hillside, exposed to wind from all directions, but it overlooked the verdant landscape and wildlife haven of Greens Bush.
"The land was wind-swept, and was hardly a tree to be scene. We really had no idea what we would do with it," says Param.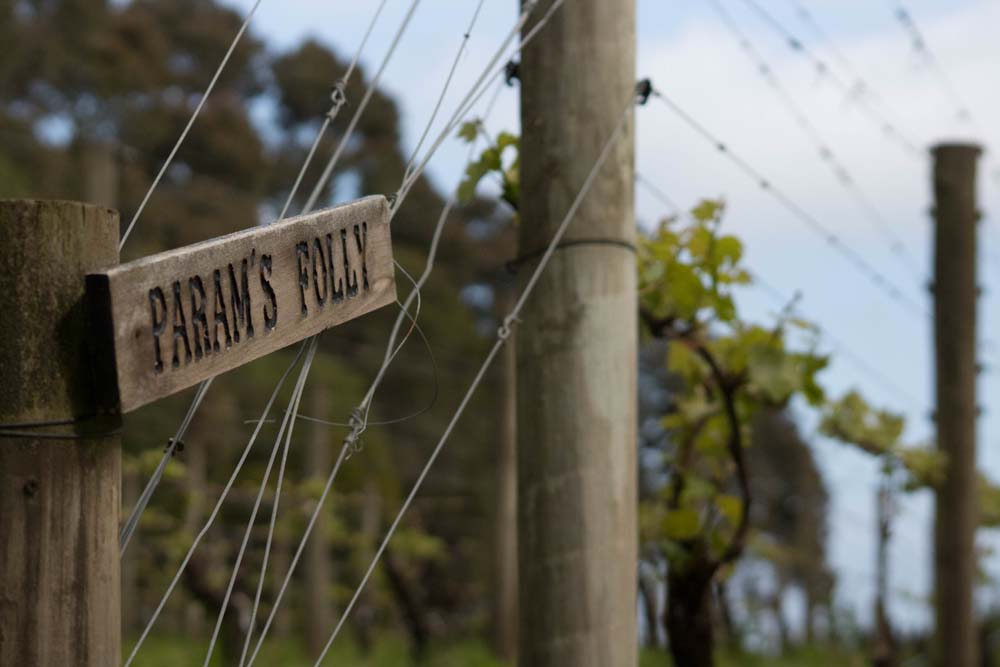 They looked at crops such as olives, fruit trees and specialty produce such as pomegranate, but Param kept coming back to the dream of creating his own vineyard.
His son said he was having a mid-life crisis, his wife said he was mad, and a prominent vigneron took one look at the windswept acreage, immediately agreed with his wife and told him to buy land with vines already planted on it.
"But you have to do what your heart tells you, not your head," says Param, who enrolled in a six month evening course on viticulture (the first of many wine courses), then established Nazaaray (beautiful visions) Estate.
The first step was to reduce the wind, and Param set about planting over 5000 trees across the property.
"We had to control the wind. That was paramount." Said Param.
Then came the study. His qualifications in electrical engineering and his IT role in Melbourne gave him technical skills for his research and development. In 1996 he planted 10 rows of Pinot Noir, Pinot Gris (he was one of the pioneers of this variety in Australia), Sauvignon Blanc, Chardonnay and Riesling, tried different trellising methods and vine spacing, and buried himself in research about cool climate varieties.
He opted not to irrigate the rich red basalt clay soil once the vines reached three or four years of age, wanting to force the roots deep into the ground in search of water and a true expression of the soils.
"That's what extracts the real flavours from the minerals in the soil and the volcanic deposits that lie under it," said Param. "Our roots go down about three or four metres, but in Burgundy, some of the roots go down 100 metres."
Param is one of only a handful of Indian winemakers in Australia, and one of the few winemakers on the Mornington Peninsula who make their own wine on their own premises.
Grapes are handpicked, wines are handmade and only French oak is used for aging.
"I have a simple goal," said Param. "To make the best Pinot Noir I can possibly make."
He follows sustainable principles, including spreading hay in the vineyard as mulch, planting more trees to encourage birdlife as insect control and not using chemicals.
He produces between 500 and 1000 cases of wine a year.
When he sent wine writer James Halliday his 2014 Chardonnay it scored 94 points, the wine was tasted by revered Melbourne restaurant Vue de Monde, and he suddenly found his Chardonnay and Pinot Noir on the restaurant's wine list.
"I felt good," he says, but his wife recalls him saying "Wow, I can't believe it!"
Nazaaray Estate wines are now on the wine lists of some of Australia's most prestigious restaurants, including Attica, Red Spice, Aria in Sydney and, closer to home, Ten Minutes by Tractor and the National Golf Club.
With the quantities that Nazaaray Estate produces, the volume market is not their target. In fact, thirty percent of the wine they sell is through the cellar door. The rest is through online sales, boutique retailers and the restaurant market.
"We are boutique, and we target that market. We concentrate on the highest quality and establishing the best name for ourselves we can in the wine industry".
The concentration of quality and playing on their boutique production levels as a strength has seen Nazaaray Estate's wines lauded far and wide.
As well as winning a "People's Choice" award at the 2017 International Cool Climate Wine Show, Nazaaray Estate wines were also awarded a Silver Medal by the esteemed United Kingdom wine magazine, Decanter, for their 2015 Pinot Noir, and a Silver Medal in the London International Wine Challenge for their 2015 Pinot Noir Reserve.
"These are very important results to us. I would love to break into the London market", said Param.
Indian food and wine might seem odd table fellows, but Param says there were vineyards on the foothills of the Himalayas thousands of years ago. "The Moghuls drank very fine wines – probably from Europe too – and Indian poetry has been written about wine," said Param.
The Ghumman's choice of food is a salute to an Indian institution, the Tiffin lunch.
In a seemingly chaotic, but incredibly efficient, daily routine, hundreds of thousands of Tiffin lunches are dispatched to busy office workers in India, enabling them to have a hot meal for lunch.
The Tiffin lunches of around six different dishes plus accompaniments for up to 60 people. Lunches are generally on the first Sunday of each month.
"If there's a balance between the wine, food and spices, wine works very well with Indian food," said Param. "Chicken Tikka goes with Pinot Gris, tandoori prawns with Chardonnay, and game such as tandoori quail or duck goes with Pinot Noir. I like to introduce people to different styles of cooking and different regions too."
Nazaaray Estate is a lovely property. A couple of brightly painted train carriages frame the wine tasting area, as well as a small timber building called 'Elimatta' (Aboriginal for 'our camp') for meals. However, the best spot for enjoying a glass or bottle of wine is undoubtedly on the viewing deck which looks over peaceful farmland towards Greens Bush. Kangaroos often bound into view, heading for the tree corridors which the Ghummans and their neighbours are planting from the roadside to Greens Bush.
As the name "Nazaaray" suggests, it is indeed a beautiful vision.
Nazaaray Estate, 266 Meakins Road, Flinders