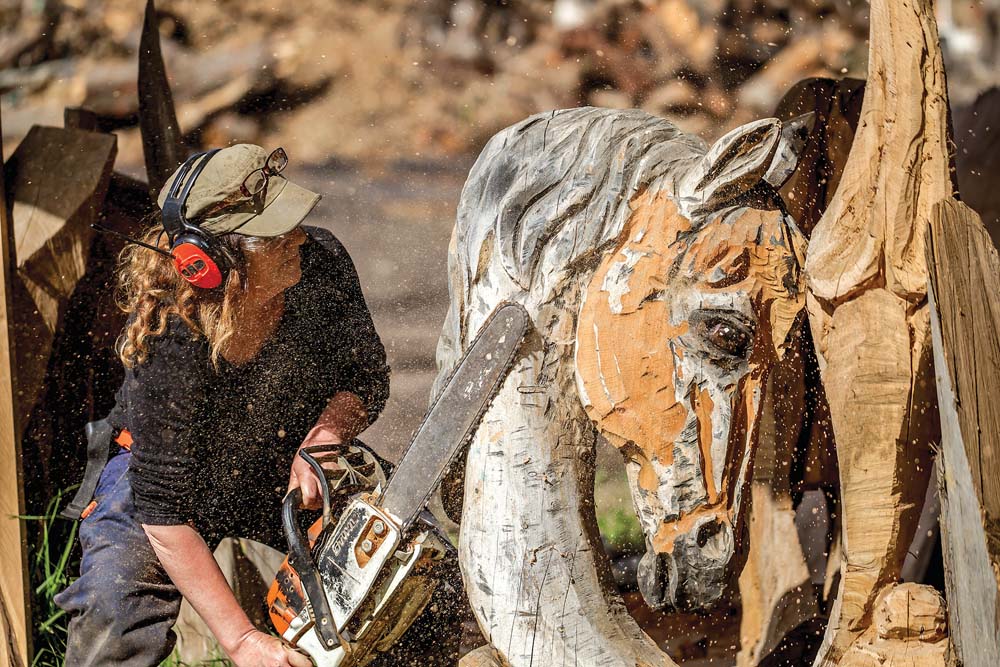 By Brendan Rees   Photos Yanni
For Angie Polglaze, "touching wood" – what you do to ensure an abundance of good luck in your life – has certainly worked.
Since picking up a chainsaw for the first time 22 years ago and discovering its "possibilities", Ms Polglaze has been patiently carving her own niche in the community of fine artists, but she never thought chainsaw carving would take her around the world.
The afternoon I visit, under a sky that resembles one vast blue bowl, Polglaze is preparing her current project in the carport at her Hastings home.
Wearing a burgundy jumper and navy work pants spattered with white paint, the woodworker clutches a filer while leaning in close to a chainsaw mounted on a stand, her eyes fixed on the chainsaw bar. Her arms swing the filer like a pendulum, sharpening the blades that will be used to transform a five-metre-tall cypress stump into a dragon at Preston West Primary School.
"It's a tree trunk existing in the ground: now he's the guardian of the school and he's got the whole alphabet underneath," the artist says of her dragon sculpture, which has taken more than two days to carve with the aid of double scaffolding.
"I'm looking forward to getting it finished. Particularly when you're working with kids, you've got to keep the momentum up or they'll lose interest. It's impressive when they go, 'Wow, look at that.' It's been a tree stump for months and months, now it's a big red dragon sitting on an alphabet. The kids instantly relate to the alphabet.
"I'm going to carve in big flowers underneath the alphabet, around the bottom. It'll be all bright colours," she declares, adding with a laugh that, as soon as she started painting him red, she was suddenly "king of the kids".
Polglaze likes to bring a smile to people's faces, particularly working in schools where children watch on in awe: "You want to inspire kids to think outside the box. You've just got to dream big."
She finds inspiration for her subject matter "everywhere" and will lose herself for hours immersed in the internet viewing different art media.
"You don't have to go to a library and look at a book any more. You can turn on a computer. It's so cool. I waste a lot of time looking at art," she laughs.
"People like to say, 'What's your favourite carving that you've made or your best ever carving?' I'd like to think I haven't made it yet.
"I go through phases. I went through a phase of my naughty girl sculptures called Cheesy Chicks, as she points to a raunchy, wooden sculpted female, with bright blue eyes and golden hair standing against the living-room wall, wearing a pink Playboy outfit complete with bunny ears, lingerie, long gloves and bunny-fur boots.
She then points to a 'big bad banana' photo on her business card, showing a large banana carving that features a cheeky grin and short arms, and lifts up the lower part of its skin. "That," she says with a big smile "was inspired by a picture on Facebook of naughty fruit." She says a friend had a shop in Mornington where they sold big bad banana smoothies: "So I carved them a big bad banana. It's six feet tall, and if I got a dollar for every person that had their picture taken with that banana I'd be rich. It was amazing. People loved the big bad banana."
The moment she holds a chainsaw, which she confesses is a "wickedly dangerous tool", Polglaze is swept up by an almost transcendent magic, oblivious to the rest of the world.
She says her "whimsy" and bold use of colour set her style apart from others. Exterior acrylics and pure pigment paints, she says, are her favourites.
Across the peninsula her carvings are surefire public attractions. Rye boasts her big octopus and sea shell as well as two leaping dolphins. In Mornington's Civic Reserve you'll find four whimsical farmyard animals carved from tree stumps, "my favourite being the three pigs piled up with a black duck sitting on top".
Asked how she carves the delicate details of her works, the sculptor says: "It's just practice. You learn a lot hanging out with other carvers."
Stepping into the Polglaze backyard you won't sight any garden gnomes. Instead there are towering, imposing wood carvings resembling something of an Australian wildlife exhibition.
"The backyard is the relics. These are pieces that didn't sell or haven't sold," she explains.
A sky blue dolphin dominates the lawn while a giant magpie on a pedestal guards the clothesline. Watching from the fence line are a pelican, a heron, an eagle, an owl, and a kangaroo. "The tribal head by the corner of the shed," she points out, "it's sold so I have to take that with me to Warrnambool in October." After a moment's reflection she adds: "It's just a matter of getting it there. I'd forgotten how big it is."
Technology, even in such a traditional pursuit as wood carving, has changed significantly in the past two decades. "I've got this fitting on one of my saws: it's like chisels on steroids," she laughs. "If I was to chisel by hand it [carving] would take me months and months and I can do it in half a day with texture."
Ms Polglaze says she uses power tools for intricate detail. "Very few hand tools [are used] like chisels and hand sanding. It speeds up the process and makes it more entertaining as well. We do a lot of public demos where people just want to watch you make something in an hour. People love it."
The effervescent 49-year-old has shaped some of the most sophisticated sculptures on the world stage, plying her talent at 'power carving' events in the USA, England and countries across Europe.
She won the 2004 Australian National Chainsaw Championships award after placing second in 1999 and again in 2003. But she remains modest about her achievement: "Like anything, this is art. There's no finish line. There's no definitive right or wrong. There's different judges and you could have an entirely different outcome, and you're only as good as the people [competitors] that turn up."
In 2002, the champ reminisces, she travelled to the US for the first time to attend chainsaw competitions: "That changed my life forever. I fell into this incredible extended family of incredibly talented, funny, hard-working people."
She also toured the United Kingdom in 2008 "with a bunch of chainsaw-carving Gypsies".
Her work has inspired other carvers and she is the founder of Chainsaw Chix, a group of female carvers from America, Canada and Germany. "I got an achievement for the arts award from the United Chainsaw Carvers Guild in the United States in 2011 for inspiring … other women to carve."
After travelling the globe, "living out of a suitcase" and competing with world-class carvers, Angie Polglaze encountered a reality check upon returning home. "It was a hard adjustment. Suddenly I had house costs, two dogs and a cat. And travelling was out of the question. It's easier when you have nothing: you've got nothing to lose and no bills. So it was a pretty frivolous time."
The artist feels very lucky to have found chainsaw carving but admits making a living from it is quite tough. "You've got to be self-driven. No one's going to make you get out of bed and do it. Like, sharpening chainsaws, which is my least favourite thing to do. But a sharp saw is a safe saw."
Despite the work being physically intense and sometimes tedious, it keeps her fit and she can't imagine doing anything else: "It is hard work. Chainsaws break down all the time. Terribly unreliable tools. That's just life."