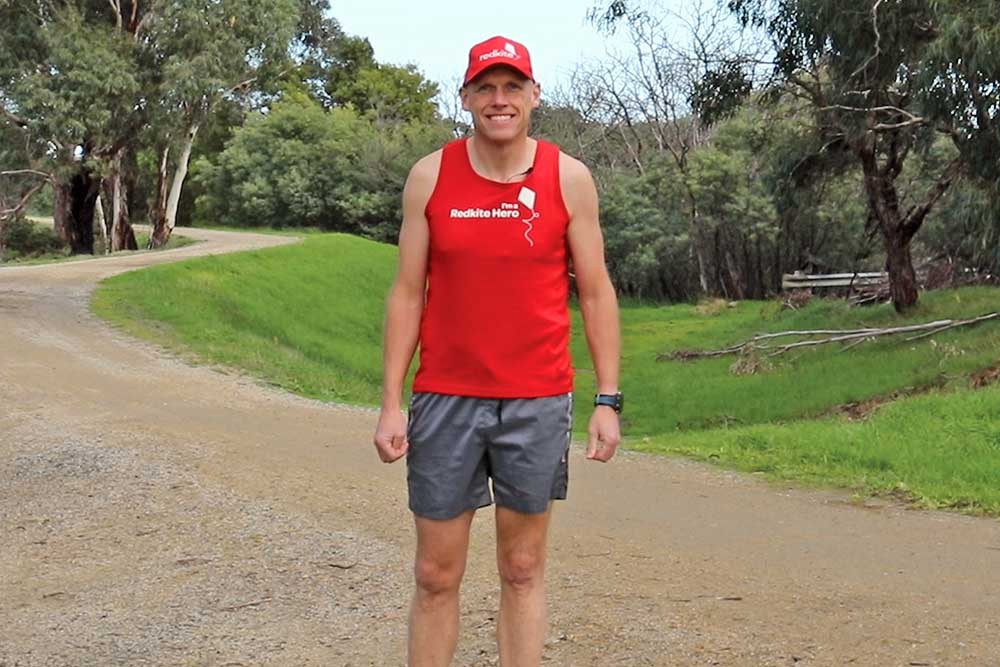 By Daniel Failla
Andrew Wesley, a local of Mount Eliza for the last 12 years, certainly doesn't run away from the fight to help raise funds for cancer research. He will be doing his bit to help raise funds and awareness for cancer by tackling the New York marathon this November.
Spurring Andrew on to help support the cancer cause is the story of a young man named Kynan Omann, the son of one of his friends who has suffered and survived through a recent battle with cancer.
Andrew said that the decision to take part in the New York marathon was made easy due to his running history, but said that Kynan's story provided him an extra boost.
"I've run four marathons before this one but this time the marathon has an extra motivational factor, because I'm running to help Kynan," Andrew said.
Andrew was told of Kynan's story by the boy's mother, Samantha. He took the situation to heart, using the young man's battle as inspiration for his upcoming run.
Samantha Omann is the mother of Kynan and had never actually met Andrew before the two came across each other in a chance meeting over Facebook. Sam and Andrew both supported Redkite, a foundation designed to help young people with cancer, and it was through the Redkite page that Andrew first learned of Kynan's story and felt compelled to get in touch. Andrew met and became friends with Samantha by reaching out and asking about Kynan's situation and offering to help.
Kynan Omann's journey battling cancer started in May 2017. Kynan was only 14 at the time when he first started complaining of a headache. After being taken to the doctor's twice and not making any progress he was finally taken to hospital where it was discovered that Kynan was suffering from Hydrocephalus, also known as water on the brain.
Hydrocephalus is a condition where there is an abnormal build-up of fluid in the cavities of the brain, which can be known to raise pressure inside the skull and squash surrounding brain tissue. Some symptoms include headaches, vomiting, blurred vision, cognitive problems and difficulty walking. The patient's outlook can be dependent on how quickly they are diagnosed and treated, and luckily for Kynan he was taken to hospital at the first sign of worry.
Unfortunately for Kynan and his family, another complication was discovered in the form of a brain tumour that was pushing on nerves in his brain. Thankfully it was treatable, and after successfully undergoing six weeks of daily therapy, he was cleared to go home.
Kynan is now back to school full time and can carry on with life, but his mother Samantha says that his life will never be the same as he still struggles with some daily issues.
"Kynan is still experiencing some sight problems and he needs to have blood checks every three months, and this will go on for the rest of his life," Samantha said.
Samantha said that the work that the Redkite charity does is invaluable to families like the Omanns. Families like the Omanns who have faced difficult battles with cancer, the Redkite charity has been present and ready to assist those afflicted and their families in any way they can. Samantha praised the foundation for the work they do to help families such as her own.
"Redkite are an amazing charity and the work the do is beyond good," Samantha said.
"The work being done by Redkite and Andrew to help Kynan has been incredible and great."
Redkite has provided help and support for young people with cancer and their families for over 30 years. Their aim is to help families by providing information and counselling as well as supporting them through the difficult process of grief and loss.
Andrew will be attending the New York Marathon with Redkite, doing his part by participating in a run with thousands of others who are also doing charitable work for those affected by cancer. Andrew praised the work Redkite does and has been doing for some time.
"Redkite does wonderful work and provides practical and ongoing support," he said.
"My employer has been working with Redkite for over 17 years and I feel proud to be a part of a business that supports them."
Andrew also commended the charity on doing their utmost to assist young sufferers of cancer get back to the life they once had by helping them get back to school and providing financial relief.
"Redkite helps a lot by handing out supermarket vouchers and petrol vouchers and even car registration, they just help so much", he said.
"When the opportunity came to join the Redkite cause and go to New York to run the marathon I had to raise my hand and volunteer".
The New York marathon is an annual event that will be held on 4 November this year, with the course stretching over 40 kilometres from Staten Island to Central Park. The marathon acts as a fantastic platform for charitable work, and last year set the record for world's largest marathon with 51,394 people finishing the course, raising over 36 million dollars for charities in the process.
Andrew Wesley does not limit his charity work to just running, as he is also promoting a charity Trivia Night to raise funds for Redkite. The event takes place on Saturday 1 September 2018 at 6:30pm at the Peninsula Community Theatre.
"My goal for the trivia night is to raise 10,000 dollars but I hope we can smash that," Andrew said.
---
Check out Andrew's fundraising page www.everydayhero.com/au