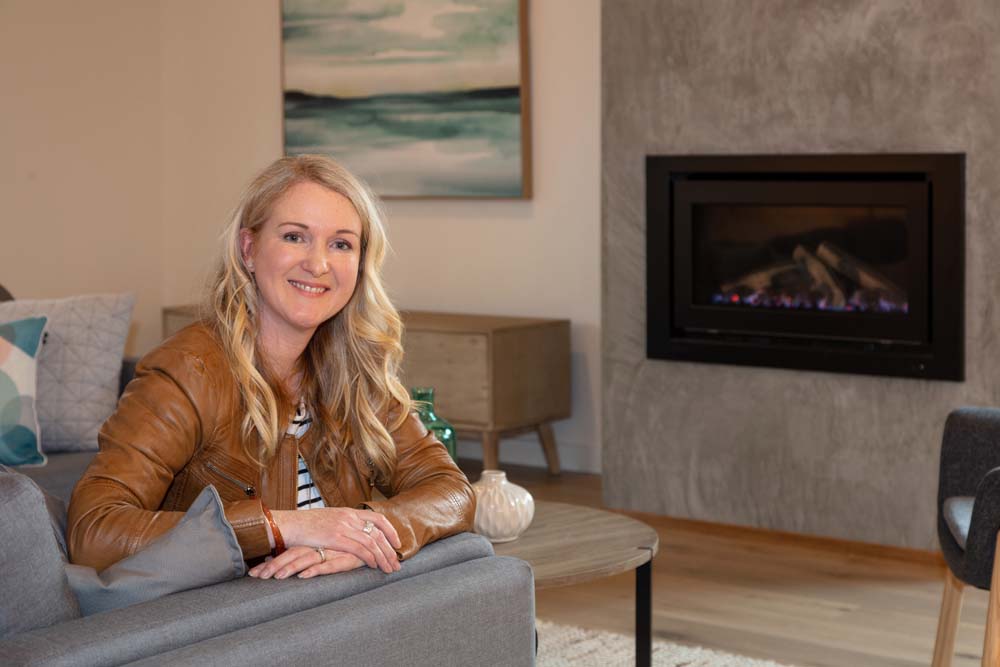 By Melissa Walsh Photos Gary Sissons
Selling your home is one of the biggest financial decisions most people will make so it's imperative to have this precious asset looking at its premium. That's where property stylists come in – professional people who can look at your home with no attachment and work out how to make it shine. One such property stylist is Gabrielle Rosenfeld, interior designer and owner of Freestyle Interiors, a business that makes it their business to show your property in its best light possible.
"Selling houses is competitive and our services ensure yours looks and feels like the home your potential buyers want to own," says Gabrielle from a property she has styled recently in Mornington. "With a passion for styling, interiors and real estate, I am committed to helping clients achieve their goals, and offer practical advice on how to get the best money for your home."
Gabrielle began this incarnation of Freestyle Interiors three years ago after running the business with her husband, who is a cabinet maker.
"I have been involved with interior design and real estate for many years and decided that there was a market for property styling on the bayside and Mornington Peninsula areas," she said. "We offer personalised service and consultations where we can give sound advice on how to style your home for sale. We do full styling where we take out all the furniture and fill the space with our own design, as well as partial styling where we add pieces."
Gabrielle says the most important thing to do when you prepare your home for sale is to strip away all the things you have collected over the years.
"I know this sounds harsh but you have to have a different mindset that the property is a product that I no longer own, and that I need to present the product to maximise my sale price," she said.
"Styles are changing all the time and colours will always change with different trends, however we tend to style with a neutral pallet with our furniture fresh, crisp and white or neutral in keeping with the peninsula. We also do more edgy inner city style contemporary designs for apartments and period pieces for older style homes," said Gabrielle, explaining you can't just put anything into a home. "You have to be very mindful of spatial awareness and the importance of making the most of each room to maximise the impact. You want people enticed to look further and that takes perfectly placed pieces and less clutter."
Gabrielle explains it is important to get the scale right in each room.
"For example if you have a master bedroom, make sure the beds, the bedsides, the lamps, the wall art are all in the right proportion. It takes 30 seconds to like or not like something so first impressions last," she said. "Make sure the knick knacks are put away and family photos aren't everywhere. Don't leave shampoo bottles out in the bathroom or vegemite jars on the kitchen bench. Make the place inviting and fresh."
As a stylist, Gabrielle says that first impressions start at the front door.
"Make sure the front entrance is uncluttered and clean because instantly you create a calm and tranquil feel and your mind is already opened to what's next. Have something in the front entrance where you introduce a few elements so you want to entice the viewer to look through. It is all about connecting them emotionally so they want to see more of the house. Make sure the front garden is well maintained and the front door has a coat of paint if it needs it," she said. "Work your way through the house from the entry. Get rid of clutter, keep it simple and fresh, you don't need a lot of stuff but just enough to make it enticing. Make sure the bedrooms are decluttered with simple classy furnishings and lots of layering of linens, particularly in the master. Use euros, pillows, throw rugs, and make the bedroom enticing with texture like velvet and faux fur. In the kid's rooms, put the toys into storage or lots of containers and keep as clean as possible."
As far as art work goes, Gabrielle says it is important to use large scale work so you don't need as much, and make sure walls, floors and window are clean.
"That is important outside as well. We say to clients it's all about repair, upgrade, and maintain. Make sure the walls are painted, flooring is clean, chipped tiles are replaced and outdoor areas are low maintenance and well cared for."