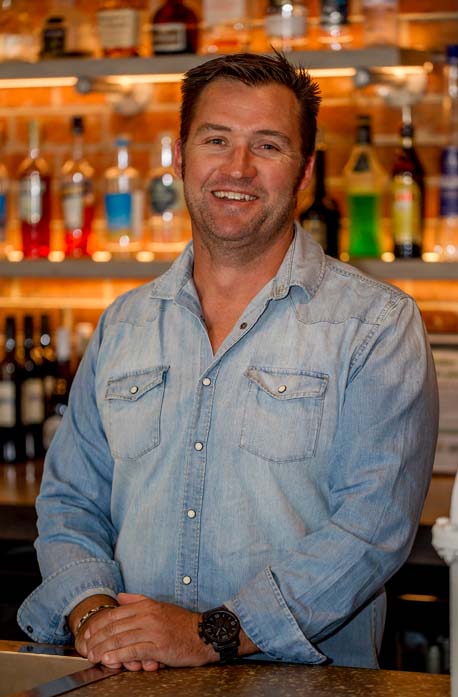 By Melissa Walsh    Photos Yanni
Jetty Road is a craft brewery in Dromana's Industrial Estate, inspired by a group of the peninsula's own lads who are passionate about local craft beer and local fresh produce.
The recently-opened brewery has been receiving huge accolades for offering a venue that is not just about beer and pizza.
"As local boys with a passion for craft beer and a childhood love for the Mornington Peninsula, we have combined our two favourite things to create Jetty Road Brewery," said venue manager and co-owner Nick O'Brien, of the brewery that opened its doors in December last year.
"Catering for not only beer enthusiasts, Jetty Road Brewery offers a full menu, prepared by Head Chef, Oliver Dietel, to satisfy all tastes and types. Patrons can also enjoy a full bar showcasing local produce as well as locally sourced wines and spirits. The family- friendly venue has combined a passion for craft beer, great company and local produce to create an experience to share with friends", said Nick. "The industrial style, casual setting has plenty of space for people to come in groups and enjoy our locally-made craft beer, alongside some of the best produce the Mornington Peninsula has to offer."
Offering much more than just beer and pizza, the brewery caters for lunch and dinners with a full menu and extensive wine and spirt list. "Our menu is extensive and we are also getting a lot of families here and groups of women which is fantastic, When you come down on a Sunday you will hear live music and everyone from one year olds to 70 year olds sitting around having a lovely time," said Nick. "We have our own beer including a pale ale, an amber ale, IPS and a mid-strength, and we will be bringing in a lot of specialty beers as well."
Although the venue is large, with a capacity for 120, it has a warm and intimate ambience, possibly helped by the décor.
"The timber on the bar is from the St Kilda pier, the brick feature wall was here from the time it was a barbecue factory for 20 years, and the timber barn doors were here from the start as well," said Nick, who was one of the original owners after his mates and neighbours talked about building a brewery for the last 15 years. "The brewery is owned by six local guys and the brainchild of the original three who would sit on their family's porch talking for years about opening a brewery. One of the parents got so bored with it, they said 'just go and do it or stop talking about it'."
After being involved in hospitality for 20 years, Nick could tell straight away there was a niche in the market place for this kind of venue and soon discussions became a reality when the venue started being created.
"From the outset I was keen to have it a family environment; I have kids and we need more family venues. I didn't want it to be just a beer shed for men; I wanted it to be all inclusive. You can come for a beer or a wine or cocktail, and the menu is not man-centric. We have lots of variety and a kids menu and play area as well."
Chef Oliver tends to concentrate on a "sharing"style of menu with groups ordering several dishes and enjoying tapas style.
"We seasonally change the menu and will have a lot of specials on rotation. As for the beer, we make our own beer here in small quantities and send the rest off to be made. We are currently getting our beer system and it will be ready in July which is when it will all be made on premises."
The beers at Jetty Road Brewery are a little different to other beers according to Nick.
"We had a chat at the start and our core beer is our pale ale, but we have made it a sessional beer. Some craft beers are too crafty and a bit heavy for the average palate; this one has a fruity nose with a bit of finish so you can have a few. Next is our amber which is fairly light and our IPA which is a bit heavier. Although they are crafty, including our mid strength beer, they are not as heavy as most."
As for the Jetty Road name, considering the brewery is in the Dromana Industrial Estate, the origin is obvious.
"Take three lads who made beer for 10 years in their home in Jetty Road, it's a no-brainer that their brand-new brewery has to be called Jetty Road Brewery," said Nick. "And we love this space, it's perfect for us to grow into, and we like the fact we're in the foothills of the winery district. The venue is a destination in itself. It could be anywhere."
---
Jetty Road Brewery is at 12-14 Brasser Avenue, Dromana.