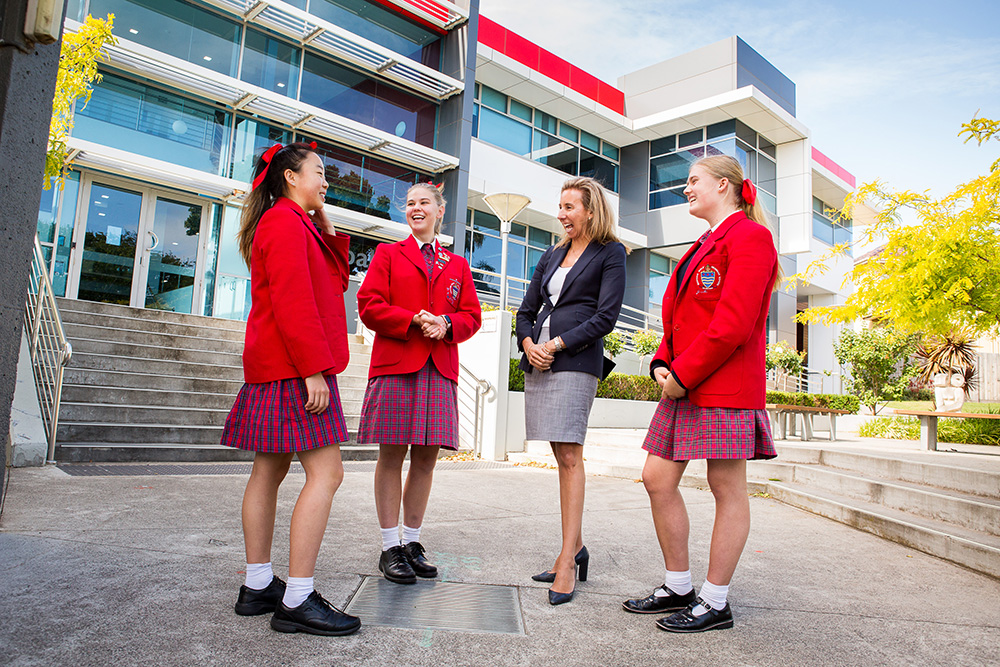 At Mentone Girls' Grammar School, students from ELC to Year 12 are educated to be the kind of confident, compassionate, and moral leaders our world needs right now. The safe, supportive environment that ensures every girl is known, seen and heard provides a carefully curated opportunity for girls to find their voice and, more importantly, learn how to use it.
The research unequivocally shows that single-sex schools like Mentone Girls' Grammar offer the optimal conditions for girls to thrive, free from gender stereotypes, unconscious bias and the myriad of other obstacles that can impede a young girl's development into womanhood.
With 122 years of excellence in girls-only education from Early Learning to Year 12, Mentone Girls' Grammar offers a vast array of curricular and co-curricular activities spanning sport, academics and the performing arts.
Early Learning curriculum blends inquiry- and play-based learning drawn from the International Baccalaureate (IB) Primary Years Programme (PYP) and the Victorian Early Years Learning and Development Framework. This continues in the Junior School, where students delve deeply into concepts and make connections across subjects. Senior students engage with subjects spanning the Humanities, Mathematics, Science, Technology, Languages, Entrepreneurship and the Arts.
Underpinning this are the Anglican values of social justice and community service, and the School's strategic priorities that seek to protect and enhance each student's social, emotional and spiritual wellbeing. These priorities form part of a pastoral care program that equips students with the skills needed to manage life's challenges.
At the forefront of this is Principal Natalie Charles. Ms Charles was appointed at the start of 2020 for her vast sectoral experience, outstanding educational leadership and her passion, empathy and humour. She is renowned for her tenacious commitment to excellence in girls' education – an ideal fit for Mentone Girls' Grammar.
For Ms Charles, a Mentone Girls' Grammar education is unparalleled. She says it is vital for girls to develop the confidence and skills they need to flourish in today's complex world, which sends contradictory and, at times, vexed messages about who and what they can be.
"If ever there was an imperative to exercise one's rights and responsibilities in our proudly independent girls' school, it is now," she says.
"Leading and inspiring the next generation of women to take their place in a complex world – one that simultaneously empowers, disarms, celebrates and shames them – is a challenge. But by focusing on each girl's need to acquire knowledge, develop transferable skills and, most importantly, to find purpose and belonging, we ensure they rise boldly to the opportunities and setbacks, inspiring hope in themselves and in others."
Key to this vision is the School's size and nurturing environment, which ensures students are free to be themselves and are respected for it.
"Because we are a small school with an extensive history, we offer an intimate environment where every girl can achieve her personal best. This fosters a strong sense of belonging underpinned by exceptional pastoral care, teaching and learning."
Students' academic results support this. Of the school's Class of 2020, 37% were placed in the top 10% of Australia, with an Australian Tertiary Admissions Rank (ATAR) of 90 or higher, and 72% were placed in the top 20% of Australia, with an ATAR of 80 or more – remarkable achievements despite periods of remote learning. Students also continue to achieve results above average in the National Assessment Program – Literacy and Numeracy (NAPLAN) tests. The school welcomes students of all talents and abilities, so such success is a testament to its learning and wellbeing initiatives.
While academic results speak for themselves, Ms Charles says the evidence in support of single-sex schools is undeniable.
"Compared with coeducational peers, girls from single-sex schools like Mentone Girls' Grammar are less likely to be concerned about their personal mental health, they have higher intentions of completing a degree or a doctorate, they score higher on academic tests in science, mathematics and literacy, and they are less likely to experience bullying at school."
Ms Charles remains confident that single-sex schools will remain in high demand, particularly Mentone Girls' Grammar.
"Mentone Girls' Grammar provides a beautiful moment of respite from added pressures and allows young women to compete on their own terms. It gives a voice to girls' opinions and choices while allowing them to challenge themselves without the fear of failure, empowering them to find their purpose in life."
"This is incredibly liberating and a truly powerful force for transformation."
Mentone Girls' Grammar hosts regular open morning and individual tours where families can meet Principal Natalie Charles and experience the school in action. To find out more, call Admissions on 9581 1200, email info@mentonegirls.vic.edu.au or visit : mentonegirls.vic.edu.au