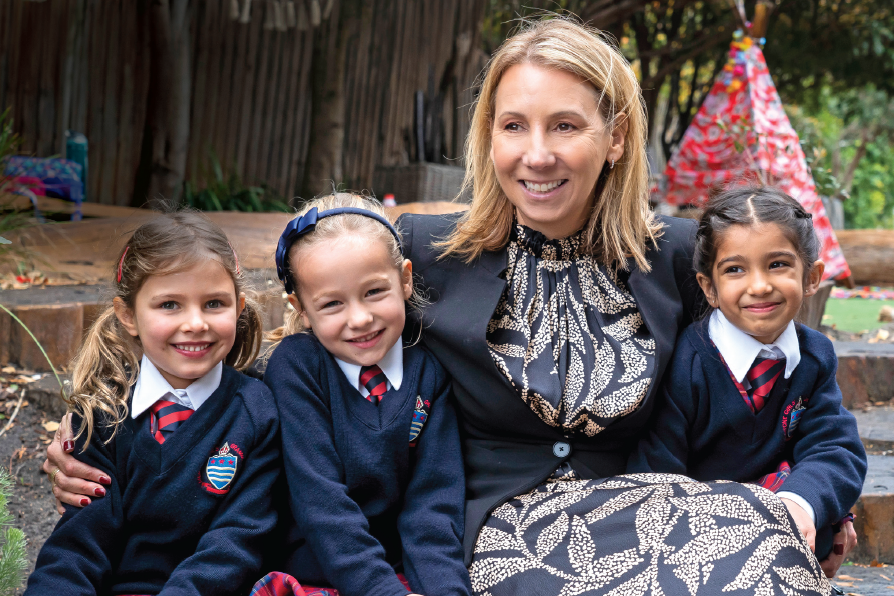 Global discussions around the lasting impacts of COVID-19 on the development of young children are on the rise, as after-effects are now becoming apparent in Early Learning environments. Families and educators all over the world are seeing developmental delays and behavioural changes among pre- school aged children and are now faced with the challenge of ensuring that these children are ready for their next major milestone of beginning school.
Mentone Girls' Grammar Principal, Natalie Charles, says "It's well known that the first five years of our children's lives are critical for laying foundations for development and wellbeing. Young children thrive on routine, structure and opportunities for play during this time".
"During the pandemic, Victoria was faced with some of the strictest lockdown restrictions in the world and as a result, we saw disrupted daily routines, lack of social interaction and physical activity and increased stress levels in the home. When children experience negative or difficult circumstances in their first five years, the impact on their health and developmental outcomes can be significant."
"Behavioural problems, increased levels of stress and anxiety and problems maintaining focus are just some of the problems being reported worldwide," says Charles. "To ensure we set our children up for a successful start to their school years, we must look to what they truly need in a post COVID-19 world."
A Sense of Purpose, Meaning and Belonging
Charles believes that now, more than ever, it is critical that early learners are provided with a nurturing environment where they are known, seen and heard. Children who have spent much of their time in their home environment, now need opportunities to engage with the world around them. "Research indicates that girls achieve their best when they are educated in an environment that nurtures them, allows them to use their voice to confidently express their opinions without fear of failure, and discover a life of purpose, meaning and belonging. This, in turn, leads to hope and that is the single most important attribute we can develop in children," Charles says.
"At Mentone Girls' Grammar, small class sizes result in more individualised care for our students, with educators providing the scaffolding that students need to succeed. An intimate classroom setting encourages children to feel connected with their peers, their teacher and their school. Our school is a place where every girl can come as she is and find acceptance," says Charles.
Authentic Relationships
Positive, quality relationships are key to providing children with a sense of security. When children feel secure, their self-confidence grows and they feel empowered to be bold, take risks and learn from their experiences.
"There is a strong sense of community here," says Charles. "We place the upmost importance on the relationship between student, teacher and parent. Clear communication between school and family encourages engagement and participation in the classroom and overall feelings of wellbeing."
The school promotes social development by providing opportunities for students across different year levels to interact. "The beauty of having all our students on one campus, means that our senior girls can interact with the younger girls, and we see them all reaping the benefits of these interactions".
Differentiated Learning and Exemplary Educators
The school is proud to have a specialised teaching approach which is adapting to the needs of young learners. "We are now seeing 4 year olds who have spent large portions of their early life in lockdowns without opportunities to develop necessary skills," says Charles. "Now, as we return to the classroom, we are witnessing the benefits of face-to-face learning and increased social interactions, including improvements in vocabulary, social skills, self-regulation, cognitive and physical development. Our expert teachers implement strategies to empower the girls with confidence, to believe in themselves and to exceed their own expectations".
Mentone Girls' Grammar is responding to ways that children are interacting with technology since emerging from lockdowns. "Much like the food we consume, some technology is beneficial where other technology is not, and we must educate students on a healthy digital diet. When used in an informed and intentional way, technology can have an enormously positive impact on the way our young people interact with the world today." says Charles.
Learning outside of the classroom
As children transition from Early Learning to life at school, opportunities to engage in a diverse range of co-curricular offerings emerge. "At Mentone Girls' Grammar, we have a broad offering of co-curricular opportunities available," says Charles. "Children can explore, re-connect with their bodies, discover what piques their interest, and have the chance to foster connections with like-minded friends. They learn to engage with others through group-based activities and to negotiate and problem solve to achieve goals." "If we can provide children with a breadth of opportunity, specialised teaching and a sense of hope," says Charles "then I believe they can achieve anything".