Continual advances in technology are changing the way we live and the way students learn and interact.
John Paul College has developed an educational and interactive STEAM Week for Year 7 and 8 students, designed to provide them with the foundation to succeed both at school and in their years ahead.
The College's STEAM Week ran from Tuesday 14 June to Friday 17 June and had a focused overarching theme of 'Connecting to Country' – land, sea, plants, and animals. Students drew connections to what 'Connecting to Country' means to Aboriginal and Torres Strait Islander peoples as well as how they can make a difference in the world when they understand the importance of how living systems are connected.
The sessions throughout the week developed students' capabilities in critical and creative thinking, collaboration and ethical decision making.
The Foundation for Young Australians predicts that by 2030 we will, on average, spend; 30 per cent more time per week learning skills on the jobs, double the time at work solving problems, 41 per cent more time on critical thinking and judgement and 77 per cent more time using Science and Mathematics skills. 
Deputy Principal Learning and Teaching, Kara Baxter said "New jobs are emerging every day because of technological advances. The skills developed through STEAM Week provide students with the foundation to succeed at school and beyond."
Activities hosted throughout STEAM Week encompassed new and emerging scientific thinking and cutting-edge technologies in the areas of Science, Technologies, Engineering, Art and Maths.
Students developed their building skills and knowledge through participating in a variety of hands-on projects that demonstrated how STEAM can make a difference in their homes and community. These included; Drone uses in our world, Solar-Powered Barbeques, Fresh Australian Produce, DIY Planetariums, Perspective Paintings, Forensic Science Investigations and much more.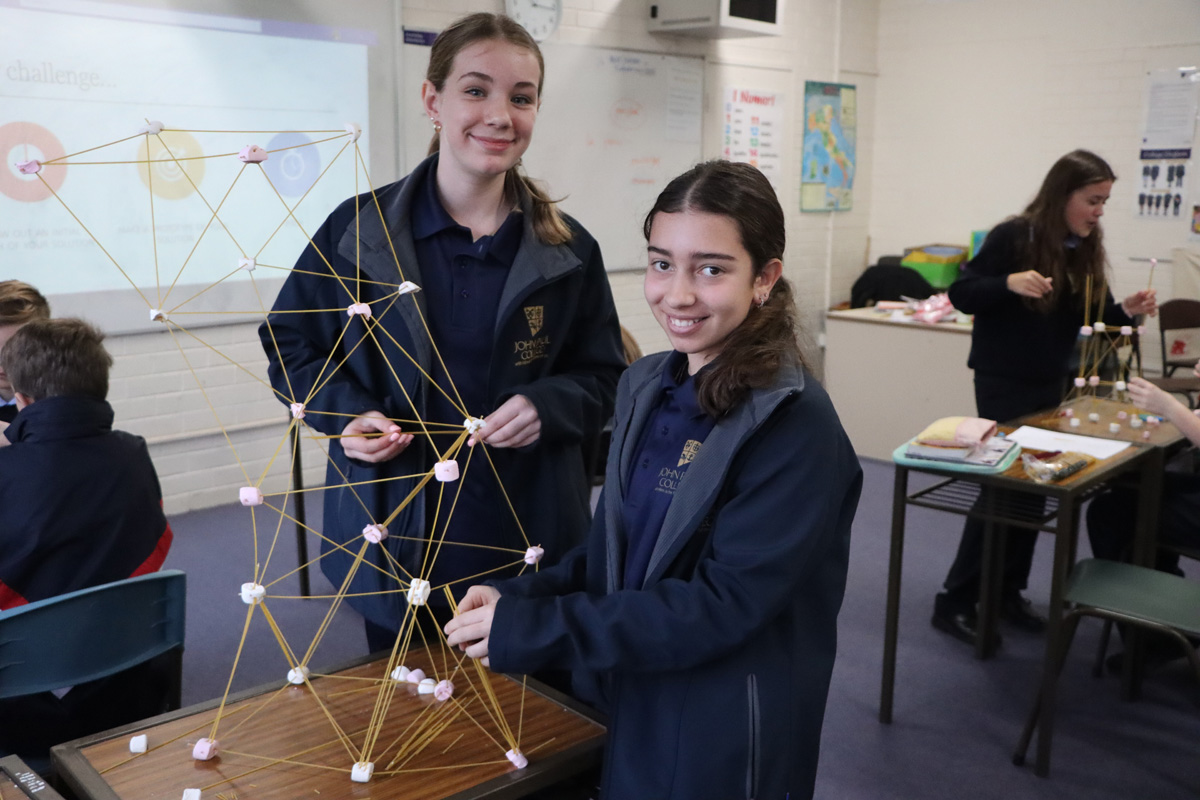 As employer demands for STEAM qualifications and skills is high, and will continue to increase in the future, John Paul College's STEAM Week empowered these young people with the knowledge and skills to succeed in adapting to the changing world we live in.
John Paul College Principal, John Visentin believes, "The inclusion of multiple presentations from industry experts, will enhance the knowledge and skill development of students and apply this to real life situations." 
"The College was thrilled to welcome presenters from large organisations to engage with our students and support their growth and learning development," Mr Visentin says.
In addition to STEAM Week, a new vision for Learning and Teaching at John Paul College will see the school's focus extend beyond academia to incorporate life skills and personal wellbeing, better preparing students for life after school.
Kara Baxter, Deputy Principal – Learning and Teaching, said the vision was developed to provide a more holistic framework for learning.
"One of the key ideas behind our new vision is that learning is not just about knowledge and content, but growth, including emotional and intellectual growth," Ms. Baxter said.
"Our vision includes three elements: 'Knowledge', including helping students develop a curiosity and passion for learning; 'Capabilities', or the ability to apply knowledge to real life situations and adapt to change; and 'Self', which includes developing emotional wellbeing, resilience, leadership, social awareness and independence."
The College is continually expanding, with a new double storey Learning Building, due for completion this year. The new building will include; 11 classrooms, multiple outdoor learning spaces, student breakout areas, and independent study nooks.
With so many opportunities on offer, apply now for Year 7, 2024 via our website. Applications are due by Friday 19th August, 2022.
A: McMahons Road, Frankston
P: 9784 0200
E: johnpaul@jpc.vic.edu.au