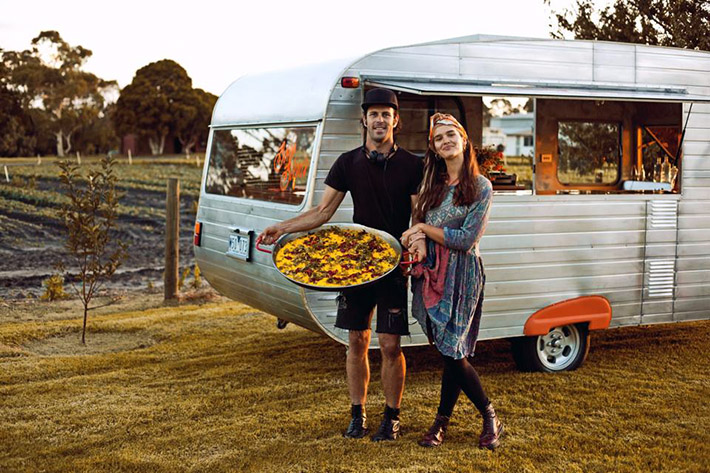 Mornington couple Josh and Nerissa had a dream to one day open their own bohemian café, where they could sell delicious, healthy home-made goodies and create a unique experience for their customers to relax and unwind.
That was two years ago and now the young couple has made that dream a reality with Boho Blends, their pop-up cafe with a bohemian, gypsy vibe.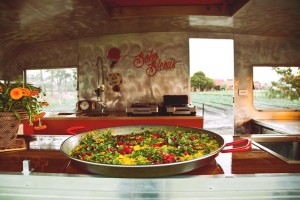 "We started with a run-down old 1968 vintage Franklin caravan that I saw in a guys backyard when I was driving along one day," says Josh, a builder by trade. "We'd been on the lookout for a van but hadn't seen anything. This was a Franklin which is Australian and we wanted to combine that Aussie vintage vibe with our food."
Before they knew it, Josh and Nerissa, who is studying naturopathy, were transporting the circa 1960s van back to Josh's parents property in Pearcedale where they spent the next seven months restoring and renovating.
Like the American airstreams, the Boho Blends van has a stunning polished aluminium look with the couple stripping back fifty years of paint in one hot summer month.
"We went through 15 cans of pa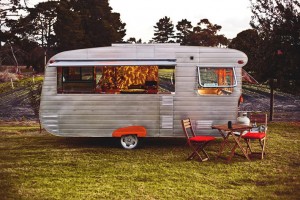 int stripper, buffed and polished and then worked on renovating the inside," says Josh. "Nerissa ended up with paint burns and I put a nail through my foot but it was all worth it now."
Boho Blends offers a range of raw cakes, fresh and delicious wraps and some seriously "kickass" juices and smoothies, proving that with a lot of hard work and self-belief anything is possible.
"I am the dreamer and Josh is the doer," says Nerissa with a laugh. "We were just sitting at a café one day and thought how good would it be to have a pop up café. We had been living in New York and saw food vans and pop up cafes and thought the peninsula would be the perfect place to start."
Josh and Nerissa are all about bringing good, wholesome foods, health and wellbeing to life, and their food is a reflection of how they live.
The bohemian foodies use all natural ingredients in their dishes, with Nerissa making a delicious selection of raw cakes like raw carrot cake, raw fudge off balls, vegan cheesecake, and the naked brownie, and Josh perfecting his Spanish paella for special events.
"We set up as a café over the spring and summer months, offering our coffees, raw cakes, smoothies, and toasties, and we also do special occasions like birthday parties where we come and set up and offer a full package service with music, cakes and vegetarian or regular paella that Josh has taken the last year to perfect," says the couple.
With Josh's background as a singer and DJ, the music is wide and varied, and Nerissa creates a relaxed café atmosphere with fairy lights, candles, a rug and chairs and tables out the front of the van, so your party decorations are even taken care of.
"The whole party is arranged around the van," says Nerissa who always wanted to create an experience where people walk away with a hint of that gypsy lifestyle. "I have always been interested in health and good food and want to share the recipes I've discovered along the way. Our food reflects our lifestyle and we use all ethical meat and organic food."
At just 24 and 28 years of age, the young couple have already travelled the world, set up their own business and continue to follow their dreams.
"Its so important to do what you love and when you find something you are passionate about, don't be afraid to do it," says the couple. "In a day and age of technology, its important to sit back, relax and talk to people. It's the only way to find your own passion and follow your journey."
You can catch Boho Blends at the Emu Plains season launch on October 17.
Check out Boho Blends on Facebook or phone 0437 190 456
As published in Peninsula Essence Magazine – Spring 2015