Photos YANNI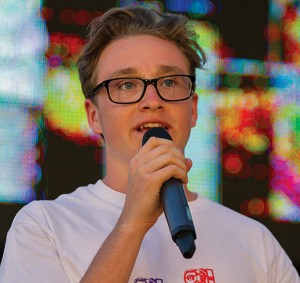 Award winning and 16 years old, filmmaker, Liam Kelly has his sights set high on cinema. Liam took out the Emerging Filmmaker Award in the Peninsula Short Film Festival for his first short film, 'Drawn', later winning Best Student Film and Best of Festival – Runner Up at Firereel Film Festival in California. 'Drawn' was also shortlisted for The Projects Short Film Festival in Sydney.
Liam talks to Melissa Walsh about his new film and life as an up and coming filmmaker.
How did you get involved with your new film, 'Train Of Thought'?
I met Andrea Louise Thomas at the Peninsula Short Film Festival and we began talking about perspective film ideas. She has written a poem she was performing at the Australian Poetry Slam and we decided it would be the basis of a short film. It's a fantastic poem, which is a humanitarian observation, which touches on a lot of issues like gender divide, materialism, racism and achieving an ideal life.
How do you make a poem into a short film?
'Poets on the Fringe' is the poem title, and 'Train Of Thought' is a working title, which may be changed later. The next step is to work out how to visualize the poetry which follows the story line of a performance poet with her daughter as she is growing up.
How many minutes is a short film?
Some festivals have micro shorts which are 15 seconds but they can be up to half an hour I think.
Will 'Train Of Thought' be ready for the short film festival?
Yes we are hoping it will be ready, and have applied for a creative funding grant from the Shire to help with post production but the problem is the funding doesn't come through until Jan/Feb and the cut off for the festival is November.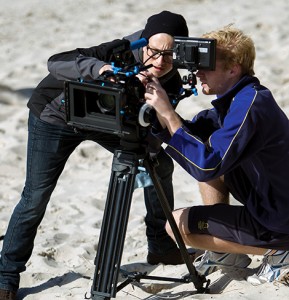 How did you get into filmmaking?
I always wanted to be a musician so have been really into music, then one day dad handed me down his old camera and I filmed when my cousins came over, filming on the trampoline and doing star wars stuff. It was an old video camera which you recorded onto a dvd and then had to format it.
It was through my music I got onto freeZA project, and that introduced me to Steve Bastoni, and then I did his short film workshop a couple of years ago. Then last year a friend and I did Steve's film The Decision which was my first structured film.
How did your first film evolve?
'Drawn' came about on the set of 'The Decision'. They asked if I was going to enter something into the short film festival. I was actually working on something but it was too long, so decided to make 'Drawn'. I "story boarded" it; I envisaged two people in a world where you draw lines on a wall to meet your true love. It was something that popped into my head and the inspiration was the locks on the bridge in France.
How long did it take to make 'Drawn'?
We had a month. I "story boarded" it while I had work experience in Sydney at Foxtel, and by the time I got back it was the Saturday before Friday deadline. We had five days to film and edit.
How did you learn about editing?
Basically you learn as you go. I have a friend who is excellent at after effects so he put the lines on the walls while I spent the whole time editing and chopping together, and choosing the right music.
How are you progressing with your new film, 'Train Of Thought'?
Promoting it now and getting it out there, and have professional cinematographer, Anthony Littlechild working with us. He offered to rent his Red Camera and is helping us with the cinematography. The Red Camera is amazing and it is used in fantastic visual films like The Hobbit. We have put out a call for crowd funding as we are using more professional gear, and professional actors, and have had an excellent response.
Who are the directors who inspire you?
Quentin Tarantino hasn't been to film school, is self-taught and look at the calibre of his films. He is against normality and has very original ideas, so it's trying to escape the repetitiveness of Hollywood.