Photos: Katherine Jamison from Peninsula Pix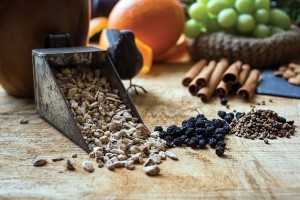 With the influx of wineries and artisanal breweries on the peninsula, it's a treat to unearth something different on a weekend's drive and that's when we stumbled across the Bass and Flinders Distillery in Red Hill, deciding to return for the fabulous sounding "Gin Masterclass".
Tucked at the bottom of the driveway, past rows of vines and a pretty winery, stands the green shed, home to the only grape product distillery in this part of the world.
It's in this shed that the Gin Masterclass will take place, with rows of tables laden with glasses, each with botanical labels, and a syringe to help create our own designer gin.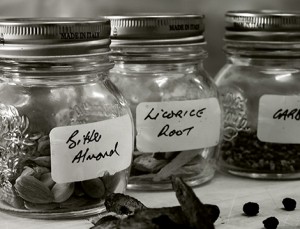 Owners, Bob Laing and Wayne Klintworth began their venture six years ago when the neighbors set out to produce a fine aged grape spirit that is distinctive and comparable with the best aged spirits from around the world. Now in its fifth season, the distillery has produced Ochre, the aged grape spirit, a variety of popular gins, vodkas, limoncello, and grappa.
Having had little exposure to this misunderstood spirit, apart from the odd martini, my knowledge of gin is limited but Bob explains the distillery process and the objective of the gin experience to develop our own recipe.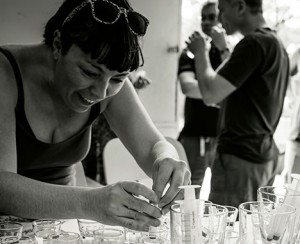 The group of around 20 stands listening, while sipping their gin and tonic, which we are offered at the start of the class, with a choice of their three signature spirits, Monsoon, Gin and Gin 10. With its exotic label and hint of ginger, I choose Monsoon and my gin conversion has begun. Bob explains that the distillery has two sides, the AGS Aged Grape Spirit and white spirit, the grappa, vodka, limoncello and gins. He talks us through the distillation process, the use of chardonnay grapes that must be picked in March, the 300 litre French designed Alembic style still, triple distillation techniques and the infusion of carefully selected botanicals into the spirit.
Then we get to the good stuff, sitting at tables placed over barrels, where we get to mix our own gin concoctions.
Bob explains that the definition of gin is a white spirit with the predominant flavor of juniper berries, so we mix the base of juniper with a squirt of coriander and we're off.
The central shot glasses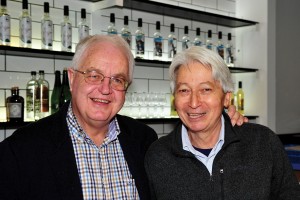 with botanicals range from dry to aromatic and Bob explains each one individually. Go easy on the wormwood as it can produce a bitter taste, bitter almond can contain cyanide, pepper berry and lemon myrtle give you length, and coriander is the magical cure that will smooth out the gin.
We are given two mixing glasses, one to create your dry gin, the other for the more aromatic.
Bob says ideally to use no more than five botanicals in each mix as it can be too overwhelming.
So we all start mixing and tasting, some on the table taking it more seriously than others.
With instructions to taste every time you add an ingredient to your gin, the table starts to get a little more relaxed as the class continues. The lady sitting next to me with her best friend is no longer as cautious with her portions and is decidedly proud when Bob tastes her gin blend and gives it the thumbs up. This was a birthday present from her daughter, who may have created another gin convert.
The husband and wife at the end of the table laugh because he put five mils of this and six of that and he felt his blend was very strong. Bob disagreed and said it was good but refused to tell us whose was the best.
Along with juniper and coriander, I add lemon myrtle, angelica root, pepper berry and ginger, then just a dash of wormwood because I like the name. Bob suggests a couple of mils of calamus root and my designer gin is complete.
By the end of the class everyone has had a taste of each others and we all think we've done pretty well.
Naming our blend proves to be a little harder, but after a few attempts we settle for glamorgin.
We write down our ingredients on the sheet then Wayne will mix them up and send them to us in the next couple of weeks.
The Bass and Flinders Distillery is at 232 Red Hill Road, Red Hill
Phone 0404 093 247