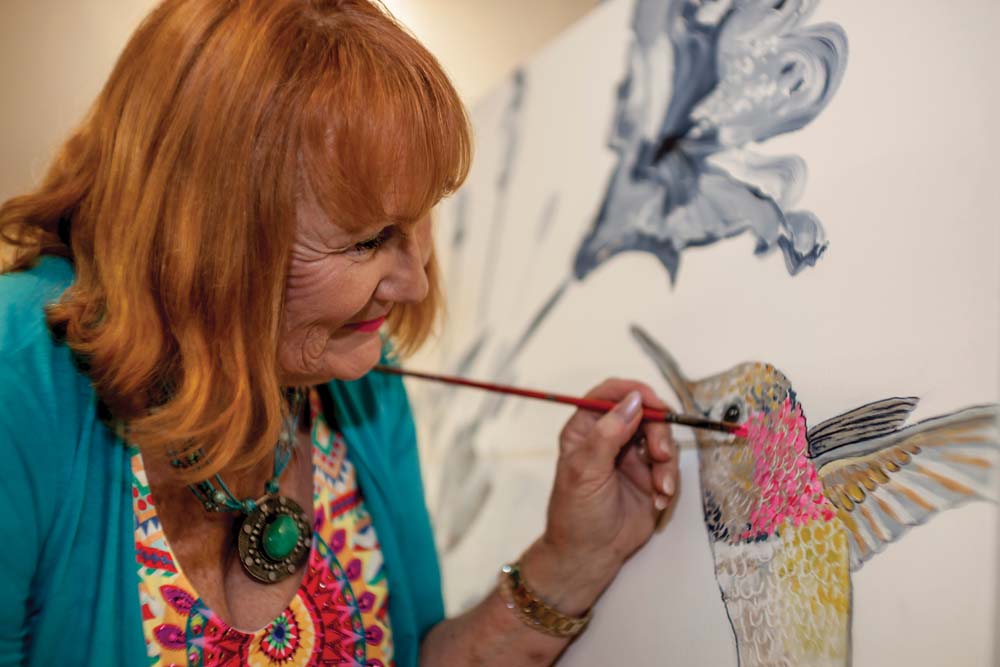 By Melissa Walsh   Photos: Yanni   
With her flaming red hair and flamboyant presence, Carole Foster is an artist, self-proclaimed gypsy and country girl at heart, having traveled the globe and finding her home on the Mornington Peninsula.
When visiting Carole at her property in Dromana with its elaborate studio out the back, this charming woman and her surroundings scream creativity.
Magnificent paintings grace the walls of the artist's sanctuary, some she has done herself and others by her extremely wide community of creative contemporaries.
Recently returned from Europe and planning her next trip to India, the adventures still continue for 64 year old Carole, who is the sublime example of joie de vivre, and remains inundated with offers to exhibit her works.
"I love my painting and have always done it even when I had small children," said the mother of two adults, Candice and Matthew.  "It's the only thing I didn't give up when they were little. They would go into care one day a week so I could paint."
Perhaps that's the key to the success of this artist who has exhibited and sold paintings all around the world in more than 30 exhibitions, from the early '90s in New York to Bark Modern, (Hong Kong), Art n wine, (San Francisco), and Paint Box Fine Art, (London). She continues to paint and teach to this day, and in 2006 was commissioned to do 5 two metre tall paintings for a restaurant in San Francisco.
Born and raised in Wangaratta, Carole showed a flair for drawing and painting at an early age, and always had a penchant for adventure.
"It started from early childhood. I would be off for the day down at the riverbanks and always thought life was an adventure. We had always lived on the outskirts of town and I couldn't get out of there fast enough, and so started my travels at a fairly young age," said Carole who has lived in New Zealand, Norfolk Island, England, Finland, Holland and Germany, using these and other countries as a base to travel and to collect information for paintings.
"I ended up coming back when I got quite sick in India. I was 23 and decided that maybe I should make a life for myself so did normal work at the Windsor Hotel, then at Myer Corp and Rank Xerox. But I always did my paintings, which I had taken up as a hobby, doing the occasional Rotary Art Show."
It was in the early '90s that this part time painter decided to approach a few galleries.
"I always approached galleries with a wad of work to do an exhibition. Before I knew it I was in New York, and Europe, lots of places, including traveling all over Australia. My first exhibition was in Melbourne at the Brighton Horizon Gallery, which then took me to New York."
Ironically, this sophisticated traveller tends to get her inspiration from the Australian outback, having discovered a love of nature growing up in the country, which came full circle as an adult travelling to the High Country many years later.
"I used to paint lots of birds when I was younger as they were always around me growing up. They were more realistic images than the funky birds I do these days where I have added a touch of cuteness to them, and add designer pieces to improve on what I see," says Carole of the evolving process of her art. "When I first started out as an adult, I was interested in abstract, then had formal lessons and did impressionism, but I always liked people such as Brett Whiteley and Frederick McCubbin. Then became very connected to the Australian outback which has been my biggest connection after spending 20 years four wheel driving everywhere from the Simpson to Kakadu and the Kimberley. The Nissan Four Wheel Drive Club were part of rebuilding Craig's Hut after it burnt down and I have painted that landscape many times over the years. With many years sitting on hilltops, it stays for you for the rest of your life when you see a place like that," says the artist, who admits to have had an amazing life so far. "Everything I have done has helped me understand nature more. You get a sacred connection with the bush which stays with you forever." Describing her work as gestural and impressionistic, it is also romantic in quality, with the artist not restricting herself to landscapes, although the outback tends to evoke much emotion.
With a solid foundation in realist art, Carole has been able to explore and teach a more contemporary approach to her subject while still being able to experiment. Her work has been described as a modern abstract impressionist style which has resulted in high energy vibrant pieces that equally capture the visually silent atmospheres in works of a quiet nature.
It was only when Carole started to teach 15 years ago that she realised her strong observational quality.
"When I was younger I was dyslexic and that improves other senses like sight. It is the observation of things that don't belong, and seeing bands of the landscape where I see shapes to create patterns," said Carole of the epiphany that happened when she started teaching at McClelland Regional Gallery and Sculpture Park.
In between travel to exotic locations, painting and teaching in her home studio and the gallery, Carole loves to meditate and hang out at her ashram in Mt Eliza.
The spiritual lady with a wildly artistic soul says she never has periods where she doesn't want to paint, and is delighted to be exhibiting her funky birds collection at various galleries as well.
With a bucket list of places to go, and things to do, don't be surprised if this free spirit climbs the Himalayas one day or is spotted on the Croatian coast or in the Australian desert, or simply sitting by the bay contemplating her next adventure.