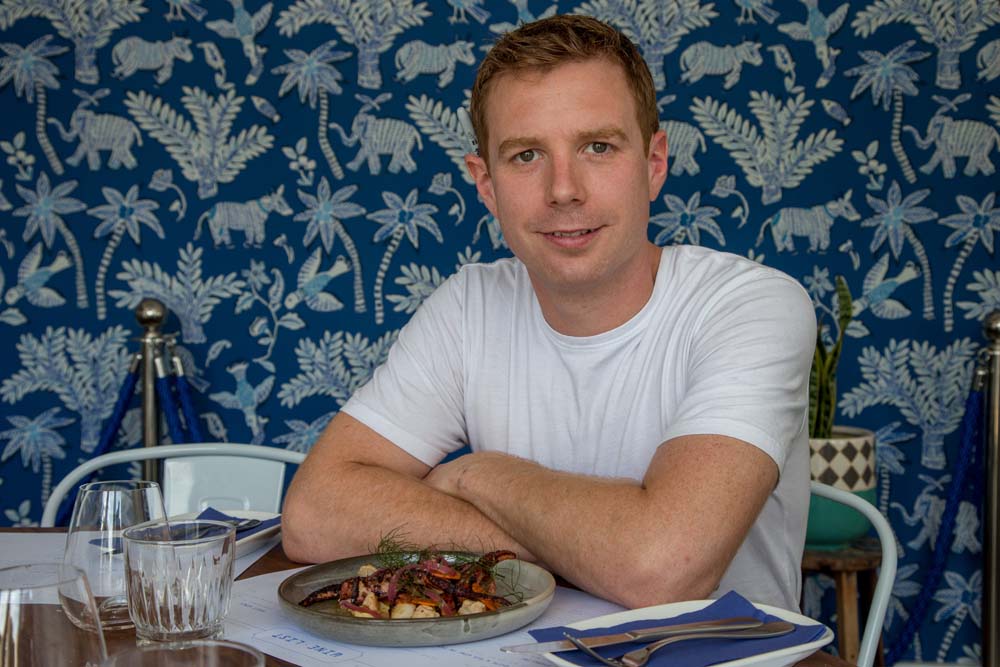 The opening of Alatonero a few months ago meant that head chef Graeme Walter could combine his two great loves – working by the beach and cooking incredible food.
The 31 year old who everybody calls 'Ginger' started his cooking career further inland in the beautiful Yarra Valley.
However, once he and his partner, Sarah, discovered the peninsula, they knew this is where they needed to be.
"I've been working kitchens for 16 years, starting with washing dishes after school at the local clubs and pubs. I'd get off the bus and go over and do dishes. At first I just wanted to work, but eventually I decided to do an apprenticeship at what was then called the Yarra Valley Dairy, and made a career as a chef," says Graeme from the beachside restaurant, Alatonero. "Once I qualified at 18 I took off and worked on the islands for a few years."
Doing his apprenticeship and training in the very formal old school French techniques has served Graeme well, giving him the work and life skills he needed to master all cuisines.
"I started out in the Yarra Valley doing my apprenticeship first at the Yarra Valley Dairy, then the Sebel, and qualified with chefs that taught me how to cook the hard way," says Graeme. "It was the best experience anyone could have with incredible mentors."
For this well-travelled chef, coming down to the peninsula to live and work happened by chance after a holiday with his partner 12 years ago.
"It was in 2005 and Sarah and I came down here for a weekend. As soon as we got here we loved it, and fell in love with the water, the farms and the restaurants. We stayed down here for two nights, went home, packed a bag and came straight back down to live," he said.
As a testament to their determination, the young couple lived in a tent on the Rosebud foreshore for the first four months.
"We were both working at Stillwater at Crittenden at the time and Sarah would do her hair and makeup in the tent and I would iron my chef's uniform," he said. "Eventually we moved out and bought a house in Capel Sound, which we are still in today."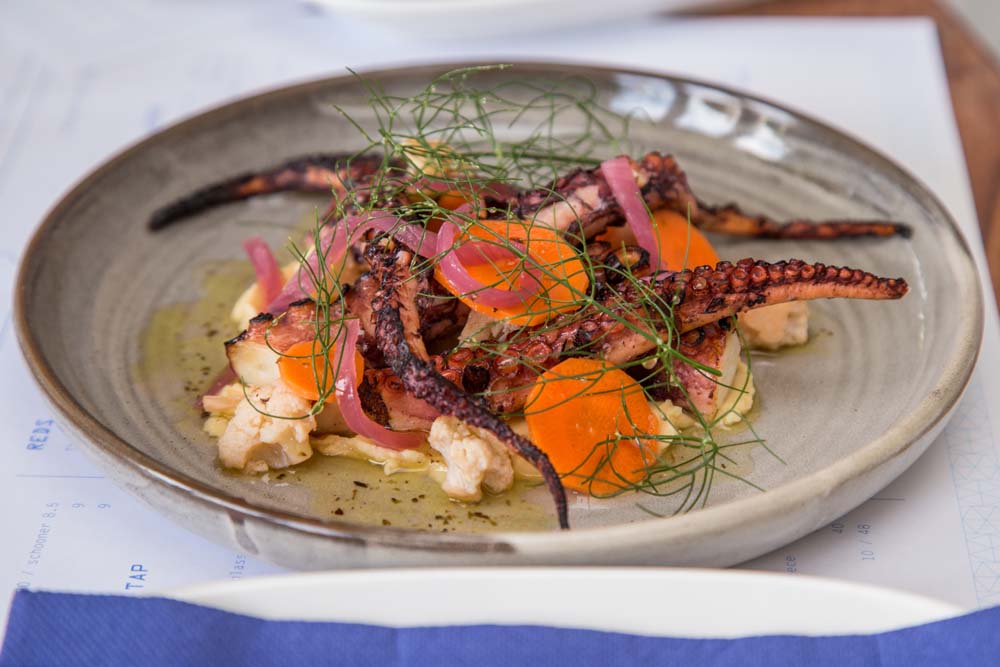 Working at various venues across the peninsula over the years, Graeme says he continues to learn and be inspired.
"I became friends with the owners of Stillwater at Crittenden, Zac and Jacqui, and met and started working with Chef Pierre Khodja from Flinders Hotel, who really taught me how to be a man, and lead from the front. This is what I have brought with me to my own staff now. I make sure I am the first to get here and the last to  leave as I believe it is all about example," said Graeme.
As for the transition from French cuisine to Greek, Graeme says it is quite simple.
"With Jacqui and Zac, who now own Alatonero, having a love affair for Santorini, it was a no-brainer starting a Greek restaurant here and the cooking transformation has been fairly easy. Once you know how to cook it's simple and this restaurant is about representing authentic Greek cuisine which is basically good fresh produce with simple flavours cooked well. It's all about good honest cooking with no pretention. There's not a massive difference when it comes to the treating of the elements. It's just about getting into the mind-set of the Greek people, with lots of food and big feasts," said Graeme, who has incorporated classic Greek dishes with some locally grown elements.
"I love wandering along and collecting fresh saltbush which I often add to dishes like the lamb shoulder. At the moment one of my favourite things is using the charcoal oven so I use that for heaps of dishes.  The one I love is the octopus served on fava with house pickles and wild fennel," he said.
Alatonera has been lovingly and painstakingly put together by the very people who work there, with Graeme and his sous chef, Anthony, working tirelessly day and night to get the kitchen and venue up to scratch.
"We would work here for days on end, scrubbing and cleaning the kitchen, on our hands and knees till it was perfect, and now we have a wonderful venue to show for it," said Graeme.
And Alatonero is all the better for it, with a wonderful, welcoming family atmosphere that the Greeks are famous for.
Bright, breezy and bursting with the Mediterranean colours of Santorini, the restaurant across the road from the water offers a stunning mezze style menu of all the Greek delicacies, including saganaki, fried calamari with harissa aioli, chargrilled octopus with wild fennel, fava and pickles, slow roasted lamb shoulder with caper berries, dill, cucumber, saltbush and Moussaka.
As for Graeme, life doesn't get much better than working as a much respected chef on the peninsula, and having his beloved water just metres away from him where he often takes a dip at break time.
---
Alatonero is at 671 Point Nepean Rd, McCrae
Phone 5981 1202
www.alatonero.com.au