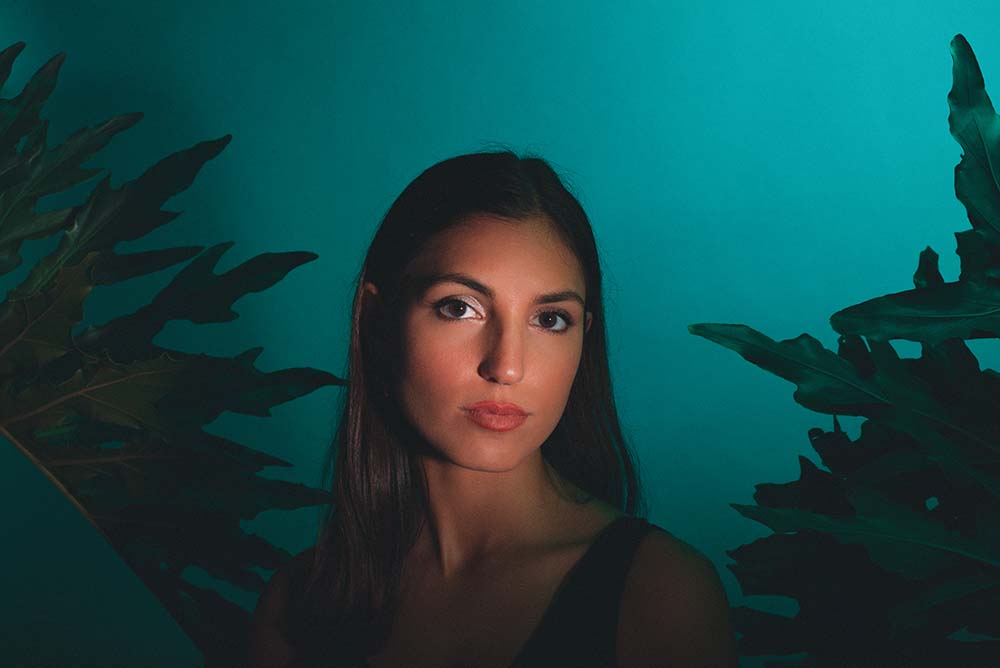 It has been a busy year for 23-year-old KONNIE. The peninsula-based singer has sung at the NBL Grand Final, released two singles, 'Baby Slow' and 'Hide & Seek', and is featuring on Triple-J Unearthed.
Her music is infused with boppy beats, powerful soaring vocals, dramatic builds, and intimately personal lyrics. And as a songwriter and pop singer she is on the verge of breaking through.
But it has been a long road for Konnie Ambatzidis; a journey of discovery that belies her 23 years.
"I've loved singing for as long as I can remember," said Konnie.
"When I was young, Kylie Minogue was huge. I just wanted to be her!"
Konnie started singing aged five, and by seven was having singing lessons.  Music was an intrinsic part of growing up in a large Greek family.
At times of celebration her grandfather, Nick The Greek, would take out his clarinet and wild Greek melodies would follow, accompanied by Greek dancing, laughter, and the occasional bout of unbridled plate smashing.
Music represented joy. Music represented her family. And music represented a love of life.
Through her school years, Konnie sang. She won a singing competition when aged 15, a part of the prize being recording studio time.
"I really wanted to keep pursuing it, but was so busy with schoolwork, production and lots of other things that a 15-year-old has going on in her life".
After school, Konnie found herself living in Byron Bay. There she continued to write and sing and continued her journey of discovering her place in the world. Then things fell apart.
"We found out that my grandfather was sick, and everything just froze".
Nick The Greek, the larger-than-life patriarch of the family, had been diagnosed with Motor Neurone Disease.
"It was a very traumatic time for us," said Konnie. "But it brought us closer as a family".
Diagnosed in March 2016, Nick died in September 2016, in what was a brutal display of an insidious disease.
The loss was palpable. The void immeasurable.
With life knocked off its usually stable axis, it was time for Konnie to hit the road, and that's what she did.
"After the loss of my grandfather, I went overseas for eight months," said Konnie.
Spain, Greece, Cuba, Costa Rica, Nicaragua and Mexico were all on my list.
"It really opened my eyes, and definitely had an influence on my music."
"It made me discover how truly important music is to so many cultures of the world."
As she travelled, Konnie continued to write, and kept a journal as she had done for much of her life.
Coming back home, it was time for Konnie to take the step she'd been preparing in for her entire life.
Her first single, 'Baby Slow', was released in March this year.
"I wrote the lyrics to this song in a day. It came so easily," said Konnie.
"We literally set up a temporary recording studio in our home in Mornington and recorded it all there."
The boppy first single was well received and her EP was launched at a packed event in Mornington.
In October she released her second single, 'Hide & Seek', a more introspective song with soaring melodies and a beat infused with influences from her travels.
"The music industry is different now than in the past," said Konnie.
"Everything I do is a learning experience. I have learned so much and continue to learn about music every day."
"It is not about money or getting rich. It is about doing something I love and am truly passionate about."
For Konnie, her great loves shine through her music. It is love for music, her family, the environment and helping those in need that makes her songs come to life.
Konnie spends much of her time working for a charity foundation and is devoted to helping others.
"I am committed to giving a voice to those that don't have one."
She also finds plenty of time to time spent with her supportive family, and her beloved grandmother.
"It is about time spent with her on the farm. It is about the smile on her face when we have grown a great zucchini".
And while she has experienced much in 23 years, the journey has only just begun. What you can bet on is that this Mornington girl has a bright future in music, and you'll be hearing her name!