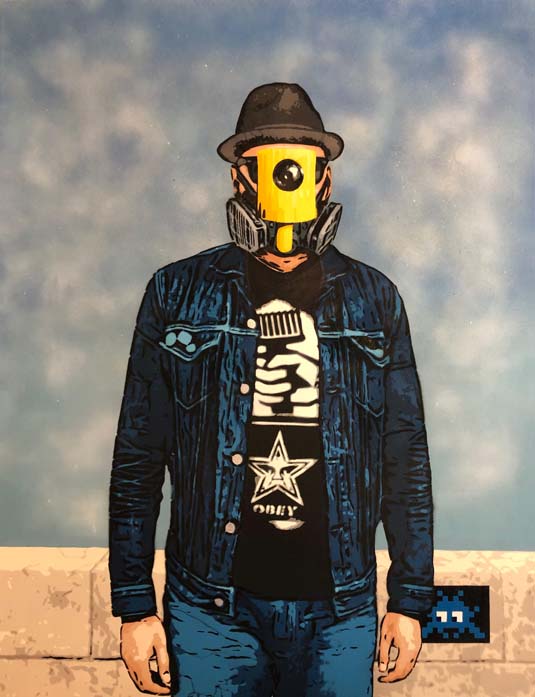 Celebrating its 10th Anniversary – edgy, political and pop-culture inspired – the 2019 Stencil Art Prize Exhibition travels to Victoria for the first time to exhibit at Southern Buoy Studios, opening December 7. Featuring artworks by 66 finalists from around the globe, the exhibition represents a snapshot of the grassroots stencil art form, demonstrating the resurgence in recent decades.
Exhibiting both 2019 prize finalists and previous winners from the past 10 years, this special anniversary show hosts artworks from 23 countries including Australia, Canada, Croatia, England, Finland, France, Germany, Guatemala, Indonesia, Iran, Italy, Japan, Lithuania, Mexico, New Zealand, Poland, Russia, Scotland, South Korea, Spain, Switzerland, The Netherlands and USA.
In September, Sydney artist Edward Woodley was awarded the 2019 prize of $10,000 for his controversial artwork Eternal Spirit – 2. Prize Director, Jacinta Fintan explained 'The artwork is stencilled enamel paint on brass sheeting, hand bent & distorted to add a three-dimensional quality to the work.
Highly commended artists included Flox (NZ) with Fantastical Fantails, MEZK (Mexico) with The Son of Graffiti and Moz (Italy) with Mind Freeing.'
Ever committed to giving artists a platform to showcase their works; Micah Mills, SBS founder said; 'We believe art should be accessible to everyone and we thought this was the perfect show to challenge perceptions of what art means. We want to welcome our local community down for a unique opening amongst these evocative artworks. Meet the artists and celebrate street art – 'festival style' – with partners like the Jetty Road Brewery Caravan and Little Olive, the travelling café available for attendees to enjoy.'
---
Opening:  December 7, 4 – 6pm.
Exhibition runs December 7, 2019 – February 7, 2020
Southern Buoy Studios 1/19 Carbine Way, Mornington.