By Andrea Louise Thomas Photos Yanni
Mount Martha artist, Liam Waldie, moved to the Mornington Peninsula from Brisbane's Bohemian West End two years ago. He was immediately struck by the Peninsula's moody rugged coastline, verdant rolling hills, big skies, stands of windswept trees, hidden surf breaks and beautiful unspoiled beaches.
He sees it all with the eyes and imagination of an artist whilst bringing a traveller's enthusiastic wonder of discovery in a new place into the bargain. Waldie puts his own unique spin on iconic Peninsula locations, bringing a fresh perspective to familiar places using bold colours in an expressive, evocative style.
His paintings are based in experience. He draws on site and sometimes paints en plein air (provided his materials are not blown away!) "I can't just use photographs, I need to be there," he says.
He wants to create a body of work that captures the Peninsula's essence. "There's a painting in every footstep! I want to give my impression of the Mornington Peninsula as a newcomer. I want to share that," he says.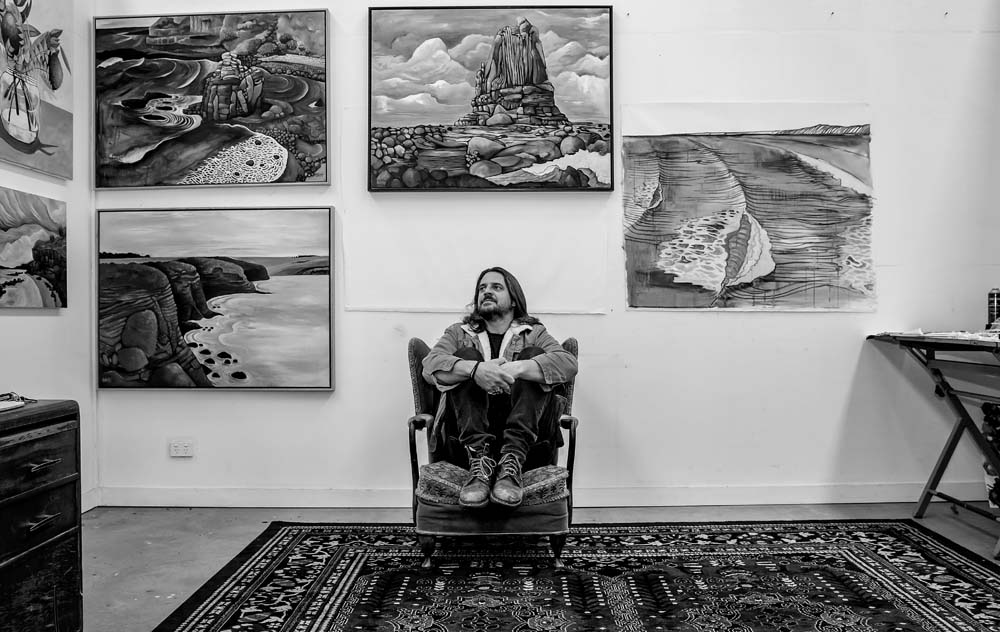 Waldie's grandfather was an artist who specialised in watercolour. He had an art studio at home and it was there that young Liam made his first drawing. In fact, that very same drawing table is in his own art studio today.
Seeing his grandfather's drawings and paintings sparked his interest in art. Then, at high school, he had a teacher who recognised his talent. She mentored him and encouraged him to become a professional artist.
Art school was the natural next step. He went to the Queensland College of the Arts completing a Bachelor of Visual Arts majoring in Illustration. A combination of practical training and theory built a strong foundation for the future, but he actually began his career working as a high school art teacher.
He hoped to pay forward the passion and enthusiastic mentoring he received at high school. "The skills art making teaches us are invaluable – self-expression, observation, focus, discipline, communication – are all achieved through the practice of the arts," he says.
Teaching gave Waldie the opportunity to create an inspiring curriculum for future generations of artists. All the while he was working on his own drawing and painting. After twelve years as a full-time teacher, he decided to become a full-time artist. Moving to the Peninsula and being surrounded by incredible scenery and an enclave of local artists was all the inspiration he needed.
" I wasn't always doing landscapes, but here they are a resource and an inspiration. The water is a different colour on the Peninsula. It can be anything from deep blue to shimmering silver. I like to borrow from the Impressionists' ethos of capturing an image as much for what it makes you feel as for what you see. I like each of my paintings to tell a story and capture a mood," he says.
As well as creating something beautiful to look at, Waldie wants his art to have an emotional impact – one that transforms the viewer in some way. " I think art has the capacity to initiate change in all of us," he says.
"If my art, and the subjects I choose to paint, can spark change in the viewer – the way they see something, the way they think or act about something, whether it be the environment, or a social issue regarding justice or awareness, – I will feel I am contributing, not just adorning someone's wall with a decorative piece," he says.
"I'm also a firm believer that makers of art have an outlet that can promote change within the creator, an internal, intrinsic change. Creative people may be seen as a little mad, but the act of creating generates something special inside," he adds.
While he still works as an illustrator, and is currently illustrating a children's book, and occasionally works as a graphic designer, right now, his heart is in his paintings. There is an exuberance in his Peninsula paintings that is almost palpable.
His work can be viewed in his studio at Southern Buoy in Mornington, at Manyung Galleries or online. Have a look. They might just change the way you see the Mornington Peninsula.