By Erica Louise Photos Yanni
Josie Jones is Mornington Peninsula's very own environmental superhero, casting her net of compassion across the coastal town of Rye. Not to catch marine life; in fact quite the opposite. For the past 8 years, Josie has trawled the foreshore and streets of the Peninsula's holiday hotspot to collect and dispose of the town's sea of litter. To date she has picked up 5.6 tonnes of it.
Her efforts have not gone unnoticed. Accolades include the prestigious Dame Phyllis Frost Award for longstanding contribution to the environment, the Keep Australia Beautiful Litter Prevention Award and Josie being named Australia Day Citizen of the Year 2019.
Dubbed by National Geographic as the One Tonne Mermaid, Josie has campaigned for a cleaner Peninsula. She continued her quest after noting the volume of litter accumulating in her adopted home town of Rye. "Seeing the local environment like this just made me feel sad," she said.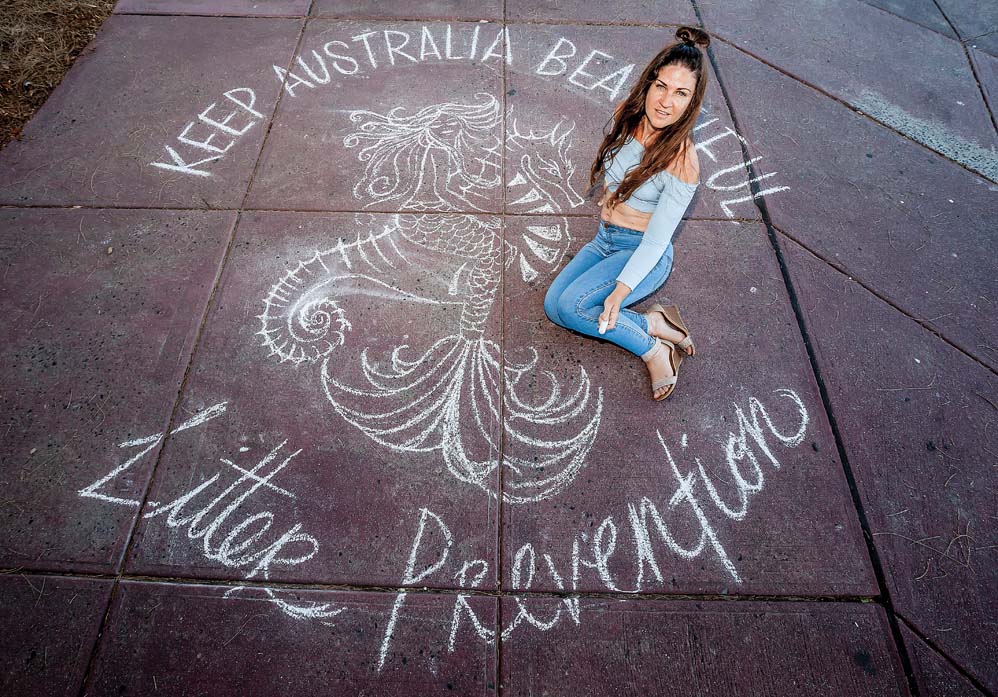 Her efforts to clean up Port Phillip Bay were a combination of her creative influential skills, her hands-on "roll your sleeves up" approach and her passion to influence positive change.
Josie spent a large part of her twenties travelling the world while modelling and managing her own successful surf accessory brand – SHARE. She settled in Tahiti where she saw the problems associated with marine litter. These experiences strengthened Josie's affinity with the ocean and ignited her passion to rid beaches of such litter.
Needing to return to care for her father, who had gone blind, Josie flew back to Australia to start a new life on the Mornington Peninsula as a single mother to a young son. She returned with a desire to make a difference. And she has done just that.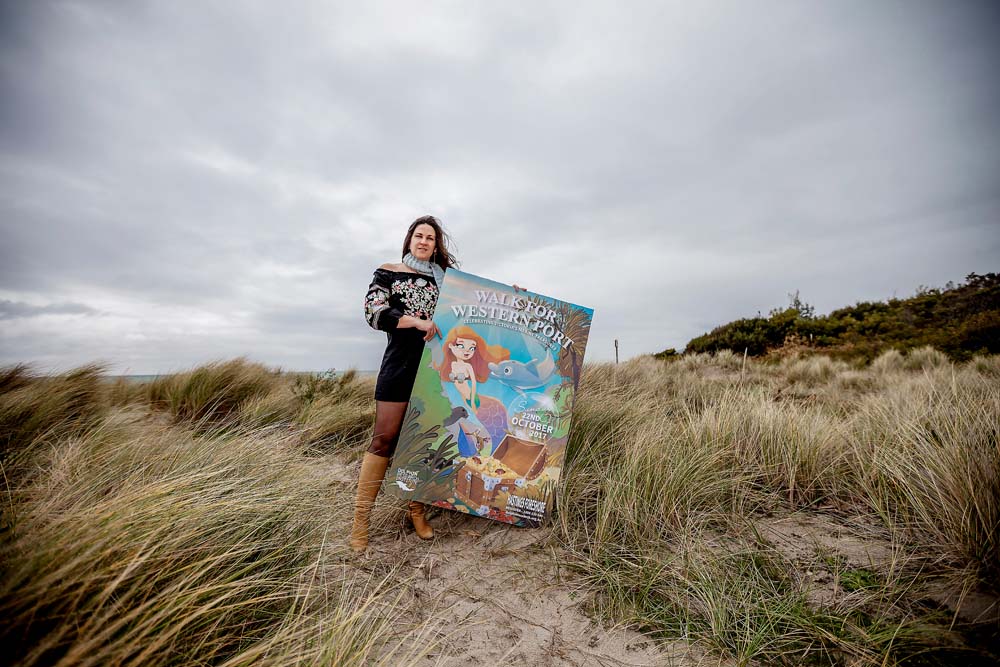 She works as a freelance graphic designer, but spends her spare time freediving and exploring the waters of Port Phillip Bay. Disappointed by the rubbish gathered in her beloved aquatic home, Josie single-handedly collects and disposes of litter washed up on her local beach and many others.
"I used to spend up to two hours every day picking up rubbish", she said. "Some people probably thought I was crazy."
"Locals would say 'What are you doing? Why are you picking it up? Isn't that the Shire's job?'" Spending so much time collecting other people's trash made her think of a better way to address the problem.
"Picking up litter isn't ideal" Josie explains. "So I thought, Why don't I do something to influence litter prevention on the land."
Josie approached the Mornington Peninsula Shire and Rye's Woolworths supermarket which, during the summer months, is the busiest supermarket in Australia. When Josie first suggested litter prevention methods with both parties, neither had considered introducing recycle bins, ground education or cigarette ashtrays.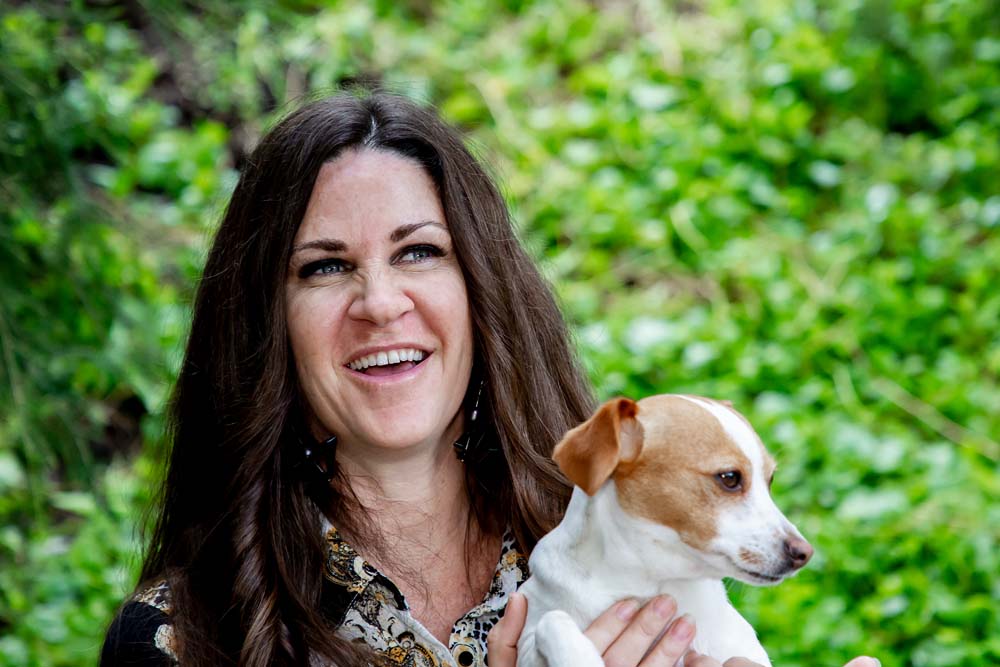 Josie worked with both to introduce the necessary bins and freestanding ashtrays required to dispose of the town's litter, that was entering the bay via the stormwater drains. By tapping in to her creative skills, she designed ground decals illustrated with colourful seahorses and the words "all roads lead to our ocean thank you for caring." Later chalk-based decals were placed in litter hotspots across Rye.
Seeing the success of her local work, and people's positive attitude changes gave her the momentum to scale up her campaign and battle one of the biggest litter problems in Australia. Cigarette butts.
In 2017, Josie collected 31,000 cigarette butts from the foreshore. This nauseating problem inspired her newest mission – The Only Butt campaign. The crusade against butt control saw Josie design "cheeky" bin-size posters adorning Point Nepean road bins with the message of The Only Butt. Using a double entendre for the word "butt" the mission inspired smokers to put their butts in the bins. Five months after Josie's re-education campaign launched, the stats went from 6/10 of Australian's using the ground as an ashtray to 2/10.
Despite Josie's incredible achievements, she feels there is still much to be done. Josie continues to inspire and educate the community to 'raise the standard' on the Peninsula in relation to litter in order to keep our oceans clean.
"People often praise my efforts, but I couldn't do this without the community", says Josie.
Join Josie Jones in January 2020 for the next "Trash Tunes Treasure" Seaside Scavenge event, where she will lead with Iris Kelly, a group of volunteers to collect trash from Rye. Collected litter can be traded with something worthwhile. Like treasure in the form of second-hand clothes, accessories, ice-creams, rides and more. The event, to be held on 12 January 2020, with registrations starting at 10am and featuring live music from Matt Katsis, sustainability workshops, carving of a Smooth Ray from sand, face painting and the People's Choice Art And Sculpture Competition
---
To learn more about Josie Jones, the Peninsula's very own environmental superstar go to www.theonlybutt.com or www.sharetheword.com.au