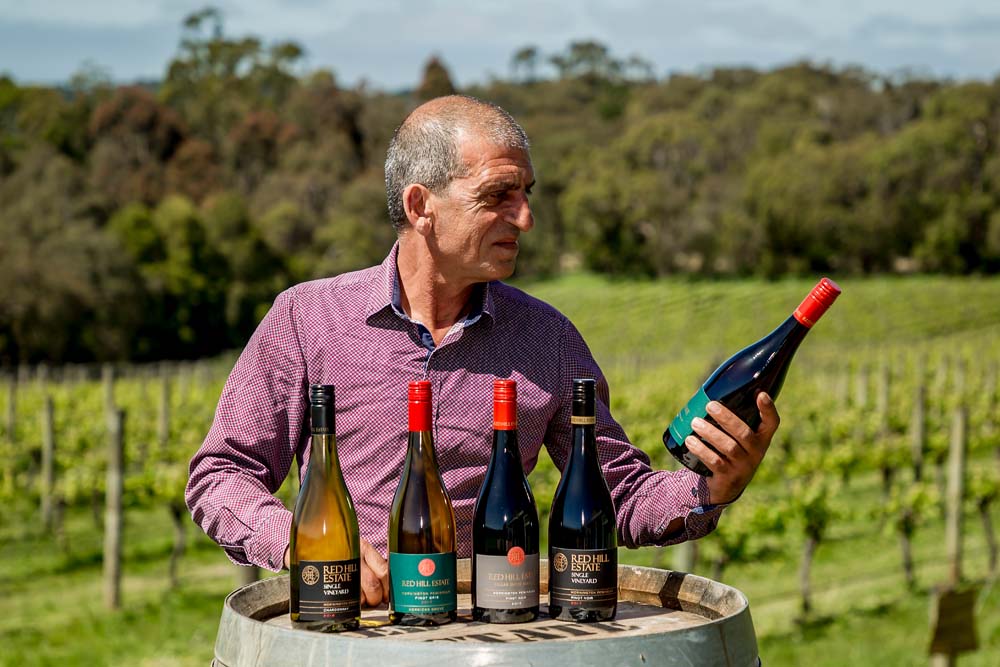 By Andrea Louise Thomas  Photos Yanni
Frank Fabrizio, owner of Red Hill Estate, likes to walk the vineyards, taste every varietal and have a hand in when the grapes are picked because at RHE estate they do things the old-fashioned way. They decide when to pick based on taste rather than relying solely on science and numbers.
Frank works closely with his winemakers and is hands-on in every aspect of his business because he loves it. From the spectacular views across the vineyards, to the many characters of the wines produced, to his clever staff, he loves it all. "I was very excited the first time I came through the gates. I knew this was where I wanted to be working," he says.
In 2012 Fabrizio purchased a large wine business called Cheviot Bridge. It just so happened that Red Hill Estate sat inside that larger company; so naturally, he wanted to see the property. Although he didn't actually visit the cellar door until 2014, it was a visit that changed everything. That year RHE won the blue gold medal for best Pinot vintage in the International Pinot Cool Climate Wine Show.
No stranger to the business side of things, Fabrizio's been in the wine industry for over 30 years. Originally, he was in the fruit and vegetable business, but when a friend who owned a vineyard in the Hunter Valley asked if Frank could help him out, he fell in love with winemaking. He quickly moved from sales and marketing to tending the vines.
He's never looked back.
From that original job, he moved on to a larger scale business in the Hunter Valley. He spent five years there before getting the opportunity to work in California's Central Coast region, where he spent the next seven years. This was where Frank's passion for Pinots began, as the Central Coast, like the Mornington Peninsula, is a cool climate region.
Cool climate is all about elevation and temperature. Grapes take more time to ripen on the vine, but this results in more layers and greater complexity in the wines. The Peninsula is internationally recognised as a cool climate region, but even within it, many individual microclimates exist. This is how the vineyards are able to produce such a fine variety of wines.
It's not just the climate that produces great wine. Judicious pruning and tasting are critical to the flavours produced in each varietal. At RHE, bunches are kept small so they get the most goodness and best flavour from each bunch. This translates to more flavour in the bottle.
Because RHE has vines that sit within a few different microclimates, they have choices and can produce wines that are very distinct to RHE's style. Some blocks are better than others, but because of their approach to winemaking, they get good results from all of their vines.
Their working philosophy is that winemakers can't make flavour; grapes make the flavour. However winemakers influence the journey from vineyard to glass.
Each winemaker has an individual style, but Frank still supervises and has the final say in what ends up in the bottle. Using 100% barrels over stainless steel vats, careful tending of the vines, and great vineyard location are further the secrets to their success.
Frank thinks the best out-of-the-bottle are their Single Vineyard Pinot Noir and Chardonnay. Those are the two main varietals on the Mornington Peninsula, but he believes Red Hill Estate's are particularly good.
Because of his close connection to the business, Frank's wish is that Red Hill Estate always stays in his family. This seems pretty likely as his daughter currently works at the vineyard and even his seven- year old granddaughter has a keen interest in her Nonno's business.
Red Hill Estate is a great place to visit. The view is exceptional. Patrons can have a glass at the cellar door and/or take home a bottle or two knowing that every aspect of that wine's production has been carefully considered. Celebrating the 30th anniversary this year, their approach is obviously working.
---
Red Hill Estate is at 53 Shoreham Rd, Red Hill South.
Phone 5989 2838