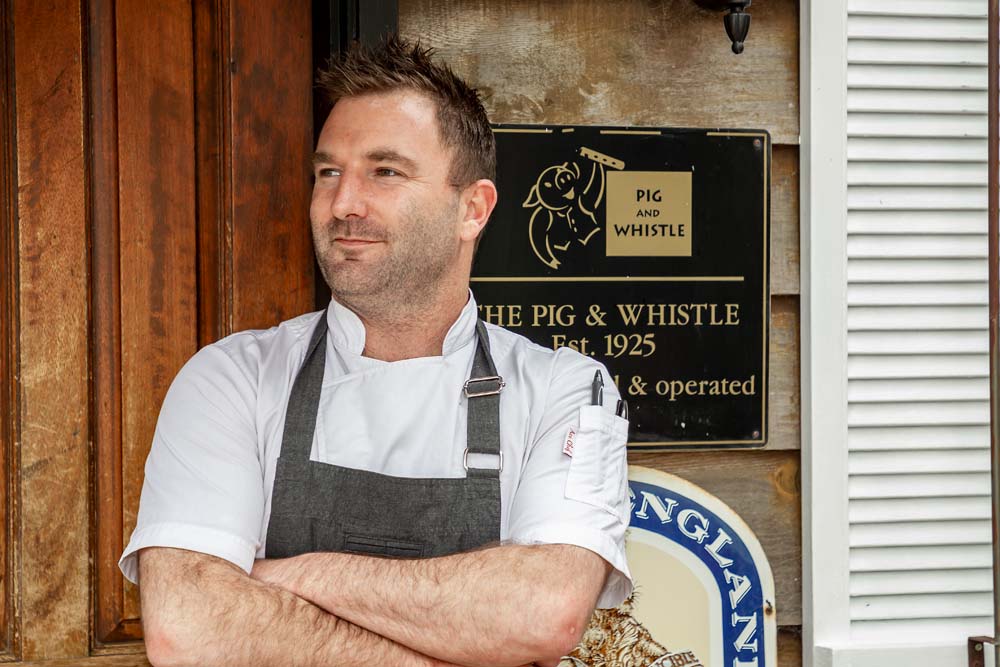 It is not surprising that Joel Wroblewski has grabbed with both hands the head chef role at Main Ridge's The Pig and Whistle. He started his career at one of Australia's iconic pubs, the Lorne Hotel, and has mastered pub-style cooking throughout a long cooking journey.
The 34-year-old left school to take up a chef apprenticeship at Lorne and worked there until he moved to Hervey Bay for four years.
After that it was back to Lorne for a couple of years before making the jump across to the peninsula.
"I had friends on the peninsula running a seafood tavern, so I decided to make the change," said Joel.
While living and working on the peninsula, Joel met James McPherson.
"Back then, James was running Three Palms in Sorrento," said Joel.
"It was a great team of people, doing great work in the fine dining area.
"I worked with James for about four years; first as sous chef, and then taking on the head chef role."
After leaving Three Palms, Joel worked at various venues across the peninsula, honing his craft.
"The food scene is really great on the peninsula. Working at various venues taught me so much".
When James McPherson and Luke Milroy took over the management of The Pig and Whistle, they called Joel to get him on board.
"It was really great, as it was getting the old Three Palms team back together," said Joel.
When Joel arrived, he worked under the existing chef to learn the "English pub-style cooking" that The Pig and Whistle was renowned for.
"He was fantastic, and I really enjoy the style of cooking we get to do at The Pig and Whistle".
Joel likes the fast pace of pub-style cooking with hearty dishes that are measured differently to fine dining.
"It is very different from fine dining, and thoroughly enjoyable," said Joel.
"We have a fantastic venue that is family friendly with trampolines out the back, a big open fire, and happy people talking and enjoying fantastic pub-style food."
The Pig and Whistle sources its meat from an English butcher in Echuca and concentrates on staple English pub dishes.
"We've got pork pies and scotched eggs. We've got food that puts smiles on people's faces," said Joel.
"Pair that with specialty ales, and a setting second to none, with panoramic views across the peninsula, and you've got a fantastic venue."
When Joel isn't working, he enjoys everything the peninsula has to offer.
"I must admit, I do enjoy going out for a wine, and a nice meal," said Joel.
"But it really isn't to dissect what other chefs are doing. It is just nice to have someone cook for me for a change!"
Joel has been at The Pig & Whistle for a year now and sees great things ahead.
"Right now, I just have my head down, and am working hard, and moving the kitchen forward."
"The Pig and Whistle has fast developed a great name for itself, and it is great to watch."
"But even better to watch is people enjoying the food we create. Nothing beats that. Nothing at all."
Recipe
Guinness Pie
(Serves 4-6)

Ingredients
750g beef brisket, diced
1 onion, chopped
2 tbsp corn flour
1 x 440ml can Guinness or other stout
sprig thyme leaves
sprig parsley leaves
2 cloves garlic, sliced
3 tbsp vegetable oil
1 tbsp hot English mustard
2 tbsp Worcestershire sauce
1 x 375g ready-rolled shortcrust pastry
1 egg yolk, beaten
Method
Place the diced brisket in a container and cover with Guinness for 12 hours.
Heat the oil in a large casserole pan. Cook the brisket, in 2 batches, for 7 – 10mins until browned all over. Remove from the pan and set aside. Add the onion and garlic to the pan and cook for 5mins until soft.
Return the brisket to the pan with the thyme, parsley and Guinness. and stir around scraping up all the caramelised bits at the bottom of the pan.
Simmer for 2 hours until the beef is tender.
Add Worcestershire sauce, hot English mustard and corn flour.
Leave to cool. Can be made up to 2 days in advance and stored in the fridge.
Preheat the oven to 200°C/Fan 180°C. Spoon the beef and enough juice to cover it, into a large pie dish.
Place the pastry on top and cut away any excess with a sharp knife. Then use your fingers to crimp around the edge of the pie. Make a small slit in the centre of the pie for air to escape. Brush all over with the egg.
Cook for 30–40 minutes until golden and crisp. Heat any remaining beef liquid and serve alongside with creamy mash and greens.
---
The Pig and Whistle, 365 Purves Rd, Main Ridge
Ph. 5989 6130