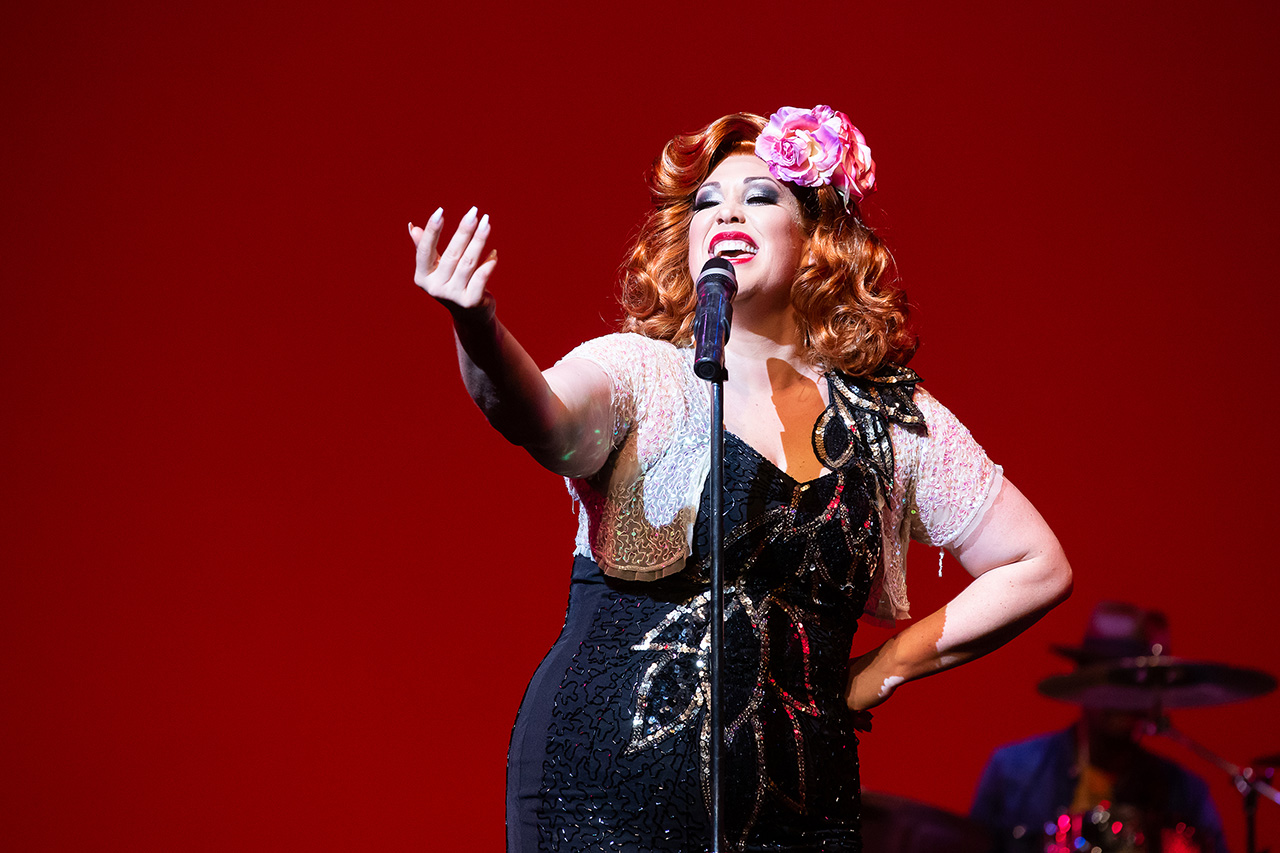 Catherine Alcorn is a firecracker. She embodies everything it means to be an entertainer in the very best sense of the term. Singing, acting, comedy, dancing, producing – she does it all – brilliantly.
On Friday, October 6, the audience at Frankston Arts Centre will see her many talents shine performing her flagship show, The Divine Miss Bette, a tribute to her entertainment idol, Bette Midler. The show is so good that when an Australian producer in Tasmania wanted to hire Midler and her schedule did not permit it, she asked her Los Angeles production company to contact Catherine instead. That's an endorsement!
Serendipity came into play when she was developing The Divine Miss Bette. One of her professional contacts told her that Steve Ostrow lived around the corner. Ostrow was the former owner of New York City's infamous Continental Baths, where Midler was discovered and developed her Divine Ms M persona. Catherine rang him to ask about vocal lessons. He talked about working with Midler and said, "Come around and I'll tell you all about it." His Midler stories gave Catherine priceless insights.
As to her Divine Miss Bette show, Catherine says, "Expect a debaucherously wild, joyous night with great music, incredible musicians and amazing dancers. It's a total spectacle – a total smutty spectacle!" Most people come to this show because they are fans of Midler, but often leave as fans of Catherine too. Performing is a gift she gives with love, generosity, pleasure and pride. She brings an incredible work ethic and preternatural exuberance to every single performance. "I don't leave that stage until I have left everything out there," she says.
From childhood, Catherine knew she'd be a performer. "It was never a choice. I came out singing. It was always what I was going to do," she says. Her mother, a schoolteacher, played piano and taught choir. Catherine started learning piano at seven and sang throughout her school life. For her HSC subject, she chose the voice as her instrument.
Catherine went to Charles Sturt University in Wagga Wagga, NSW for her Bachelor of Arts in Acting for the Stage and Screen. All the 'creatives' on campus from set and costume designers to actors, writers and directors collaborated on productions, a cross-pollination that proved invaluable. She made contacts and friendships, had her first opportunities to perform and gained practical experience interacting with local media.
Catherine joined up with friend and university roommate, singer/comedian, Jade Kerr to form vocal duo Double Platinum performing music in Wagga Wagga pubs and clubs for four years. This brought them into contact with influential people, including producers Don Hillam and Peter Cox who helped create The Divine Miss Bette specifically for Catherine. She first performed it at Wagga Wagga Country Club in 2009. She's been touring this comedic cabaret in Australia and abroad ever since.
She loves cabaret because there is no 'fourth wall' (the performer acknowledges the audience and interacts with them). "I love the intimacy and closeness with the audience. I can sit on someone's lap if I want. I can turn the show on a dime because there is room for improvisation. It's thrilling. Together we embark on an evening that could turn into anything with anyone." The Divine Miss Bette is fun and funny. Catherine makes cabaret a safe space where people can drop their worries at the door and leave feeling enlightened and lighter. And as for her bawdy bent? "To say the unsayable is exciting to me." Audiences love it. The beauty of this show is that every performance is different because the audience owns it too. That's a true theatrical experience.
Book your tickets to see The Divine Miss Bette at Frankston Arts Centre on Friday 6 October.
---
P: 03 9784 1060
W: thefac.com.au