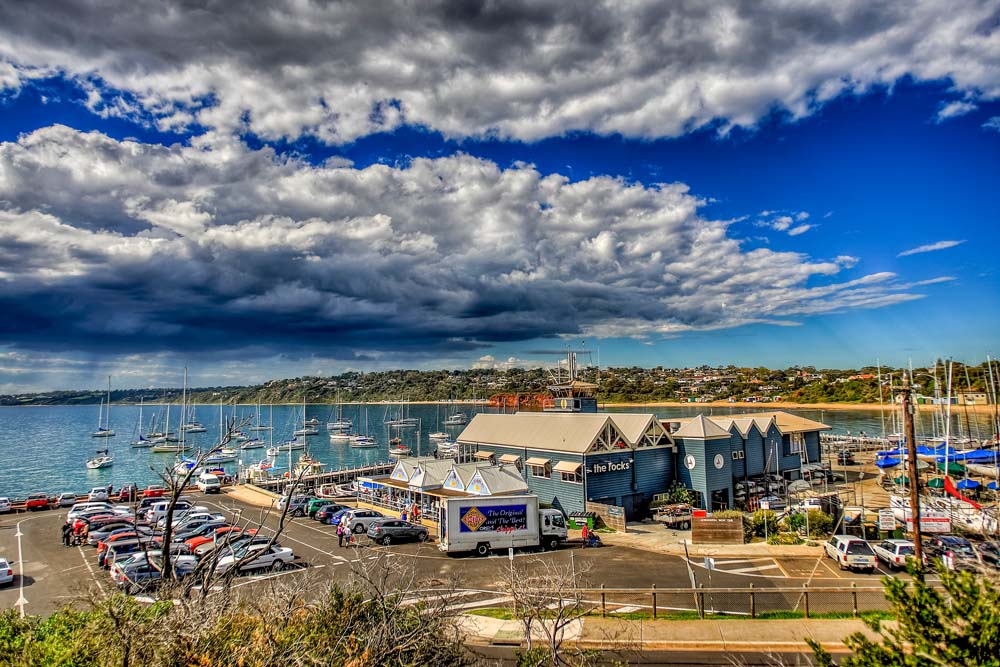 Mornington is a seaside town on the Mornington Peninsula, Victoria, Australia, with an area of 13.5 km², and located 57 km south-east of Melbourne's central business district.
---
Mornington's original post office, built in 1863 at the corner of Main Street and The Esplanade, now operates as a museum displaying old telecommunications equipment and items relating to local history. It is the home of the Mornington and District Historical Society. On the other side of Main Street is the old court house (built in 1860) and the former police station lock-up (1862).
---
An earthquake measuring 4.5 on the Richter scale struck the town on 2 September 1932 associated with the nearby Selwyn Fault. No injuries or major damage was reported.
---
The Mornington Pier was built in 1857, and continues to be extended and improved.
---
Considered to be one of the worst boating accidents in Victoria's history, the Mornington Football Club disaster occurred on the night of May 21st 1892 near Pelican Point just north of Mornington. Fifteen members of the Mornington football team set out earlier that day on the "Process", owned and skippered by Charles Hooper, to play a match at Mordialloc. The remainder of the team travelled by train.
---
Mornington has a number of beaches, some of which are located at the base of rocky cliffs which dominate part of the coastline in this area. Along the eastern side of Schnapper Point is the sheltered Mothers Beach and Scout Beach, while Shire Hall Beach and Mills Beach are located further east along the coast. Around a kilometre south of Schnapper Point is Fishermans Beach which ends at the scenic rocky outcrop of Linley Point where there are boat ramps and scenic viewing spots along the coast.
---
Mornington has a long history dating back to 1802 when explorer Matthew Flinders landed at Schnapper Point. These days, Schnapper Point provides a boat-launching ramp, jetty, yacht club, restaurant and scenic walks providing scenic views along the coast.
---
Mornington Central  Shopping Centre is built on the site of the former Mornington railway station.
---
Every Wednesday, Mornington Main Street comes alive with the Street Market. Wednesday market is currently operating as a small produce only market during Covid restrictions.
---
Fossil beach is a significant fossil site with evidence of Australia's sea life from 10 to 15 million years ago.  The fossils were discovered in 1854 in the limestone cliffs. Most of the fossils have now been removed. Access is via the track from the cliff path near Bentons Road (near the picnic area).
---
The Mornington Rose Gardens has over 4000 roses planted in 86 beds and is surrounded by a border of native Australian trees and shrubs. The concept for the Mornington Rose Gardens was the brainchild of a local businessman, the late Don Gordon who was inspired by the rose garden in Benalla that was situated next to the art gallery.
---
The median house price in Mornington is $946,291.
---
Population is 23,989 (2016 Census).
Coffee Safari
Freshly brewed coffee is a must-have for weekends. Here are a few places to check out when you're in this beautiful part of the world.*
Coffee Traders
3 Blake St, Mornington
With outdoor seating available, and extended trading hours for you to enjoy their delicious coffee.
Wildgrain
1 Blamey Pl, Mornington
Wildgrain is an authentically reimaged space, evoking all the things we know and love about eating out. Offering local, sustainable produce and products.
The Winey Cow
39A Main Street, Mornington
Indoor or alfresco dining out the front, amongst the the main street almosphere. Casual vibe combined with quality food & beverages
Café Thirteen 83
13/83 Watt Rd, Mornington
A hidden gem in Mornington's industrial sector. Super friendly staff, generous breakfast and lunch menus. Contemporary indoor/ outdoor dining and takeaway. Excellent coffee, fresh juices and mega shakes that the kids will love!
*Please note: Due to uncertain times in Victoria, trading conditions are subject to change to be in line with State Government COVID-19 restrictions. It is advised to check with businesses for trading information.
What to do
Whether it's wandering down the main street with its cosmopolitan vibe, alfresco cafes lining the paved streets and vast bay views, or losing yourself in the many art galleries and boutique book shops, Mornington is a colourful hub of arts and entertainment.
Beaches, wineries, shopping, arts and antiques are all at your fingertips in a township that dates back to 1856.
The Mornington Racecourse has a history of 100 years on the current site and continues to host the annual Mornington Cup race days.