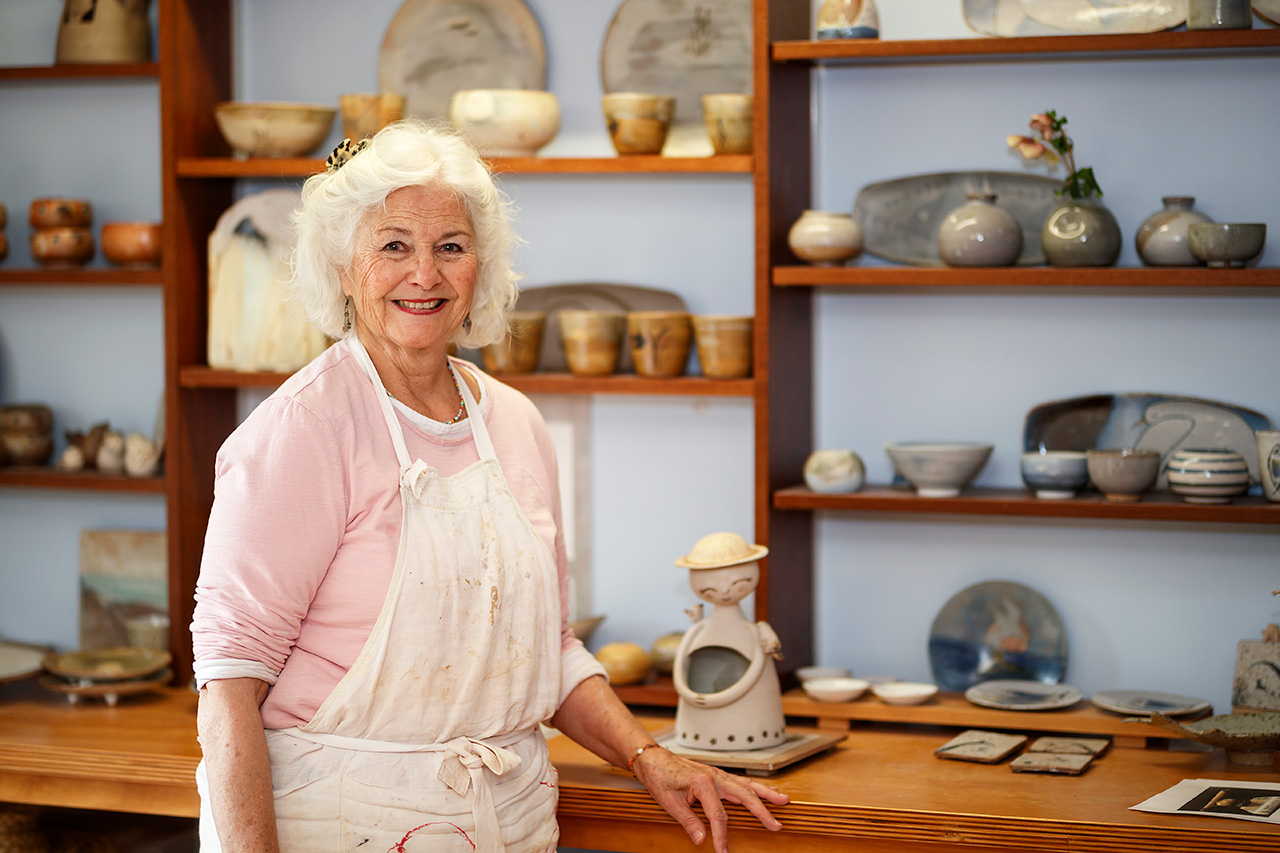 By Andrea Louise Thomas Photos Yanni
Mount Martha stoneware and porcelain clay potter, Sandi Faulkner is an alchemist. While her designs featuring birds, flowers and scenes from nature are simple, her technique and glazes are highly sophisticated. She has spent decades perfecting each element of her craft. Now the chemistry of the glaze is most alluring to her. "I am fascinated with the flame and glazes and trying new things. The 'what if'? keeps me inspired," she says.
Due to viral meningitis, Sandi became profoundly deaf at the age of three. She spent a lot of time at the bottom of the garden on her family farm (a property that is now Dromana Estate winery) making mud pies. She loved the tactility of the earth in her hands. Clay has a similar feel. "Being in complete silence, working with clay is more therapeutic than paint," she says.
Sandi loves the way it swirls in her hands on the potter's wheel and builds into something new. She sees it as a kind of magic.
When Sandi was thirteen, she entered an American cartooning competition and won. They wanted her to go to America to work as an apprentice cartoonist. Her parents didn't even know she had entered. Of course, due to her age, they wouldn't let her go. Still, this was a lynchpin moment. She says, "It was my 'I can do this' moment that gave me the confidence to become an artist."
It was my 'I can do this' moment that gave me the confidence to become an artist.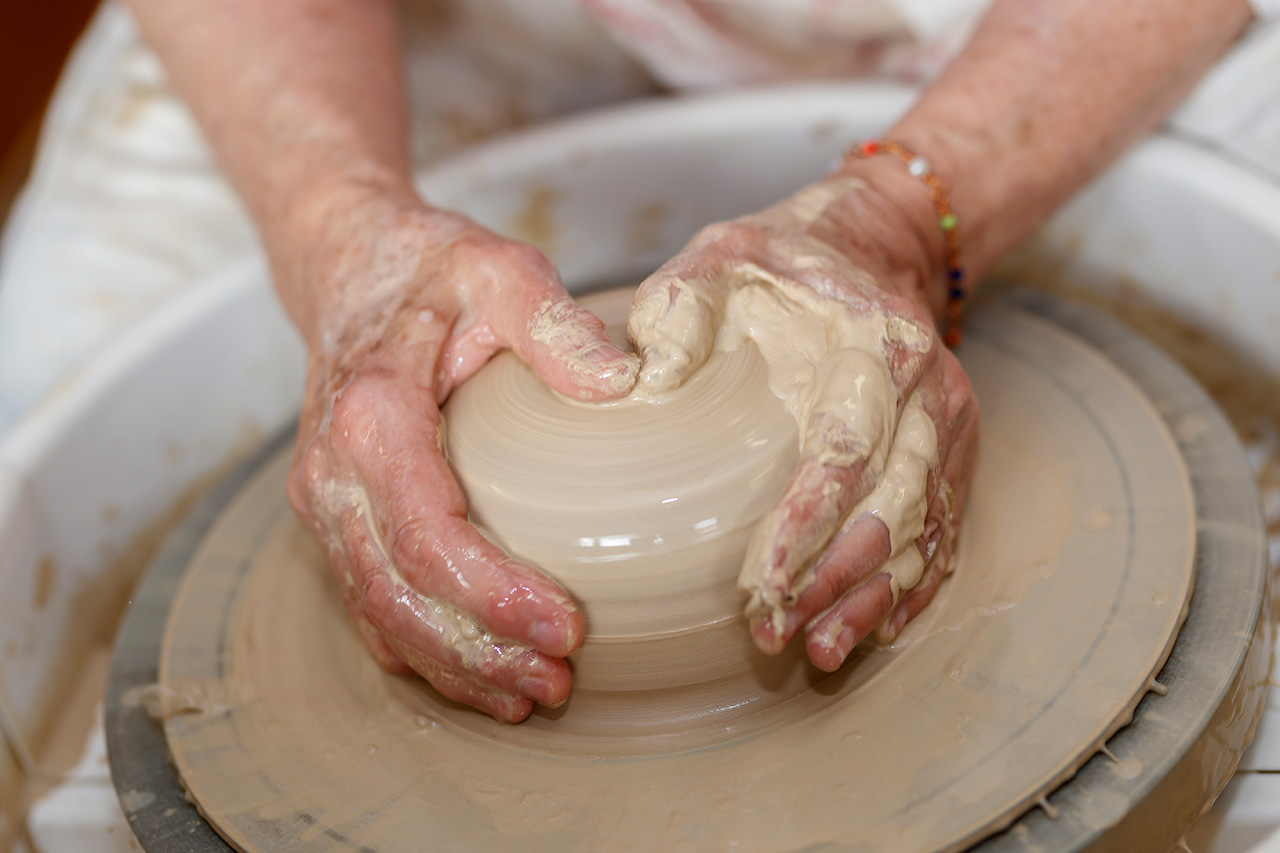 While she spent a lot of her free time at secondary school in the art room at Toorak College, it wasn't until she went to Prahran College of the Arts to study Art and Design that her creativity really blossomed, having access to a broad scope of art classes and all the necessary equipment. Ceramics was only a small section of the college, but everything she needed was there.
In her second year Sandi met Austrian master potter, Franz Kukowetz when he was in Melbourne for five years setting up his Terrra Nigra studio. Sandi apprenticed under him for two years. After that, she travelled to London to work as a production potter at Chelsea Pottery. She taught wheel-throwing and ran the after-hours pottery club .
Sandi's original attraction to ceramics came from her love of colourful French and Italian Majolica ware, but when she studied with Australian master potter, Paul Davis, Head of Ceramics at Monash University, she was introduced to something new and much more subdued.
"I studied Japanese hagiyaki pottery with Paul when he returned from Japan after a seven-year fellowship. He introduced me to Japanese techniques and glazes. Through Chisholm, I studied with him at his Japanese teahouse studio in Red Hill," she says.
Davis suggested Sandi study with Zen master and Sumi-e painter André Sollier next to learn Zen and Mingei philosophy and Sumi-e (Japanese ink painting). She says, "He was the greatest artistic influence of my life. I developed a deep appreciation of Mingei. It embraces simplicity, utility and timeless beauty."
"Mingei and Zen philosophy have informed the aesthetic in both my Sumi-e painting and ceramic practice," she says. She studied with Sollier for 10 years. In fact, Sandi was his last student. Now she teaches Sumi-e in her sunny purpose-built garden studio with a Zen vibe.
Sandi likes to make things that are beautiful, but also useful. She makes cups, plates, bowls, bird baths, ceramic boxes and vases as well as purely decorative items. Each piece is hand crafted and individual. Her large bird baths have been in continuous production for 40 years!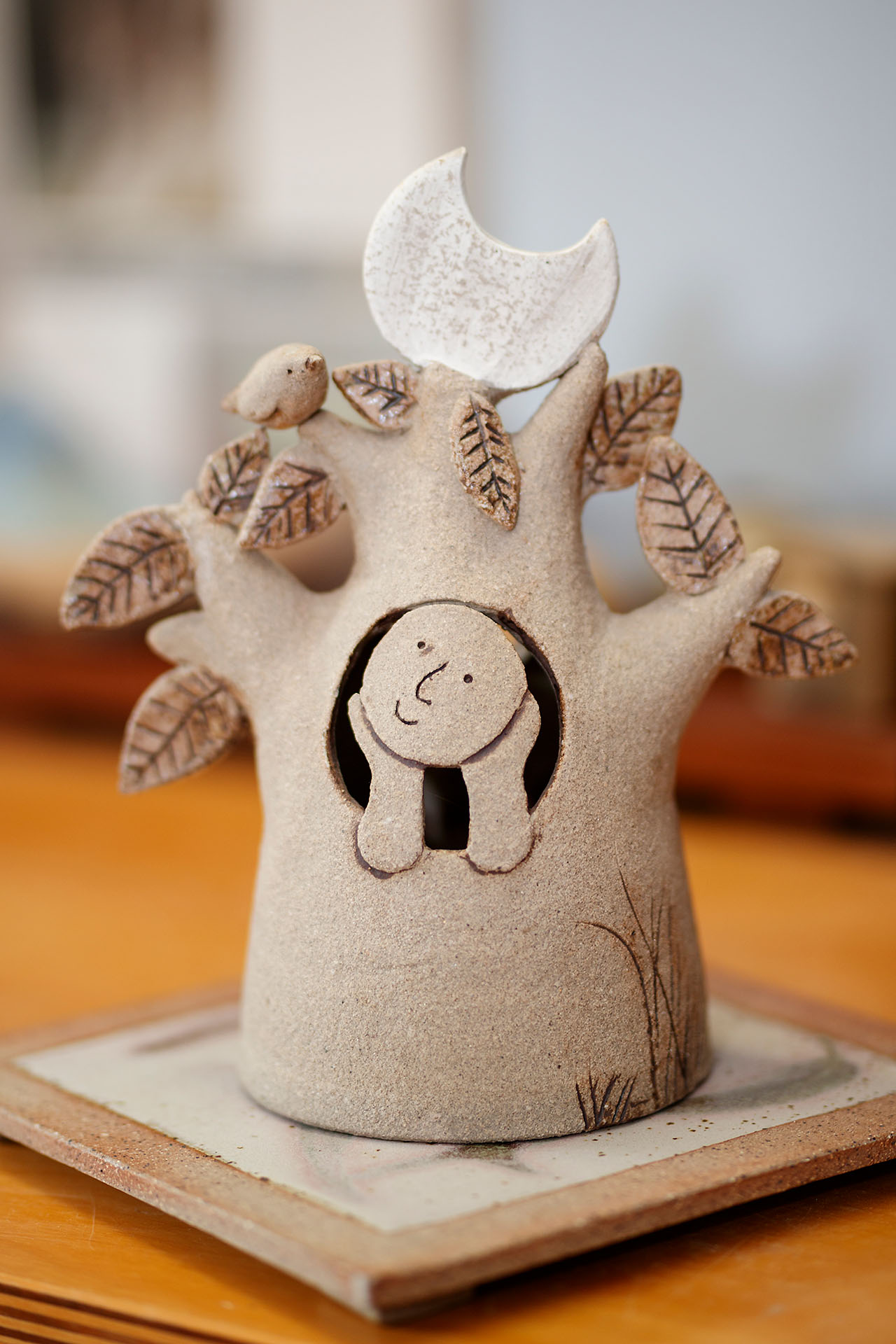 While she works with porcelain and stoneware, Sandi prefers the latter as it's easier to work with. "Porcelain is like a mistress – very demanding! Stoneware lets me work more with glazes. I can push it further," she says.
Living on the Mornington Peninsula is a great inspiration. She loves the ever-changing sky and sea blues of the coastal environment. Her glazes are made using local ash from coastal vegetation – hinterland rainforest, grapevines and wood from apple trees – each burned separately to maintain the purity of the ash. Sandi uses reduction firing in a gas kiln at 1300 degrees.
Local migrating birds, particularly birds of the Mount Martha estuary inspire Sandi. She likes the little scrub wren best. "Birds are like music in the air. I visualise them as music. I can still remember their calls from before I was deaf," she says. She likes her work to rejoice in stillness and the all the beautiful unsung moments nature affords.

---
Insta: @sandipots
sandifaulkner.com