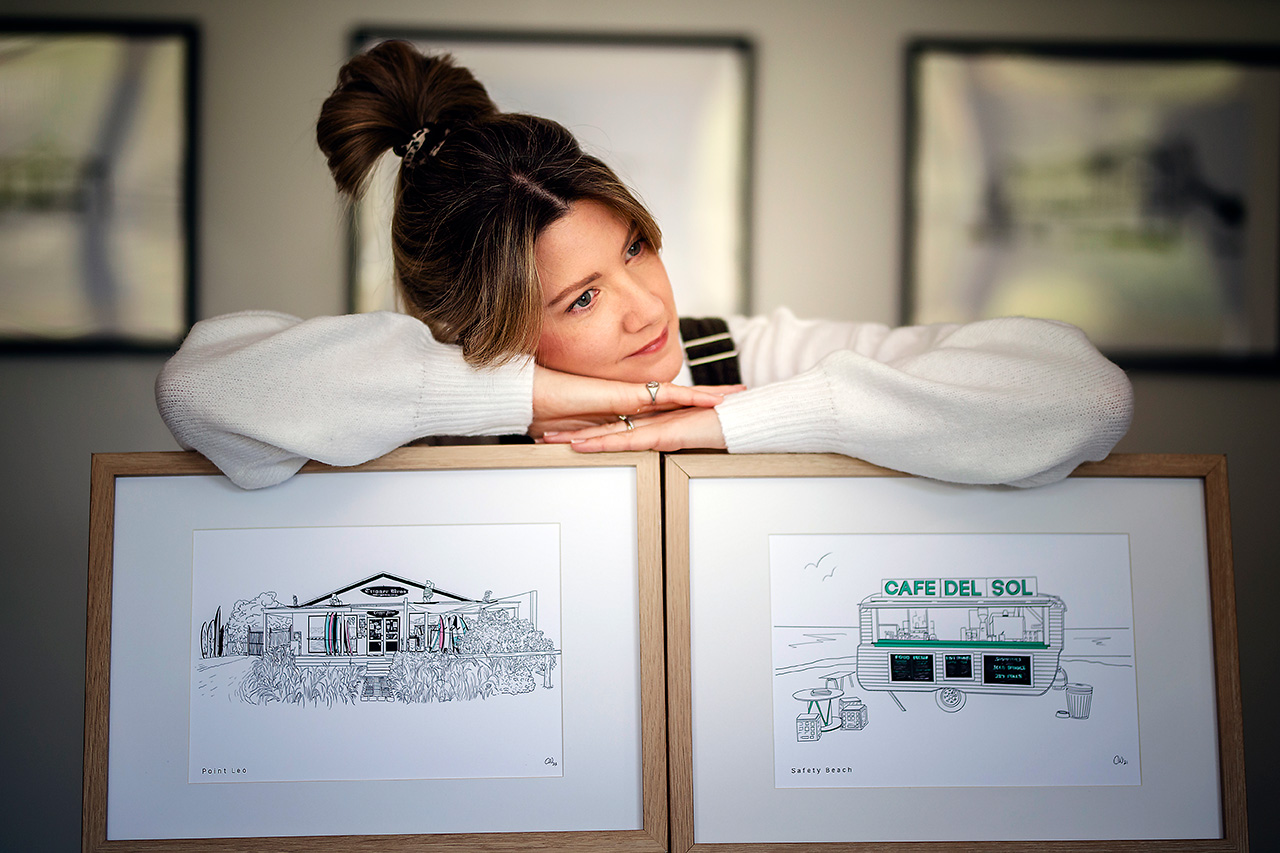 By Andrea Louise Thomas Photos Yanni
Bittern artist Chanelle Wooldridge has had an interesting pathway to her art. Though she enjoyed drawing as a child and often got in trouble for doodling in class, she didn't become an artist until after her career as a teacher in the Middle East.
Chanelle grew up in the arty enclave of Woodend, but her parents moved the family to Sunbury so that she and her sister would be closer to school. Chanelle also played competition basketball. Being nearer to the city gave her the opportunity to play juniors for the Melbourne Tigers. Basketball wasn't her professional goal though. She wanted to teach.
Going to secondary school at Lowther Hall in Essendon, Chanelle excelled in many of her school subjects, but art, physical education and music really resonated for her. Lowther Hall had a great theatre arts program so she had fun learning stagecraft too. Those interests proved very useful later.
In Year 7, Chanelle painted a self-portrait. It was an excellent likeness with great technique. This was the first time it occurred to her that she could be a professional artist. Her grandfather was a civil engineer with a penchant for painting. As a child, Chanelle was fascinated and inspired by his art studio. Her great-grandfather was a professional artist who had his own gallery. Art is in her blood.
When it was time to go to university, Chanelle chose cross-institutional study. She went to Deakin University for Physical Education and Monash University for Music, earning a Bachelor of Physical Education with a major in Music awarded by Monash.
After university, Chanelle took some time in the sun working at Hamilton Island for six months. Lovely as it was, she didn't want her brain to go to mush. She hopped onto a website called teachanywhere.com and applied for a job teaching in Dubai, United Arab Emirates. A school called her that night to ask if she could start in three weeks. She agreed.
Working in an Arabic school teaching Emirati children was a real culture shock, but she loved it. The locals totally embraced her and she gained an authentic insight into life in the UAE. Chanelle taught at that school for three years before moving across to Raffles International School where she worked for the following three years. Her next three years were spent teaching at Kings School. Raffles and Kings are prestigious British International Schools.
In Dubai, Chanelle taught physical education and music with a dash of theatre arts. It was fun and interesting and gave her a chance to express her creativity and share it with the kids. Then Chanelle met a charming British gentleman named Jack. Fated lovebirds, they married in the quaint English village of Wilton before moving to Australia.
After settling down on the Mornington Peninsula with Jack and having children, Chanelle started to sketch family portraits (with their Basset Hound, Bernard) on an iPad Jack gifted her during lockdown. Once travel was allowed again, she started to visit her favourite spots on the peninsula to sketch them.
Chanelle took a few of her Peninsula Series drawings to the wonderful family run gift shop, Ideas by the Bay, in Mornington. The owner, Fiona, loved them. This brought a lot of attention to her work. Then she started exhibiting and selling her work at local craft markets.
She chooses her locations based on places she loves, but also asks people at the markets what places they love and feel are iconic in their local area. Chanelle is attracted to architectural forms and prefers to work in black and white.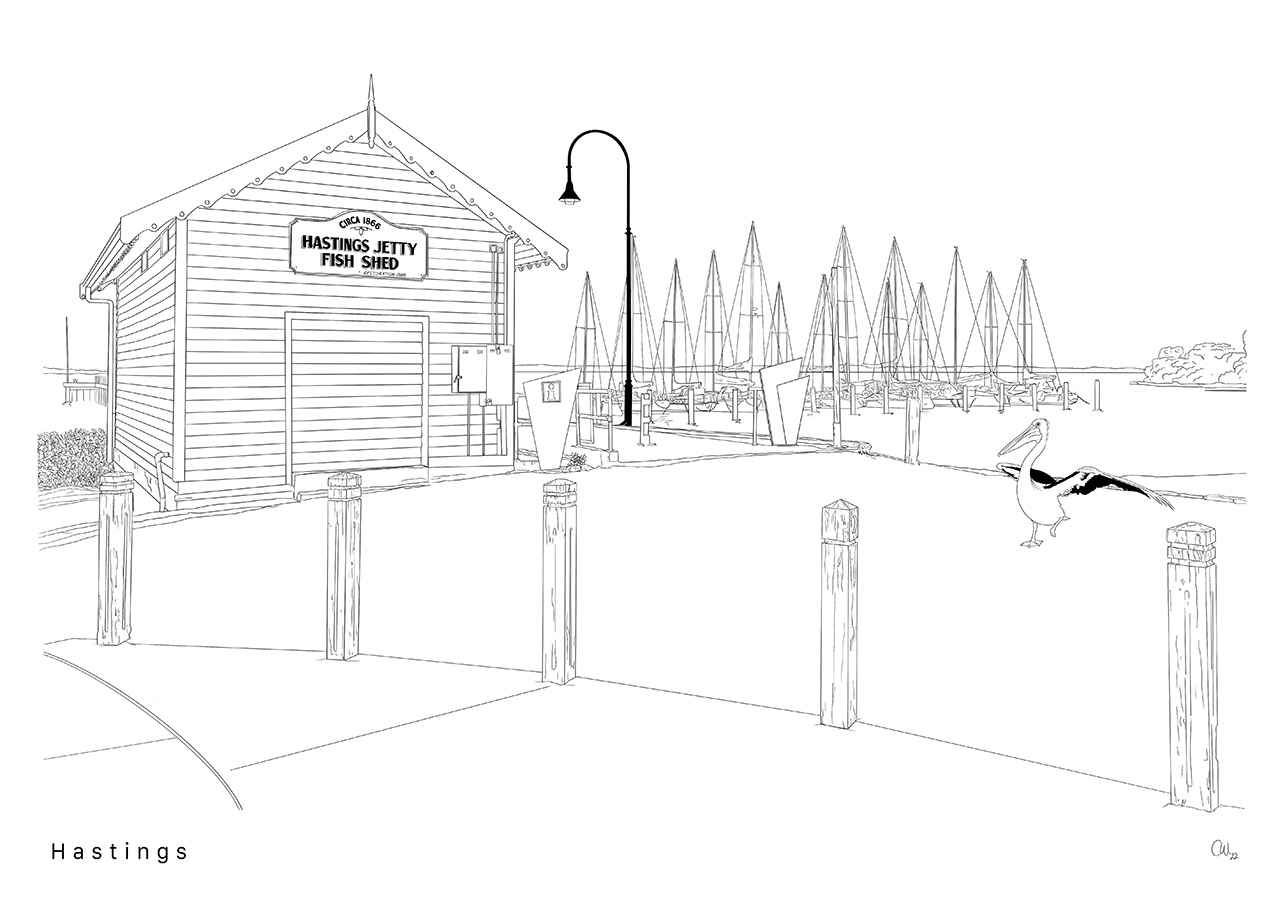 Drawing in black and white strips the form down. Paring back the image gives the subject its essence. "I like minimalism with a 'pop' of colour," she says. She picks out whatever strikes her as the most noteworthy aspect of that place and colours only that part. It creates a striking effect.
"Every place I draw is a memory for me," she says. Her customers feel the same way. "I want to make work that gives people memories that are triggered by place," she says.
Scene hunting is her artwork planning. She photographs a place and translates it into a line drawing on her iPad. She focuses on locations that resonate with her, such as Echuca where she spent childhood family holidays, the Mornington Peninsula where she lives and all the places she explores with her husband, children, and of course, Bernard the basset hound.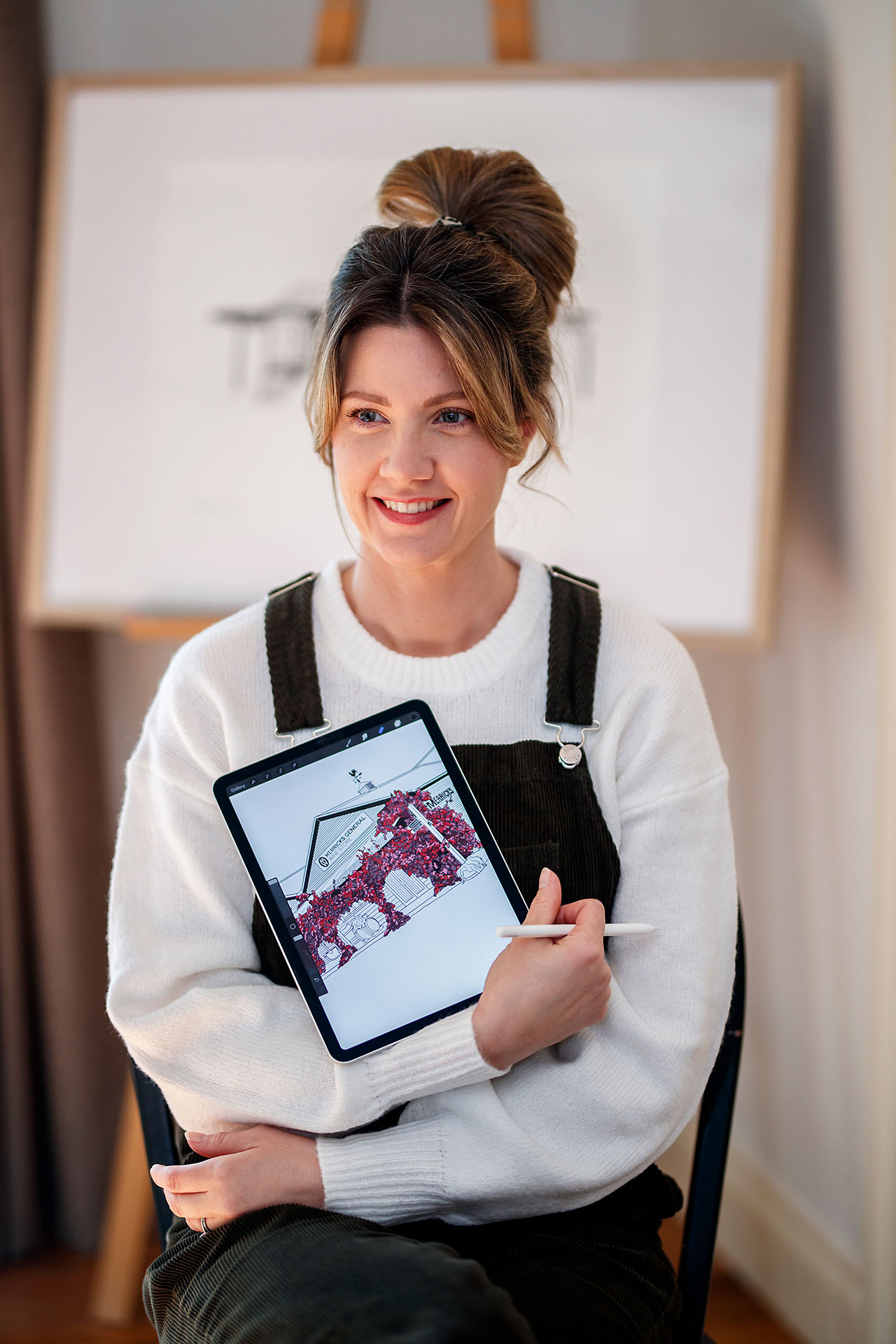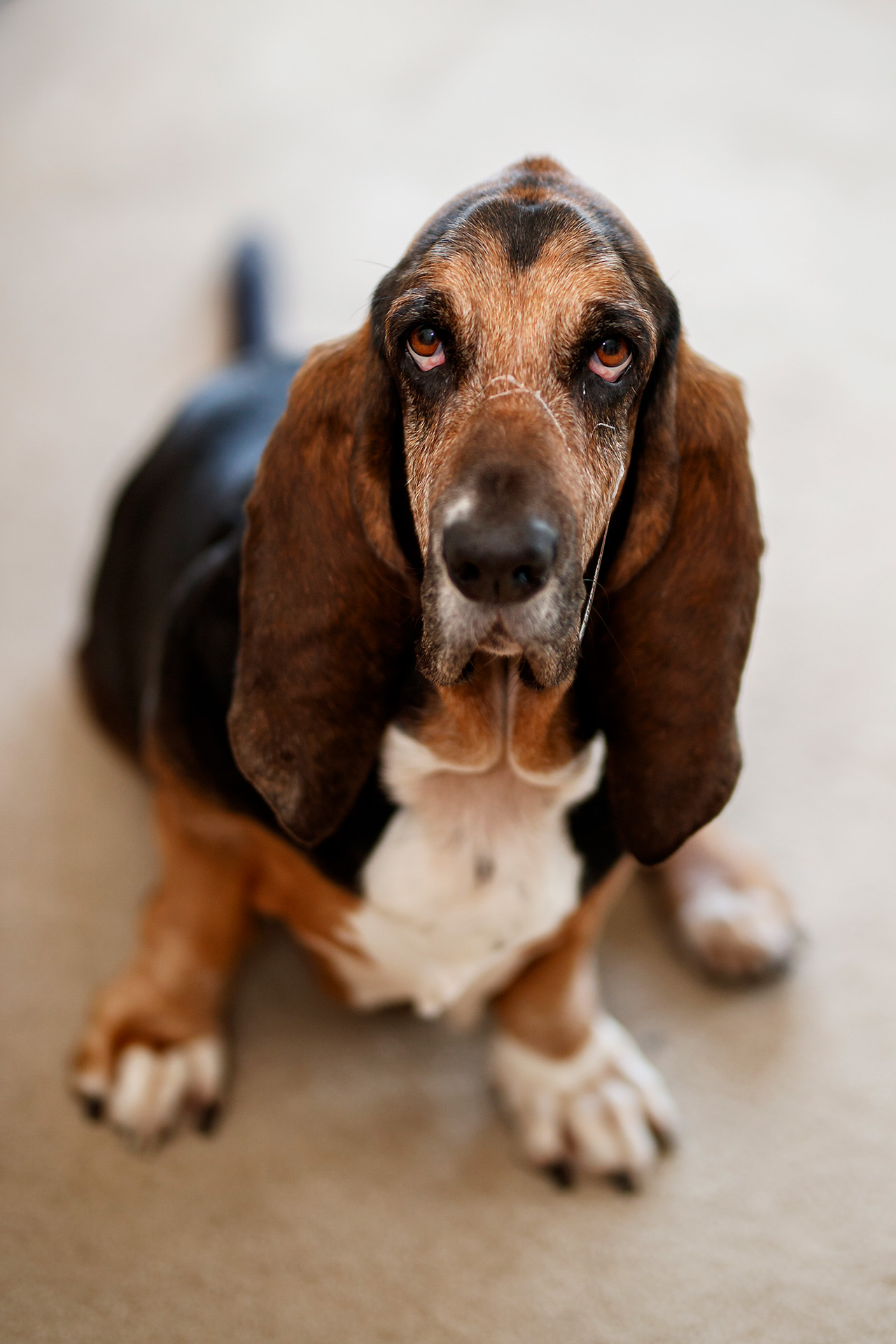 ---