Tickets are available now for the popular Archibald Prize 2023, which will grace the walls of the Mornington Peninsula Regional Gallery from 15 September until 5 November.
Featuring 57 portraits – including this year's winning work, Julia Gutman's portrait of performer Montaigne Head in the sky, feet on the ground – the exhibition is a capture of cultural identities from all walks of life who reflect the stories of our time.
A highlight of this year's touring exhibition is Melbourne-based artist Natasha Bieniek's tiny self-portrait, measuring just 8 x 6cm. The oil on wood painting is inspired by the Australian artist Nora Heysen (1911-2003) who was the first woman and youngest person at the age of 28 to win the Archibald Prize in 1938 for her portrait of Madame Elink Schuurman.
As the daughter of celebrated landscape painter Hans Heysen, Nora Heysen sought to define her own identity as an artist in this self-portrait, which was a challenging exercise for a female artist in the 1930s.
As the first woman to win the renowned Archibald Prize, Nora's work and life was exciting news for the media, the artist even had her favourite recipes published in The Australian Women's Weekly in 1939 in a special profile piece. Her win was not without controversy with artist Max Meldrum making a public stance stating: 'If I were a woman, I would certainly prefer raising a healthy family to a career in art'.
Bieniek's self-portrait is a tribute to Nora Heysen and a conversation starter about the challenges female artists face today, noting the small number of women artists who have won the prize in the last century.
This year's Archibald Prize celebrates women winners of the annual event, which has been awarded to just eleven women in over 100 years. Female artists have featured prominently in the prize since 1921, representing one third of all Archibald artists, but very few have earned the top spot.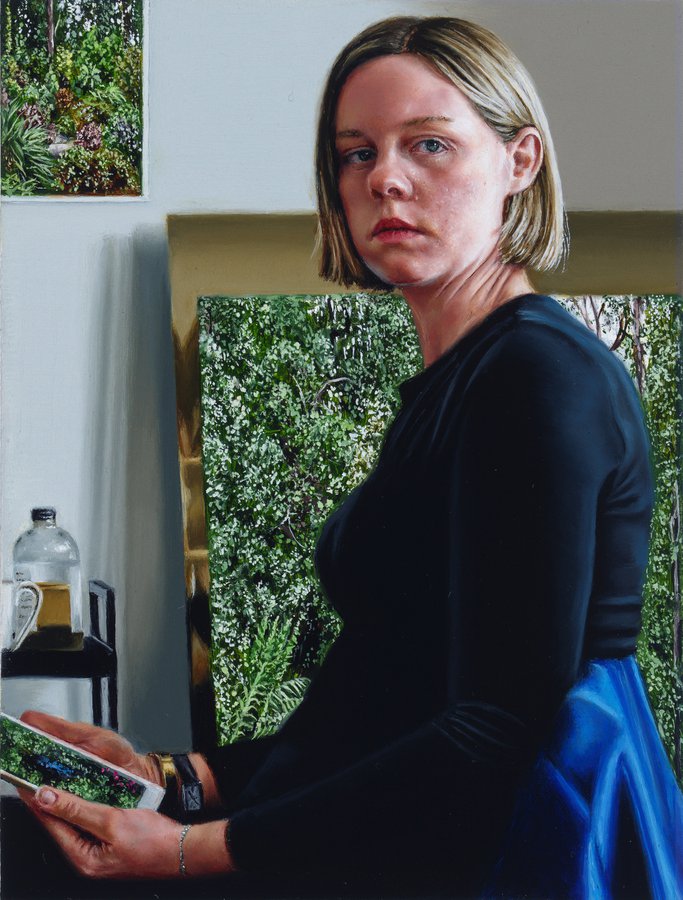 Renowned for her miniature paintings, Bieniek's work is meticulous and demanding close inspection from the viewer. As a nine-time Archibald finalist – Bieniek's portrait of Wendy Whiteley was highly commended in 2016, her works have toured the country and have been shown at Mornington Peninsula Regional Gallery.
Art lovers and miniature painting enthusiasts can experience Bieniek's striking matchbox sized self portrait at the Mornington Peninsula Regional Gallery which is the only Victorian venue on the Archibald Prize 2023 tour.
This exclusive Victorian exhibition will bring tens of thousands of visitors to the iconic Mornington Peninsula destination to enjoy the works on display and the immersive program of events and art experiences.
The Gallery encourages ticket buyers to explore their curated program of events to compliment the art experience. Gallery-goers can embrace the artist within with a series of workshops or hear from artists about their creative practice through tours and talks.
For the forthcoming September school holidays, families can enjoy a range of activities to inspire and create. The Gallery will become the creative hotspot of the region this spring with hospitality icons and culinary guests creating a scene and serving up fresh coffee, seasonal tucker and locally sourced wine and beer.
Throughout the course of the exhibition, the celebrations will go into the night every Friday with late night openings. On site bar HABITAT will feature live music from local artists and a stunning menu of drinks from Mornington Peninsula favourites TWOBAYS Brewery, Jetty Road, JimmyRum, Bass & Flinders Distillery, Rhino Tiger Bear Winery and Rahona Winery. Whet your appetite with food pop-ups featuring glorious cheese boards and snacks.
The Archibald Prize 2023 is on display at Mornington Peninsula Regional Gallery, Civic Reserve, Dunns Road, Mornington from 15 September to 5 November 2023.
Timed entry, flexible entry and open late tickets available now. To book your spot to experience Australia's most prestigious art prize visit mprg.mornpen.vic.gov.au
The Archibald Prize 2023 is Australia's oldest and most prestigious art award to be shown exclusively in Victoria at Mornington Peninsula Regional Gallery. An Art Gallery of New South Wales Touring Exhibition.
---
P: 03 9784 1060
W: mprg.mornpen.vic.gov.au